The New Release Rack: 'The Pirates' is Old School Animated Slapstick
Plus Zac Efron in 'The Lucky One,' Diane Keaton and Kevin Kline in 'Darling Companion,' 'The Moth Diaries,' 'Monsieur Lazhar,' and others
By 
SeanAx
 Aug 29, 2012 12:22AM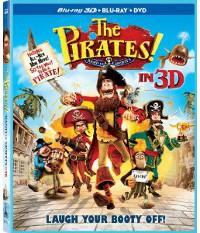 "Battleship" (Universal) – Poor Taylor Kitsch, whose transition from TV to big screen action star has landed him in the two biggest tentpole flops of 2012: "John Carter" and this, a navy-versus-aliens spectacle loosely inspired by a Hasbro board game. MSN film critic James Rocchi, however, says it's actually "a truly great summertime film." Blu-ray, DVD, and On Demand. Videodrone's review is here.
"The Pirates: Band of Misfits" (Sony) is the latest animated feature from the old-school clay animation studio Aardman (the producers of the beloved "Wallace and Gromit" films) and director Peter Lord (of "Chicken Run"). Based on a young readers novels by Gideon Defoe, this comedy of slapstick pirates on the high seas follows the comic adventures of a dim bulb of a pirate captain named Pirate Captain (voiced by Hugh Grant) determined to win the "Pirate of the Year" award. The voice cast also includes Martin Freeman, Imelda Staunton, David Tennant, Jeremy Piven, and Salma Hayek.
MSN film critic James Rocchi praises the film as "… a busy, buzzy bit of fun, loaded with sight gags and wordplay and silly surrealism in lovely 3-D. It also has likable characters, no matter how piratical, and the wide-eyed Aardman style -- chaos composed out of meticulous order, frame by frame -- is always welcome to see."
On Blu-ray and DVD, with commentary by director Peter Lord, co-director Jeff Hewitt and editor Justin Krish, the mini-movie (which is one way of making an 18-minute animated short sound bigger) "So You Want to Be a Pirate," an interactive game for kids, and a DVD-ROM link for more activities.
The Blu-ray includes exclusive featurettes "From Stop to Motion" and "Creating the Bath Chase Sequence," Peter Lord's early short animated films "Wat's Pig" and "War Story" (both with optional introduction), plus the DVD with all of its supplements and an Ultraviolet digital copy for download and instant streaming.
Stop-motion animation is a natural for 3D – it's an actual three-dimensional canvas and lends itself to manipulating and exaggerating perspective -- and "The Pirates" was released in theaters in 3D and on Blu-ray in a 3D editions (which requires a full HD 3D TV, compatible 3D glasses, and a Blu-ray 3D player). This edition also features standard Blu-ray, DVD, and Ultraviolet editions.
Also available On Demand and at Redbox.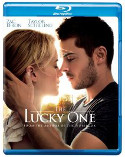 "The Lucky One" (Warner) is yet another Nicholas Sparks romantic drama, this one starring Zac Efron as returning Marine who woos single mother Taylor Schilling. According to MSN film critic James Rocchi, "Director Scott Hicks and screenwriter Will Fetters try, but there's not a lot they can do to customize what feels like a product that's rolled off the Sparks assembly line with every ridiculous plot contortion hard-welded into the structure."
Blu-ray and DVD, with the promotional featurette "Zac and Taylor's Amazing Chemistry." The Blu-ray also includes the featurettes "Zac Efron Becomes a Marine" and "Watch the Sparks Fly! The Romantic World of The Lucky One", plus a DVD and Ultraviolet digital copy for download and instant streaming. Also available On Demand.
"Darling Companion" (Sony) romances a somewhat older audience with married couple Diane Keaton and Kevin Kline searching for a lost dog with the guests in their vacation home in the Rockies (the guest list includes Dianne Wiest, Richard Jenkins, Sam Shepard, Mark Duplass, and Ayelet Zurer).  The search becomes a metaphor for their relationship. "While it's not entirely lacking in sharp dialogue, Kasdan's movie is weirdly unwieldy… and, it almost goes without saying, a bit blinkered," complains MSN film critic Glenn Kenny.
Blu-ray and DVD, with Commentary with writer/director Lawrence Kasdan, writer/producer Meg Kasdan and actor Kevin Kline, three featurettes, and footage from the New York premiere. Also available On Demand.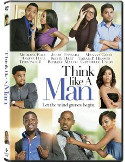 "Think Like a Man" (Sony), based on the Steve Harvey book (which the film constantly refers to), is a battle of the sexes comedy starring Michael Ealy, Jerry Ferrara, Meagan Good, Regina Hall, Kevin Hart, Taraji P. Henson, Romany Malco, and Gabrielle Union. "As cheesy and trite as it comes off from its general outline, the particular pleasures it offers are enjoyable and reasonably consistent," offers MSN film critic Glenn Kenny. Blu-ray and DVD, with deleted scenes and a gag reel. Exclusive to the Blu-ray is a collection of four featurettes.
"L!fe Happens" (Universal) is a comedy of three twenty-something best friends (Krysten Ritter, who co-wrote the script, Kate Bosworth, and Rachel Bilson) dealing with adult responsibilities. "Director Kat Coiro - who co-wrote with Ritter - spices up the formula just enough to keep us watching, while Bosworth adds versatile edge to the BFF banter," writes New York Daily News film critic Elizabeth Weitzman. Justin Kirk, Jason Biggs, and Kristen Johnson co-star. Blu-ray and DVD, no supplements.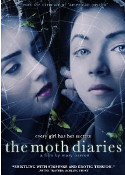 "The Moth Diaries" (MPI) is a bit of schoolgirl gothic from director Mary Harron, adapting the novel by Rachel Klein. Lily Cole stars as the new girl in the insular girls school, and when the girls start dying, two students wonder if she's actually a vampire. "Sadly, "Diaries" never really steams up the screen with any psychosexual hijinks, and it falls way short of successfully mining vampirism as fertile metaphor for Sapphic love, Oedipal attachment, menses and wrist-slitting suicide!," warns MSN film critic Kathleen Murphy. "Drained dry of tension and energy, erotic or otherwise, "The Moth Diaries" fails to frighten, titillate or otherwise engage the imagination." Blu-ray and DVD, with featurettes and video diaries.
"Lovely Molly" (Image) is a haunted house horror from Eduardo Sanchez, one of the creators of "The Blair Witch Project." "Gore is always with us, but when it comes to horror, there's nothing like a haunted house," writes New York Post film critic Farran Smith Nehme. "And "Lovely Molly" has a humdinger." Blu-ray and DVD, with a four-part documentary on the making of the film.
Foreign Affairs:
"Monsieur Lazhar" (Music Box), the big-hearted Canadian drama of an inspirational grade school teacher in Quebec, was one of the five nominees for Best Foreign Language Film at the Academy Awards. Mohamed Fellag stars as Lazhar, the 55-year-old Algerian immigrant who becomes a substitute teacher and helps the community recover from a death in the community. "Like no other film about middle school life that I can recall "Monsieur Lazhar" conveys the intensity and the fragility of these classroom bonds and the mutual trust they require," writes New York Times film critic Stephen Holden. French with English subtitles, Blu-ray and DVD, with featurettes, an interview with director Philippe Falardeau, and audition tapes among the supplements.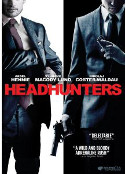 The darkly comic Norwegian thriller "Headhunters" (Magnolia) stars Askel Hennie as a corporate headhunter who supplements his income with a second career as an art thief, and ends up matching wits in a deadly game with a target who is waiting for his visit. Los Angeles Times film critic Kenneth Turan praises it as "a dark adult entertainment, a wild and bloody adrenaline rush of a movie that deals in gleeful grotesqueness and over-the-top implausibilities." Norwegian with English subtitles and English dub track. Blu-ray and DVD, with a featurette.
"The Heineken Kidnapping" (MPI) from the Netherlands is fictionalized account of the most notorious kidnapping of the last fifty, starring Rutger Hauer as the beer company magnate abducted and ransomed by a gang of amateurs unprepared for the fallout of their crime. In addition to the Amsterdam police, they have to deal with Heineken himself, a cagey operator who doesn't take his abduction lying down. In Dutch with English subtitles. Blu-ray and DVD, with a featurette. Reviews here.
From Spain comes "Apartment 143" (aka "Emergo") (Magnet), a paranormal thriller about a haunted apartment done up in the "Paranormal Activity" style of fake documentary. Blu-ray and DVD, with a director interview and a number of short featurettes. Spanish with English subtitles. Reviews here.
And from Argentina is another Spanish-language horror, "Penumbra" (IFC), about a Spanish businesswoman in Buenos Aires directed by Adrián and Ramiro Bogliano as their follow-up to "Cold Sweat." DVD only, no supplements. Reviews here.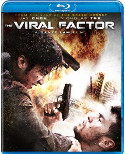 Directed by Dante Lam, "The Viral Factor" (China Lion) is a Hong Kong action thriller with Jay Chou and Nicholas Tse. Chinese with English subtitles and optional English dub soundtrack. Blu-ray and DVD, with a featurette and cast interviews. Reviews here.
Other new foreign release this week:
- "Blood Money" (XLrator) is an Asian martial arts thriller from Australia starring Zheng Liu and Gordon Liu (no relation). English language, Blu-ray and DVD. Reviews here.
- "Sunny" (CJ E&M) is a femme-centric Korean comedy of best friends from high school who reunite in adulthood, DVD only with supplements, in Korean with English subtitles. Reviews here.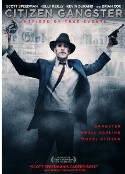 Plus:
- "Citizen Gangster" (IFC) is Edwin Boyd, the real life Canadian gangster (played  by Scott Speedman) who became a Canadian folk hero in the years after World war II. Kelly Reilly and Brian Cox co-star. DVD only. Reviews here.
- "A Beginner's Guide to Endings" (eOne) is an American indie black comedy with Scott Cahn, Paul Costanzo, and Harvey Keitel. DVD only, with supplements. Reviews here.
- "Searching For Sonny" (Westbrook Media), a comic murder mystery, stars Jason Dohring, Minka Kelly, and Masi Oka. See an exclusive clip on Videodrone here.
- "Nate & Margaret" (Breaking Glass) are best friends, a 19-year-old film student (Tyler Ross) and a 52-year-old spinster (Natalie West) who want  to be a stand-up comedian. DVD only, with commentary and other supplements. Reviews here.
- "Area 407" (IFC) is a mock-doc horror film about a plan crash into a government test site. DVD only. Reviews here.
- "The Highest Pass" (Cinema Libre) is a real documentary about a motorcycle expedition across the highest pass of the Himilayas. DVD only, with outtakes and featurettes. Reviews here.
For more releases, see Hot Tips and Top Picks: DVDs, Blu-rays and streaming video for week of August 28