TV on Disc Channel Guide: Keifer Sutherland Gets in 'Touch'
Plus the complete runs of 'Columbo,' 'The Firm,' 'Alcatraz,' and 'Mr. Lucky,' and more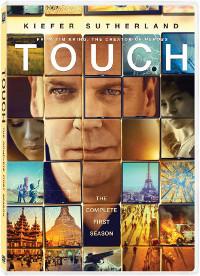 "Mad Men: Season Five" (Lionsgate), arguably the best season to date of one of TV's best shows, finds the stress of keeping the prestigious but struggling new advertising firm on Madison Avenue afloat taking its toll on the partners and Don's marriage. Videodrone's review is here.
"Touch: The Complete First Season" (Fox), created by Tim Kring of "Heroes," stars Keifer Sutherland as Martin Bohm, a former investigative reporter reduced to blue collar jobs after losing his wife in the September 11 attacks and dedicating himself to caring for his possibly-autistic son.
Jake (David Mazouz) doesn't speak (though he does narrate the show) and doesn't like to be touched, but it becomes clear that he sees complex patterns in the world and communicates through numbers that connect seemingly unconnected events and people in a web of relationships and meanings. The scripts combine Martin's efforts to reach his son through the trail of numbers with stories spread across the globe, all coming together by the end of each episode in unexpected, sometimes contrived, usually heartwarming ways. Sort of like "Lost" meets "Crash," but with a real attempt at emotional sincerity.
It's six degrees of separation collapsed into direct links in metaphysical short-circuits engineered by Jake, with the fiercely dedicated Martin almost as intense as Jack Bauer as he follows his son's leads, reaches out to help people in crisis, and come that much closer to his isolated son. It makes the show a very curious (and actually kind of interesting) mix of metaphysics, secular mysticism, corporate conspiracy, and feel-good family drama, with a dash of Kabala tossed in toward the end of the season.
Gugu Mbatha-Raw co-stars as the social worker who joins forces with him to follow the clues and heal the universe, one crisis at a time and Maria Bello guest stars in the two-part season finale as a woman following a similar path destined to cross with Martin and Jake.
13 episodes on DVD, including an extended version of the pilot, plus two brief featurettes and deleted scenes.

"Columbo: The Complete Series" (Universal) - "There is just one more thing…" Peter Falk first played the cigar-chomping, eternally disheveled L.A. police detective, Lt. Columbo, in the 1968 telefilm "Prescription: Murder" (1968), Richard Levinson and William Link's adaptation of their Broadway play, which introduces the detective in protean form: loquacious and dogged, but not yet rumpled or cagey in his trademark form. After one more tele-feature, "Ransom For a Dead Man" (1971) with Lee Grant, it started its rotation in the "NBC Mystery Movie" anthology series with "Murder By the Book," directed by a young Steven Spielberg with a snap, a smooth assurance, and a tension missing from the previous films, and featuring a fully formed Columbo: a charming eccentric whose forgetful, fidgety, constantly questioning manner is his key tactic in keeping his suspect off balance, a formula that worked all the way up to his last appearance in the 2003 TV movie "Columbo Likes the Nightlife." This 34-disc DVD box set collects all 69 episodes and 24 TV movies featuring the most distinctive detective on TV, then and now.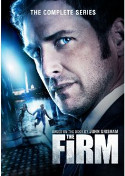 "The Firm: The Complete Series" (eOne) and "Alcatraz: The Complete Series" (Fox) offer every episode of two shows that never made it past the 2011 TV season. Josh Lucas takes the Tom Cruise role in "The Firm," which ostensibly picks up his story ten years later, coming out of witness protection to get tangled with another shady firm and face the son of the mob boss he helped put behind bars. The rest is your usual underdog courtroom drama, with Lucas playing one of the most insufferably condescending and smug attorneys on TV. 22 episodes on six discs, plus featurettes, interviews, and other supplements. DVD only.
More high concept is "Alcatraz," a pseudo-supernatural series from producer J.J. Abrams about criminals from the past returning to resume their crimes, sort of like "Prison Break" from Hell. Sam Neill, Parminder Nagra, Sarah Jones, and Jorge Garcia are the specialists called in to track down the criminals and solve the mystery, though they don't get too far on the latter count; the show never made it past the initial 13-episode order. Blu-ray and DVD, with a featurette on the real-life prison and deleted scenes, plus an UltraViolet digital copy for download and instant streaming.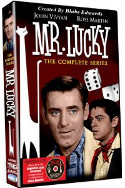 "Mr. Lucky: The Complete Series" (Timeless Media Group), ostensibly based on the 1943 movie, stars John Vivyan as Mr. Lucky, a professional gambler with a floating casino he runs off the American coast with his friend partner Andamo (Ross Martin). Blake Edwards developed and produced the half-hour series, which ran a single season in 1959-1960, and brought composer Henry Mancini and cinematographer Philip H. Lathrop with him to set the atmosphere. 34 episodes on four discs on DVD, plus a bonus CD soundtrack featuring music from Mancini's scores.
"Check It Out! With Dr. Steve Brule: Seasons 1 & 2" (Warner) features 12 episodes of the parody of public access information programming starring John C. Reilly as a font of misinformation with dubious credentials. Produced from the Adult Swim block on Cartoon Network, these purposely low-fidelity live-action programs run under 15 minutes apiece. DVD only.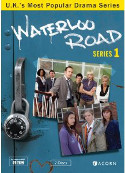 BritTV:
"Waterloo Road: Series 1" (Acorn), a high school drama of a troubled school, a desperate headmaster (Jason Merrells), a new, young deputy with bold ideas (Jamie Glover), and a hothouse of teenage melodrama, arrives on disc with the promise that it's "U.K.'s most popular drama series." Seen stateside on BBC America. Eight episodes from the 2006 season on two discs. DVD only.
"The Ice House" (BBC), the 1998 mystery miniseries, debuts on DVD with co-star Daniel Craig front and center on the cover. He's the junior partner to Corin Redgrave in murder mystery involving the corpse of a man missing for ten years. Adapted from a novel by Minnette Walters. DVD only, with an interview with the author.
The 2010 documentary series "Nazi Collaborators" (Shanachie) explores the culture of collaboration with the Nazis in occupied countries during World War II. 13 episodes on four discs, DVD only.
"The Royal Bodyguard" (BFS), a six-episode comedy series from 2011, stars David Jason as disaster-prone veteran soldier promoted from car park attendant to head of Royal security. "Ain't Misbehaving" (BFS), from 1997, star Robson Green and Jerome Flynn as big band musicians getting in and out of scrapes in wartime London. Both on DVD only, two discs each.
Jon Pertwee is The Doctor in "Doctor Who: The Ambassadors of Death" (BBC), story number 53 from the series. DVD only, with commentary, featurettes and other supplements.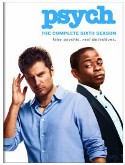 Another season:
"Psych: Season Six" (Universal), the comic mystery series about a detective who poses as a psychic, features guest stars William Shatner, Cary Elwes, Molly Ringwald, and Danny Glover this season. 16 episodes, plus video and audio commentary, deleted and extended scenes, and featurettes, on four discs. DVD only, in sturdy book-case digipak case.
"Gunsmoke: The Sixth Season, Volume 2" (Paramount) features 19 half-hour episodes from the 1960-1961 season (when it was still a half-hour drama) of western justice from James Arness' Marshall Matt Dillon and friends on three discs.
"Ghost Hunters: Season Seven, Part 2" (Image) presents 13 episodes of the seventh season of the supernatural reality series on four discs and "Drinking Made Easy: Season 2" (Magnolia) features 24 episodes, plus commentary, interviews, and a bonus one-hour special, on four discs. Both DVD only.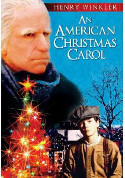 Christmas Telefilms:
"An American Christmas Carol" (Shout! Factory) is the 1979 updating of the Dickens classic, a network TV movie with Henry Winkler repossessing the items of struggling families in Depression-era New England. It's on DVD and Blu-ray with a new interview with Winkler.
More contemporary are these made-for-cable holiday movie: "Annie Claus is Coming to Town" (Vivendi) with Maria Thayer as Santa's daughter loose in the big city and "The Christmas Pageant" (Vivendi) with Melissa Gilbert and Edward Herrmann (both made for the Hallmark Channel), "A Princess for Christmas" (Lionsgate) with Roger Moore playing royal European cupid, the Canadian-made "Christmas Miracle" (Vivendi) and "The Heart of Christmas" (Image), made for the Gospel Music Channel.
Plus:
- The first four seasons of "I Love Lucy" (Paramount) get rereleased in separate volumes with new artwork and a drop in retail price. Features all the supplements of the earlier releases. DVD only.
- "Brave New World" (Acorn), hosted by Professor Stephen Hawking, is a five-part science series exploring the frontiers of scientific discovery. Two discs, DVD only.
- "Big Bad BeetleBorgs: Season One, Volume One" (Shout! Factory) features the first 27 episodes of the 1996 live-action "Power Rangers"-esque series of three kids turned into superheroes. Three discs, DVD only.
For more releases, see Hot Tips and Top Picks: DVDs, Blu-rays and streaming video for week of October 16