The New Release Rack: 'Colombiana' Kills and 'Warrior' Bruises
Plus 'Dolphin Tale,' the 'Straw Dogs' remake, the 'Glee' concert and more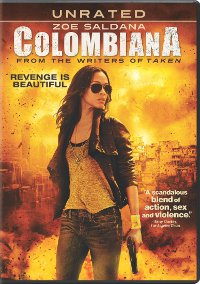 Who would have predicted that "Midnight in Paris" (Sony) would become Woody Allen's most financially successful film ever? Owen Wilson is perhaps the most amiable of Allen stand-ins as an American writer in Paris who is transported back to the twenties in this valentine to Paris of yesterday and today. Videodrone's review is here. "Margin Call" (Lionsgate) accomplishes something that Oliver Stone failed to show in his "Wall Street" sequel: it explains how and why the market crash happened, not just in terms of economics but in the culture of Wall Street and the actions of real people. Videodrone's review is here.
Rising star Zoe Saldana (Uhura in the big-screen "Star Trek" reboot) takes the lead as a sexy assassin in "Colombiana" (Sony), the latest from the Luc Besson international action movie factory. This one is no "La Femme Nikita" -- it's not even a "Taken," as far as that goes -- but once you get past the clichés and the reckless obsession of its heroine, it's a classic Besson action fest, a souped-up drive-in action thriller with exotic locations (Chicago, New Orleans, Mexico doubling as Bogota), clever set pieces and action sequences that favor impressive physical stunts over CGI-enhanced spectacle. Saldana is a natural as an action star, with her slinky figure, her lithe moves going through vents and snaking through air ducts, her dancer's moves fighting and shooting. And how could a director with a name like Olivier Megaton not deliver an action blast? It a bit silly, with logical gaps and absurd romantic detours, but a lot of fun. More reviews here. See the trailer below, after the jump.

The DVD and Blu-ray both feature an extended, unrated version of the movie (it runs about three minutes longer) and two featurettes. The Blu-ray adds three more featurettes on the stunts and action scenes in the film.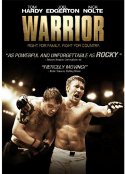 More serious is "Warrior" (Lionsgate), a sports drama about two brothers (Joel Edgerton and Tom Hardy) who square off in the world of mixed martial arts when they both vie for the purse in a MMA tournament. MSN film critic Glenn Kenny praised the film when it was released earlier this year: "A double-barreled "Rocky" for the mixed martial arts generations, the practically epic fight film "Warrior" is one of the most exhilarating surprises of this summer movie season." Nick Nolte co-stars as the father training one brother (Tom Hardy) and Jennifer Morrison is the wife of the other (Edgerton), a schoolteacher and former MMA fighter who needs to money for his family.
The DVD and Blu-ray Combo Pack features commentary by director/co-writer by Gavin O'Connor, co-writer Anthony Tambakis and actor Joel Edgerton, a making-of documentary, bonus featurettes, a deleted scene and a gag reel. The DVD also features select on-screen commentary by the filmmakers and Nick Nolte, and the Blu-ray features the "Full Contact" enhanced viewing mode, which is essentially a running audio-video commentary track with interviews, behind-the-scenes footage and featurettes. The Blu-ray Combo also includes a bonus DVD and digital copy. Also available via Digital Download and On Demand.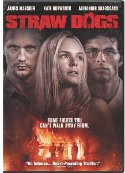 "Straw Dogs" (Sony) is the 2011 remake of the violent Sam Peckinpah drama, this one starring James Marsden, Kate Bosworth and Alexander Skarsgård and set in the backwoods of the American South. MSN film critic Glenn Kenny isn't very impressed with what director/screenwrite​r Rod Lurie does with the material: "Lurie lards his scenario with, on the one hand, some moderately clever jibes at Hollywood convention, and, on the very unfortunate other, a truckload of crushingly literal-minded redneck-bashing stereotypes…" DVD and Blu-ray editions both feature commentary by Lurie and four featurettes. Also available via Digital Download.
More family oriented is "Dolphin Tale" (Warner), based on the true story of an injured dolphin saved by a dedicated marine biologist and starring Harry Connick, Jr., Ashley Judd and Morgan Freeman. MSN film critic Glenn Kenny recommends the film for what it is: "A smart, sweet and even -- dare I say it? -- inspiring kid-engineered story of real-life courage and ingenuity…" The DVD features a deleted scene and a gag reel. The Blu-ray includes an animated short and four featurettes. There is also a Blu-ray 3D Combo pack edition.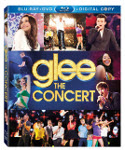 MSN film critic Glenn Kenny gives "Glee: The Concert Movie" (Fox), featuring the cast of the TV series, five stars for doing its thing. "The title promises a concert movie, in 3-D, based on the show "Glee," and the film delivers precisely that, in a way that I believe is sure to overjoy fans of the show." There is a Blu-ray 3D  version of the film, along with the standard DVD and Blu-ray editions, all of which feature two bonus songs, extended versions and featurettes, plus "Shazam" technology for an interactive experience via smartphone. The Blu-ray includes more supplements. Also available on digital download.
John Landis takes on the famous tale of "Burke and Hare" (MPI), the infamous 19th century grave-robbers turned body-snatchers, and turns it into a black comedy with Simon Pegg and Andy Serkis as entrepreneurs in a business that gets cutthroat when the competition for fresh corpses increases. MSN film critic Glenn Kenny likes what Landis does here: "All this and more is stirred into a heady brew by Landis, who makes of the proceedings something like a Hope-Crosby road movie crossed with a classic but not overly refined Ealing comedy… crossed with something like, well, "American Werewolf"." The DVD features deleted scenes, outtakes, interviews and a featurette.
"Blackthorn" (Magnolia), a western directed by Mateo Gil, stars Sam Shepard as an aged Butch Cassidy, living out the end of his days in a Bolivian village until a new adventure comes along. "Blackthorn is less interested in realism than in elegy, and in bringing this American folk hero in line with the Latin American places and people with whom he ended his days," writes Boston Globe film critic Ty Burr. "Given a choice between the legend and the facts, Gil and Barros make up a new legend - and then gild it with light." On DVD and Blu-ray with deleted scenes, two featurettes and short films from director Mateo Gil.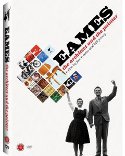 True Stories:
"Eames: The Architect and the Painter" (First Run) profiles the lives and achievements of Charles and Ray Eames, the design team whose modern furniture made them legends, through interviews with employees in their studio and archival footage. New York Times film critic A.O Scott writes: "The most gratifying thing about "Eames" is that it shows, in marvelous detail, how their work was an extension of themselves and how their distinct personalities melded into a unique and protean force." The DVD features deleted scenes.
"Senna" (Universal) is a portrait of Brazilian Formula One racing driver Ayrton Senna, a world champion who died at age 34. Los Angeles Times film critic Kenneth Turan describes it as: "A documentary with the pace of a thriller, a story of motors and machines that is beyond compelling because of the intensely human story it tells."
Plus:
Freddie Highmore is Nigel Slater in "Toast" (Image), based on the memoir of the famous chef and author, and Helena Bonham Carter is the housekeeper who (inadvertently) inspired his journey into the culinary arts.
Julie Taymor's 2010 version of "The Tempest" (Touchstone) arrived on Blu-ray only earlier this year. No one seemed to notice, and this belated DVD edition almost slipped by me entirely. Bruce Willis hits another direct-to-DVD feature with "Catch .44" (Anchor Bay), co-starring Forest Whitaker and Malin Akerman.
Dick Maas directs "Saint Nick" (MPI), a Dutch horror about Bishop St. Nicholas as a serial killer. Miki Manojlovic stars in "The World is Big and Salvation Lurks Around the Corner" (Olive), a road movie about amnesia from Bulgaria and in Bulgarian, Germany, Italian, Slovenian and Hungarian with English subtitles.
See below, after the jump, for select trailers from featured reviews.
For more releases, see Hot Tips and Top Picks: DVDs and Blu-rays for December 20