MOD Movies: How I Won The War
John Lennon co-stars in Richard Lester's darkly anti-war farce
"How I Won the War" (MGM Limited Edition Collection)
MOD stands for "Manufacture on Demand" and represents a recent development in the DVD market, where slipping sales have slowed the release of classic, special interest and catalogue releases. These are DVD-R releases, no-frills discs from studio masters, ordered online and "burned" individually with every order.
You can read a general introduction to the format and the model on my profile of the Warner Archive Collection on Parallax View here. Sony, MGM and other studios have followed suit with their own MOD programs.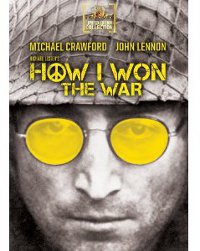 There are now scores of titles pouring out in this format every month, far too many for me to cover, but I can pick out a few highlights, intriguing titles and personal favorites and spotlight them every week. We begin this week with...

John Lennon's familiar face, unsmiling behind a pair of yellow-tinted glasses, stares out from the cover of the this release of Richard Lester's 1967 anti-war farce "How I Won the War." And though second billed in the credits, Mr. Lennon is not so much co-star as an impish member of the company, an ensemble of oddballs goofing behind the ineffectual strutting of Lt. Goodbody (Michael Crawford, from Lester's earlier film "The Knack…" and later to star in Andrew Lloyd Webber's "Phantom Of The Opera") spouting his memoirs to the sympathetic German officer that has taken him prisoner. Peace signs and psychedelic suggestion of the cover aside, this sixties satire is neither a Beatles-esque romp nor a counterculture blast, but a mix of British music hall lampoon, "Goon Show" whimsy and absurdity, gallows humor and grim anti-war imagery (some of it actual battle footage edited into the comically chaotic recreation of warfare).
The film shifts back and forth through Goodbody's confused service with the sweetly stupid and misguidedly cocky upper-class twit of a college boy, promoted to officer by virtue of class rather than any talent, intelligence or aptitude for leadership, periodically turning to the audience to spin a narrative that has little to do with the incompetence and tomfoolery onscreen. His mission—to build a proper cricket pitch in North Africa—stands in for the absurdity of war as the men die in often brutally violent fashion for this misguided misadventure.
"How I Won the War" is a well-meaning misfire of curious bits and pieces awkwardly pieced together in an unbalanced mosaic. Lennon, who had worked with Lester on "A Hard Day's Night" and "Help!," is no comic genius but his good-natured goofing and mugging as Musketeer Gripweed adds a scruffily vulnerable touch to the more focused character comedy of Jack MacGowran (as the unit con man and self-appointed entertainment director) and Roy Kinnear. The gruesome and the goofy mix it up in scene after scene, but Lester's grand plan of using farce for political commentary is sabotaged by his uncharacteristically​ clumsy handling of it all. It's like a military burlesque with everyone too busy with their own act to notice that there's a story here. Or there should be one, at least.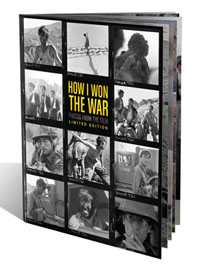 A limited edition commemorative booklet, filled with stills of John Lennon from the film and the set, will be available with disc for a limited time. The 24-page softcover booklet features no text (beyond an introductory note from Yoko Ono Lennon) and resembles a high-grade magazine with better paper. Collectible? Not so much, but Lennon fans will appreciate the candid shots captured and preserved in this booklet.
Where most MOD discs retail for around $20 (and can be found for less depending on discounts and special offers), this retails at $39.95, awfully steep for an unrestored disc on DVD-R with no supplements. The booklet doesn't add that much value, so this is one for the die-hard fans only.
The MGM Limited Edition Collection release of "How I Won the War" is not the film's stateside debut—it was released on DVD back in 2002 by MGM but has been long out of print. And it's not even the only digital edition of the film, which is also available as an instant streaming video for Netflix customers (at no extra charge). So while the disc is perfectly adequate, the premium price for the DVD-R is hardly justified.
Read Roger Ebert's 1968 review of the film here and Keith Phipps's look back at the film at the Onion A.V. Club here.
Available from Screen Archives Entertainment and Amazon.