Blu-ray Round-up: 'Suddenly' it's season two of 'Star Trek: The Next Generation
Plus 'Catch Me If You Can,' five by Coppola, 3D Pixar, and more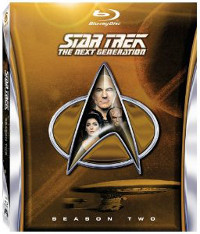 "Brazil" (Criterion) marks the Blu-ray debut of Terry Gilliam's 142-minute director's cut of his dark, dense science fiction fantasy, an absurdist nightmare of Kafka-esque dimensions, along with priceless extras. Videodrone's review is here.
"The Blue Angel" (Kino), the film that made Marlene Dietrich a star, comes to HD in its original German-language version from a restored edition. Reviewed on Videodrone here.
"Star Trek: The Next Generation – Season Two" (Paramount) continues the roll-out of the "Star Trek" TV shows in newly-remastered editions prepared for HD. This is the season that the show started to find its space legs. Gates McFadden's Dr. Crusher was MIA on this cruise, replaced by the scrappy and often tart Dr. Pulaski (original series veteran Diana Muldaur), Whoopi Golberg christened the new Ten Forward set as barkeep and counselor without rank Guinan, and Colm Meaney popped up in his recurring role as Transporter Chief O'Brien. Most importantly, Riker grew a beard and gave himself a little authority with his new look.
While not completely up to warp speed yet, there were some fine episodes in this season: "Elementary, Dear Data" (with a sentient holodeck Moriarty), "The Royale" (the away team is trapped in a bad pulp melodrama), "The Measure of a Man" (Data defends his civil rights when a scientist wants to experiment on him), "The Emissary" (Worf gets animal with the smartest and sexiest Klingon woman to step through the series), and of course "Q Who," which introduced the Borg, the most inventive and terrifying alien menace ever created for sci-fi TV. You can skip the perfunctory second season finale, "Shades of Gray," which turns into a clichéd clip show as Riker dreams on his deathbed, but along with the original 22 episodes of the season is a never-before-release​d extended edition of "The Measure of a Man."
New to this five-disc set is the two-part documentary "Make It So: Continuing Star Trek: The Next Generation," the hour-long "Reunification: 25 Years After Star Trek: The Next Generation," the featurette "Energized! Season Two Tech Update," and commentary on the extended "The Measure of a Man." Also includes the supplements from the original DVD release, accessible under "Mission Logs" and presented in standard definition.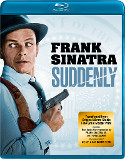 Frank Sinatra is a would-be presidential assassin in "Suddenly" (Image), the low-budget 1954 thriller he made before his fifties comeback (and years before "The Manchurian Candidate"). Most of the film takes place in a single suburban home overlooking the train station, where Sinatra and his confederates have take a family hostage and set-up a sniper rifle, and is more about tension and psychological sparring than action. Sterling Haydn is the local sheriff who tries to psych out Sinatra, who turns out to be quite the cold-blooded psycho at heart. Sinatra turns out to be very good at playing off-handedly vicious.
The transfer is Academy ratio (1.33:1) but appears to be shot for both widescreen projection and protected for full screen (it looks just fine zoomed to fill the screen), and through unrestored (there are some blemishes and one brief moment of sever print damage), it is well-mastered from a fine grain 35mm print and is sharp and vivid. Features two new commentary tracks, one by Frank Sinatra Jr. and the other, more scholarly one by USC film professor Dr. Drew Casper, and the 1957 short film "N.Y. N.Y.: A Day in New York," an impressionist portrait of New York filled with trick lenses and kaleidoscope shots, and a gallery of stills.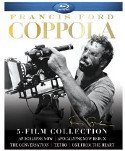 "Francis Ford Coppola 5-Film Collection" (Lionsgate) brings together four previously-released films and one Blu-ray debut. The debut is "One From the Heart," his color-blasted modern take on the classic studio musical, which looks simultaneously ahead of its time and delightfully quaint, and it includes commentary by Coppola and the featurettes and other supplements form the original DVD release. The four-disc set is filled out with both "Apocalypse Now" and "Apocalypse Now Redux," the version recut and expanded by 50 minutes by Coppola and editor/sound designer Walter Murch in 2001, on a single disc with commentary by Coppola (the sole supplement carried over from the previous extras-laden Blu-ray releases); his 1974 low-key masterpiece "The Conversation" (with two commentary tracks, interviews, featurettes, and other supplements); and his 2009 drama "Tetro" (with commentary, featurettes, and other supplements).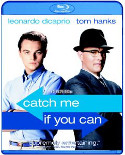 "Catch Me If You Can" (Paramount) – Tom Hanks chases check forger Leonardo DiCaprio in Steven Spielberg's take on the true story of Frank Abagnale, Jr., who successfully passed himself off as a pilot, a lawyer, and a doctor, and passed over $4 million in forged checks, all before his 21st birthday. And wouldn't you know that Spielberg captures that adolescent sense of adventure, of challenge, and of game-playing in this 16-year-old outlaw hero beautifully. Tom Hanks puts on a Massachusetts drawl as the lonely, driven FBI agent who makes Frank his personal mission and becomes a strange father-figure to the wayward boy. Great credits and a bouncy John Williams score to boot! Includes six fine production featurettes and galleries of stills.
"Oklahoma!" (Image) is the 1999 London stage revival of Rodgers and Hammerstein's all American musical stage production, which was recorded for TV. The reason this production is getting the Blu-ray treatment is its star: Hugh Jackman. The action star originally made his fame as a musical comedy performer and he puts on a midwestern drawl as a cocky, bow-legged cowboy. Features the hour-long documentary "The Making of Oklahoma!"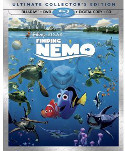 Pixar's "Finding Nemo" just got a 3D retrofit for theatrical re-release. This week it makes its Blu-ray 3D debuts along with a new edition of "Up." "Finding Nemo 3D" (Disney) and "Up 3D" (Disney) are presented in five-disc sets with standard Blu-ray and DVD editions, lots of supplements, and a digital copy. Which makes them good investments if you are even thinking of getting the Blu-ray 3D experience in the future, because you've got multiple options to use in the meantime.
Getting a re-release is Guillaume Canet's compelling French mystery thriller "Tell No One" (Music Box), based on American author Harlan Coben's mystery about a grieving doctor (François Cluzet) suspected by the cops in the eight-year-old murder of his wife, who just may be alive. There's a lot going on in this well-tooled crime drama and Canet and his cast (which includes Kristin Scott Thomas, André Dussollier and Jean Rochefort) keeps it all in the realm of physical possibility and emotional believability. Winner of four Cesar Awards (the French equivalent to the Oscars), including Best Director and Best Actor (Cluzet). French with English subtitles, with an hour-long documentary, over 30 minutes of deleted scenes, and outtakes.
For more releases, see Hot Tips and Top Picks: DVDs, Blu-rays and streaming video for week of December 4, 2012