Videodrone B-Sides: Science fiction militia action in the 'Halo 4' universe
Our monthly round-up of direct-to-disc and made-for-cable pictures that slip on to the New Release racks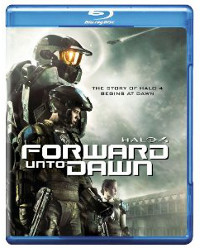 Originally made for the web, "Halo 4: Forward Into Dawn" (Anderson Digital) has some serious production value for an Internet production.

Set in the universe of the video game "Halo 4," the story follows a group of advanced cadets in a United Nations Space Command military academy, notably Thomas Laskey (Tom Green), following in his parents footsteps. He questions the war against the insurrectionists in the colonial planets but is thrust into battle when the planet training base is invaded. It has the smart, stripped-down aesthetic of a SyFy original series (no surprise, it was shot in Vancouver, home to most of SyFy's original productions) and strong cast (Anna Popplewell of "The Chronicles of Narnia" films as a fellow cadet, Ayelet Zurer of "Angels and Demons" as an officer), and like the game, a pretty muscular soundtrack and score.
The production is ostensibly a promotional tool turned into a self-contained story, rolled out in five episodes in advance of the game's release. It's edited together into a single 90-minute film and presented on Blu-ray and DVD with commentary tracks, bonus vignettes, and of an hour of behind-the-scenes featurettes. Reviews here.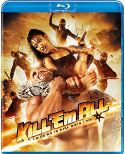 Action:
"Kill 'Em All" (Well Go), an American martial arts deathmatch movie that puts its purpose right in the title, boasts the participation of Hong Kong martial arts legend Gordon Liu right on the cover. His part is actually pretty small and limited to the finale while the cast of fighters (among them Johnny Messner, Joe Lewis, and Ammara Siripong) carry the action. Raimund Huber directs. Blu-ray and DVD, no supplements. Reviews here.
Gary Daniels headlines "Forced to Fight" (Image), another thriller set in the world of underground extreme fighting matches, and Peter Weller is the token name playing the ruthless crime boss running the arena. Blu-ray and DVD, with two featurettes. Reviews here.
"Bro'" (Lionsgate) is an urban drama about a college kid pulled into the daredevil world of freestyle motorcycle dramas, co-starring Danny Trejo. DVD only, with commentary and featurettes. Reviews here.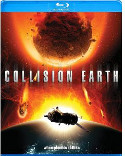 Science Fiction:
"Collision Earth" (Anchor Bay) is the SyFy original movie of the month, this one about a comet that knocks Mercury out of its orbit and on a collision course with earth. Kirk Acevedo is the obligatory disgraced scientist who teams up with space shuttle crew member Diane Farr to save the planet. Okay, not much science in this fiction, but since when has that been a requirement for the mega-B-movies of the SyFy Channel? Blu-ray and DVD, no supplements. Reviews here.
Horror:
"Life Zone" (Screen Media), about a madman who kidnaps women and forces them to bear children against their will in a dungeon-like hospital, is promoted as a pro-life horror movie. Robert Loggia, Lindsey Haun, Charles Durning, and Martin Kove star. Movieline has some thoughts on it here.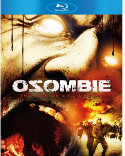 "Osombie" (eOne), subtitled "The Axis of Evil Undead," is the next (il)logical step in the zombification of every single genre and cultural meme. In this one, American Special Forces soldiers take on the undead Al Qaeda. Blu-ray and DVD, no supplements. Reviews here.
"The Caretaker" (MVD), meanwhile, sets itself in the vampire apocalypse, where a group of humans take refuge in a rural hideaway with a maverick vampire and enter into an uneasy alliance. DVD only, no supplements. Reviews here.
In "The Frozen" (Arc Entertainment), a young couple stranded in the snowy mountains during an ill-conceived winter camping trip are stalked by a mysterious man. Brit Morgan and Noah Segan star. DVD only. IMDb page here.
"Bigfoot County" (Lionsgate) is another mockumentary horror that, as promised in the title, goes in search of Bigfoot. DVD only. IMDb page here.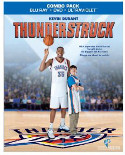 Family:
"Thunderstruck" (Warner Premiere) is the latest take on the body-switching comedy, this one swapping out the talents of NBA superstar Kevin Durant (playing himself) with a klutzy teenage fan. Hilarity ensues. Taylor Gray, Brandon T. Jackson, and Jim Belushi co-star. Blu-ray and DVD, with two featurettes and an UltraViolet digital copy for download and instant streaming. The Blu-ray includes another featurette and a video blog. Review here.
"Cinderella" (Anchor Bay) is an animated take of the classic fairy tale, relocated to the old west. DVD only, and it's available exclusively at Wal-Mart for the time being.
Miscellaneous:
"Pawn Shop" (Redd Media) is a comedy set around a family run pawn shop run by Garrett Moriss. DVD only. Here's the IMDb page.
Two more plays recorded for disc: Isaiah Washington and Garcelle Beauvais star in David E. Talbert's "Suddenly Single" (Image), about the end of a 17-year marriage, and Vanessa Williams, Terri J. Vaughn, and Rachel True star in "Sugar Mommas" (Image), a comedy about friends partnering to start a bakery.
From the Nikkatsu Erotic Films Collection comes two more "pink" films from Japan's oldest studio: "Sex Hunter: Wet Target" (Impulse) a violent thriller from 1971, and the erotic comedy "I Love It From Behind!" (Impulse) from 1981.
For more releases, see Hot Tips and Top Picks: DVDs, Blu-rays and streaming video for week of December 18