Coming Up: Gnomeo and Juliet and... Justin Bieber?
Plus "Sanctum"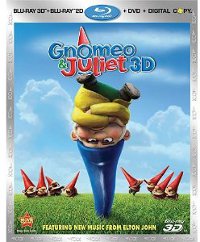 "
Gnomeo and Juliet
," Disney's animated reworking of Shakespeare's great romantic tragedy with feuding clans of garden gnomes and songs by Elton John, comes to DVD, Blu-ray and Blu-ray 3D™ (plus Movie Download and On-Demand) on May 24.
It's another big Disney release offered in multiple editions, including a 3-Disc Blu-ray Combo Pack (Blu-ray 3D, Blu-ray 3D + DVD with Digital Copy), and the usual array of supplements on the deluxe incarnations.
Leave it to Justin Bieber to stand out from the crowd of new releases with his own, separate street date for "Justin Bieber: Never Say Never" (Paramount). It's due out on Friday, May 13 in DVD and Blu-ray/DVD Combo editions.
The James Cameron-produced adventure thriller "Sanctum" (Universal), which arrived with much ballyhoo surrounding the 3D photography, arrives on DVD, Blu-ray and Blu-ray 3D™ on June 7, with lots of supplements including multiple commentary tracks and production featurettes.