Blu-ray Round-up: "Twilight Zone: Season 3"
plus "All the President's Men" and "The Double Life of Veronique" and more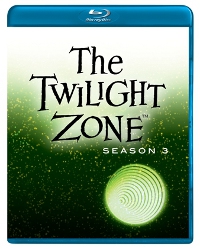 "Twilight Zone: Season 3" (Image)
Submitted for your approval: Rod Serling's brilliant series of the fantastic, where social politics and barbed human dramas were slipped in behind the façade of fantasy. The result was a TV series so iconic and influential that its very title has become a cultural catch-phrase. We give you "Twilight Zone: Season 3," highlighted by the brilliant "It's a Good Life," adapted by Rod Serling from the harrowing Jerome Bixby story and starring Bill Mumy as a 6-year-old monster, and "To Serve Man," adapted by Rod Serling from the Damon Knight story and featuring one of the most famous twists of all time. Other highlights include "A Game of Pool" with Jack Klugman as a poolroom shark who plays for his life against the legendary dead Fats Brown (Jonathan Winters, excellent in a rare dramatic role), "The Midnight Sun" (the end of the world comes with a sweltering whimper, not a bang), the sweetly sentimental "Kick the Can" (which Spielberg remade in "Twilight Zone: The Movie"), Richard Matheson's haunting "Little Girl Lost," "The Dummy" with Cliff Robertson as a ventriloquist tormented by a prop with a mind of its own, and the Ray Bradbury-scripted "I Sing the Body Electric."
37 episodes on five discs in a double-wide case with hinged trays, in superbly remastered editions. The Blu-ray features the supplements of the 2005 DVD release (commentary on select episodes by actors Jonathan Winters, Bill Mumy, Lois Nettleton, Bill Mumy, William Windom, Leonard Nimoy, Robert Cornthwaite and Cliff Robertson, archival interviews with Buzz Kulik, Buck Houghton, Richard L. Bare, Lamont Johnson, Earl Hamner, Jr. and William F. Nolan, radio show adaptations of various episodes, isolated music scores on numerous episodes, clips from the sequel series remakes of two episodes and Rod Serling appearances as a guest on "The Garry Moore Show" and "Tell It to Groucho" and as host of the popular game show "Liar's Club") plus all new contributions.
There are 19 new audio commentaries (featuring "The Twilight Zone Companion" author Marc Scott Zicree, "Twilight Zone" writers Earl Hamner, George Clayton Johnson and John Tomerlin, writers William F. Nolan, Neil Gaiman, Marv Wolfman and others), 19 radio drama adaptations, the original laugh track for the comic episode "Cavender Is Coming" (starring Carol Burnett), more interviews and isolated score for all 37 episodes. Stuart Galbraith IV picks the best and the worst episodes in his review at DVD Talk.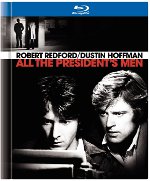 "All the President's Men" (Warner) - Robert Redford and Duston Hoffman play the real life Washington Post reporters Bob Woodward and Carl Bernstein, the men who followed the trail of a minor burglary at the Watergate hotel to the highest levels of the US Government. Alan J. Pakula directs William Goldman's sharp adaptation of the book by Woodward and Bernstein with a focus on the dogged job of reportage by two junior reporters who prove themselves by breaking a story that could blow up in their faces… or worse. Jack Warden, Martin Balsam, Jane Alexander and Ned Beatty co-star, with Hal Holbrook as Deep Throat and Jason Robards as Washington Post editor Ben Bradlee. Winner of four Academy Awards, including Best Adapted Screenplay by Goldman and Best Supporting Actor for Robards.
Warner offers the Blu-ray debut in the Blu-ray Book format, with an illustrated booklet and a disc tray in the back inside cover. It features all the supplements from the 2006 DVD special edition: commentary by Robert Redford, the 30-minute "Telling the Truth About Lies: The Making of All the President's Men" (a fine overview of the film with some sharp observations amidst the praise the participants heap upon one another), the shorter historical featurettes "Woodward and Bernstein: Lighting the Fire" and "Out of the Shadows: The Man Who Was Deep Throat," a vintage making-of and a 1976 clip of Jason Robard discussing the film on "Dinah!"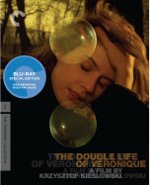 "The Double Life of Veronique" (Criterion) - Irène Jacob is Polish choir soprano Weronika and her double, French music teacher Véronique, two women whose lives are connected by an inexplicable bond of emotion, in Krzysztof Kieslowski's delicate film made before he embarked on the "Three Colors" Trilogy. The play of chance and the ephemeral moments of emotional engagement with the unpredictable world that became Kieslowski's signature come to full fruition first in this dreamy, sublime film. Newly remastered for Blu-ray, it features the supplements from Criterion's 2006 DVD release, including three short documentary films by Kieslowski --"Factory" (1970), "Hospital" (1976), and "Railway Station" (1980) -- plus the bonus short film "The Musicians" (1958) by Kieslowski's teacher, Kazimierz Karabasz, and the alternate U.S. ending to "Double Life." Film scholar and Kieslowski expert Annette Insdorf (author of "Double Lives, Second Chances: The Cinema of Krzysztof Kieslowski") provides commentary. There are two documentaries -- "Kieslowski - Dialogue" from 1991, featuring a candid interview with Kieslowski and rare behind-the-scenes footage from the set of "The Double Life of Véronique," and "1966 - 1988: Kieslowski, Polish Filmmaker" from 2005 – and new video interviews with actress Irène Jacob, cinematographer Slawomir Idziak, and composer Zbigniew Preisner, an a booklet with essays by Jonathan Romney, Slavoj Zizek, and Peter Cowie, and an excerpt from "Kieslowski on Kieslowski"
"Amarcord" (Criterion) - Criterion remasters Federico Fellini's 1973 carnivalesque portrait of provincial Italy during the Fascist period, the director's most personal film, for Blu-ray. Packaged in a paperboard clamshell folder in a slipcase, it features the supplements of the DVD remaster: Commentary by scholars Peter Brunette and Frank Burke, the 45-minute documentary "Fellini's Homecoming," a video interview with star Magali Noël, archival audio interviews with Fellini, his friends, and family by radio film critic Gideon Bachmann, a gallery of Fellini's drawings, a presentation of "Amarcord" ephemera, a deleted scene and a booklet with an essay by Sam Rohdie and Fellini's 1968 memoir "La mia Rimini."
Also debuting on Blu-ray this week:
"Chaplin" (Lionsgate), Richard Attenborough's loving bio-pic of the great actor/director/film legend with Robert Downey Jr. in a superb performance that earned him his first Oscar nomination. Includes three featurettes and Chaplin home movies.
"Hoodwinked" (Vivendi), the 2006 animated "Little Red Riding Hood" spoof, in a Blu-ray+DVD edition with commentary, deleted scenes and a featurette.
"Dungeons and Dragons 2-Movie Collection" (Warner), two films which somehow manage to turn the unlimited fantasy potential of the role-playing game into trite, cliché-riddled movie adventures. Both films come with commentary, featurettes and other supplements.