Watching with Drew Goddard, director of 'The Cabin in the Woods'
The 'Buffy' veteran geeks out on making monster movies and shares the fun with us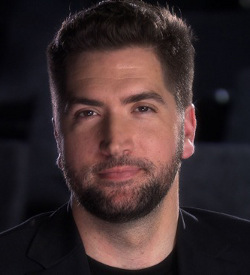 Drew Goddard goes way back with Joss Whedon. He got his start writing episodes of "Buffy the Vampire Slayer" and "Angel," his launching pad to "Alias" and "Lost" and his first feature film screenplay, "Cloverfield" (produced by "Lost" creator" J.J. Abrams). "The Cabin in the Woods" reunited Goddard with Whedon, who co-wrote and produced the film but handed the directing over to Goddard. That's a vote of confidence for a first-time director and Goddard ran with it, delivering the most high-concept horror film of 2009. Unfortunately, the bankruptcy of MGM left the film in limbo until 2012, when Lionsgate picked up the film and finally brought it to theaters. In the intervening years, one of their young, unknown actors became a little more known, thanks to a couple of little comic book movies called "Thor" and "The Avengers" (the latter written and directed by Joss Whedon).
"The Cabin in the Woods" arrives on Blu-ray, DVD, and On Demand this week, and director Drew Goddard is doing the interview rounds again. In our too-brief phone call, we talked about horror movies, the tricky balance of horror and comedy, and why making "The Cabin in the Woods" was the most fun he'll ever have on a movie set.
What are you watching?
I haven't seen the film yet, but I can't stop watching the extended "Cloud Atlas" trailer. It is possibly my favorite movie of all time. I have watched it so many times, I cannot tell you how excited I am for that movie. I don't know what it is about that five minute trailer but I am just weeping every time by the end of it. I am so excited for that movie. And it sounds like we're in for a really good fall as movie lovers. I can't remember the last time I've been this excited about movies.
I just finished listening to the commentary track to "The Cabin in the Woods," with you and Joss Whedon, and right at the end, during the credits, you blurt out, "Oh my god, this is the most pretentious commentary track we ever did." So of course I have to ask: what was the previous champion?
(laughs) I'm sure there's so many. I try not to do these things for that exact reason. Let me think… I'm sure there are some gems on "Buffy: Season Seven" where I was really full of myself.
I love the way you guys just geek in the commentary out over the monster movie mash of the third act, where every horror icon you guys could create this side of copyright infringement appear like a roll call. You can tell that you guys love movie monsters and horror films.
I'm glad that comes across because it really is the answer to every question that people ask me about "Cabin." I just love this movie. I just love this genre and what we could do with the genre and everything came from that place. Everything about this movie came from, We love horror movies, let's just make one.
My takeaway quote from the commentary track is something else you said toward the end of the film: "This was fun to shoot."
(laughs) Yeah, I definitely feel spoiled. I was aware of it at the time but I know I'm going to look back at it and go, Man, I'm never going to get to shoot anything that is as fun as "Cabin" was. Because everyday on that call sheet, you would look at the scenes and go, Oh, Japanese schoolroom today, Oh, angry molesting tree element shoot. Everything would make me laugh when I would see what the work was for the day. I always told the crew, If we can't have fun on this movie, we need to find other jobs.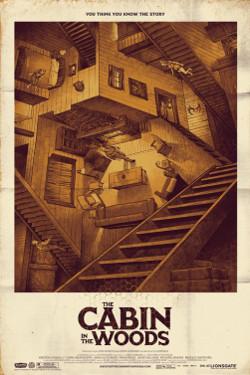 Audiences are more horror savvy than ever before, as classic and contemporary horror movies or so readily available today. Is it a challenge to come up with something that can surprise audiences, and was that in your mind when you brainstormed the screenplay, coming up with a different take on a classic genre that you haven't seen before?
Certainly that's there and I think it's inherent all the time. You always feel that as a writer, the need to find a knew way of  telling stories that have been told before, but I don't think we set out to be crazy or different. I don't think that was our goal, it just happened organically because I think that's who we are in general and Joss and I get bored with the same old stuff. So I think as we were doing it, it got more and more ridiculous and we just kept saying, Let's see if you can push it further and further, and then at a certain point, the third act sort of happened and we realized, Okay, I think we have found the edge of space, we have pushed it far enough.
Humor and horror are tough things to pull off together, but when it works it can be such a natural combination. Both built on setting up and then overturning expectations, and when you get someone laughing, they let their defenses down and you get in there.
Absolutely, that's well said. I think they're different sides of the same coin, that fear and laughter come from the same place and the same sort of need to protect and the need to sooth. And so it's definitely a fun thing to play with as a filmmaker because you can tell that the audience needs both as it's happening.
You've been writing for years, often with Joss Whedon, but "Cabin in the Woods" is your debut as a director. Since Whedon had a track record and a following as a director, how did you get the gig? Did you know you wanted to use this project as your debut from the beginning? Did you arm wrestle Whedon or rock / paper / scissors for the job?
Let's be honest, if Joss had wanted to direct it, he would have. I would have lost. So he couldn't have been more supportive of me, and he always has been through my career, and I think that it just felt right for the two of us, that on this one it would be good if he produced and I directed, and I will be eternally grateful to him for that.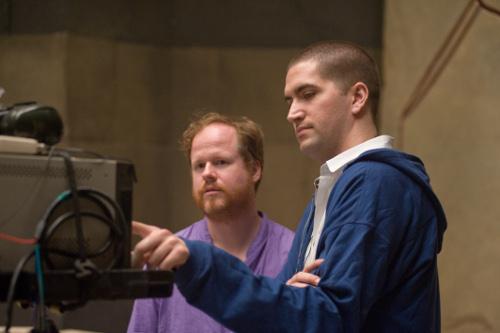 As you say on the commentary track, you and Joss wrote the first draft over a single weekend in this rush of ideas of energy. When you started fine-tuning it preparation for shooting, did you go back and screen any horror films, old or new, for ideas fro your monster gallery, for instance, or for particular clichés you wanted to play with in your take?
Not really. If anything, we tried not to do that. I certainly did when it was time to shoot the movie because I wanted to look at styles and visual palettes to get a vibe for that, but we tried to not do too much research because the truth is, this is just who we are, this is what we like to do, and we were both conscious of, if we went back immediately, the movie would feel a little too Greatest-Hits-y, which we didn't want it to. I didn't want it  to feel like it was a bunch of references to other movies and that's it. We both felt that the story should stand on its own first and so we concentrated on that. One we had that skeleton in place, that's where you started to fill in and go, Wouldn't it be great if we could put a cenobite in here? It happened organically.
This is probably the only movie where you could say to the crew "Let's put a cenobite in there" and everyone knows what you're talking about.
I kept saying during shooting, "It's all downhill from here. I'm never going to be able to do anything this fun ever again." At least I enjoyed it at the time. I have no regrets, I was definitely conscious of it when it was happening.
I love the control room. It's part NASA control  room and part movie audience stand-in, and the technicians are like stage managers or technical directors on a live show.
And also, as my wife pointed out, they serve as the writers themselves because they are the ones creating the scenes. I'm sure it was there subconsciously as we were working on it and that's one of the fun things about moviemaking, you learn stuff about yourself as you are making these things.
And at the same time it is part of the corporate culture where it is just another job and they crack jokes to inure themselves to the whole reality of what they're doing to these kids. And when it actually happens, it still makes them pause.
I grew up in Los Alamos, New Mexico, and the only thing that's in Los Alamos is the nuclear research plant where they built the atomic bomb, so I was definitely influenced by seeing all my friends' parents, who were nice, lovely people, get up every day and work on weapon of mass destruction. It was such a strange universe and I felt, when it was time to start dealing with "Cabin," I just handed them photos from Los Alamos from the forties and fifties and said, "The is the vibe I'm going for because this is the world we're trying to echo."
What have you done since "The Cabin in the Woods"?
I finished the screenplay for "Robopocalypse," which Mr. Spielberg is planning on shooting in the spring of next year, I believe. And in the meantime I've just been working on my next project.
Can you talk about it or is it all very hush-hush at this point?
It's still a secret, sadly.
Are there boxes of monsters in it?
Not yet. (laughs) You never know with me. I may just decide, You know what this needs? More monster boxes!