Coming Up: Black Swan
The Oscar-winning feature announced for a late-March release
By 
SeanAx
 Feb 28, 2011 12:34PM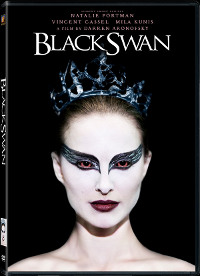 Fox Home Video waited until the day after Oscars to announce the DVD and Blu-ray release of "
Black Swan
" (Fox), the film that earned Natalie Portman an Academy Award for Best Actress.
The release has obviously been some time in the planning and the art for the two releases (which will make a marvelous matched set when set side-by-side on sale racks - see below for a gander) has been featured on Amazon for some time sans date. Now Fox fills in the details.
The home video curtain call is set for March 29 and both editions will include what appears to be a detailed documentary on the making of the film.
More details and art after the jump.
The BLACK SWAN Blu-ray disc contains special features not included on the DVD including exciting behind-the-scenes looks at the filmmaking process and interviews with the cast and director Darren Aronofsky. With the best-available sound and picture quality, the Blu-ray format provides viewers the premier way to experience the stunning Academy Award®-nominated cinematography, memorable character performances and flawless choreography of BLACK SWAN.
BLACK SWAN Blu-ray Disc Features:
● Metamorphosis: A Three-Part Series
  ○ A behind the scenes look at the filmmaking process from Darren Aronofsky's visionary directing, to the
physically-demanding​
acting, to the stunning special effects.
● Behind the Curtain
  ○ An inside look at the film's costume and production design.
● Ten Years in the Making
  ○ Natalie Portman and Darren Aronofsky discuss their creative journey, from "preparing for the role" to "dancing with the camera."
● Cast Profiles – Roles of a Lifetime
  ○ Presented by Fox Movie Channel, the stars reflect on the their challenging and rewarding characters
BLACK SWAN DVD Features:
● Metamorphosis: A Three-Part Series
  ○ A behind the scenes look at the filmmaking process from Darren Aronofsky's visionary directing, to the
physically-demanding​
acting, to the stunning special effects