Coming Up: 127 Hours and five weeks
Fox announces the DVD/Blu-ray release of Best Picture nominee for March 1
How's that for timing?
The day that "
127 Hours
" received six Academy Award nominations (including Best Picture, Best Director and Best Actor for James Franco), Fox announced the home video release of the acclaimed
based-on-a-true-stor​y
survival drama. Franco plays loner outdoorsman Aaron Ralston, whose solo hike through the Utah desert hills ends with him trapped in crevice, his arm pinned by a boulder with no one around to help.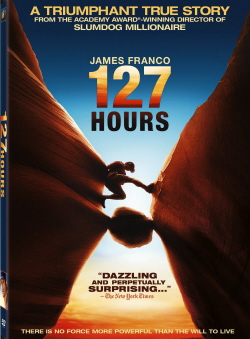 Here's what's planned for the disc:
127 HOURS Blu-ray Disc features
Disc 1: Movie
    ●    Commentary with Danny Boyle, Christian Colson & Simon Beaufoy
    ●    Search & Rescue - The events that aided the search and rescue of Aron Ralston
    ●    127 Hours: An Extraordinary View - A unique collaboration between the director and actor
    ●    Deleted Scenes
    ●    God of Love: short film by Luke Matheny
Disc 2:
    ●    Digital Copy of movie
127 HOURS DVD features
    ●    Commentary with Danny Boyle, Christian Colson & Simon Beaufoy
    ●    Deleted Scenes