Cult Watch: Sharktopus - The Face of Terror Just Grew Tentacles!
Half-shark. Half octopus. All killer. Total nonsense.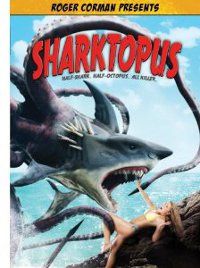 "Sharktopus" (Anchor Bay)
"You just unleashed an eight-legged, man-eating shark on the world!"
"A minor setback."
Absurdly-titled, cheaply produced and executed with tongue firmly in cheek (because it's just too hard to take it seriously), this made-for-cable film is another in the "Roger Corman Presents" line of B-movie creature features made for the SyFy Channel. Eric Roberts is the token name actor on hard times recruited to give the film a pose of legitimacy and he hams it up with a half smirk that at least suggests he's having a good time.
"Sharktopus" opens on the title creature (tag line: "Half-shark. Half octopus. All killer.") already sluicing through the waters off the California coast, a genetic hybrid designed for the Defense Department in a hush-hush program by modern mad scientist Nathan Sands (Roberts), head honcho of the knowingly-titled Bluewater. Trouble begins when it slips off its electronic collar and goes on a killing spree, thanks to a little genetic tinkering to up the aggressiveness of the ridiculous creature. While his brainy scientist daughter (Sara Malakul Lane, a sexy Thailand celebrity in a pair of librarian glasses) teams up with a frat-boy of a mercenary (Kerem Bursin) to subdue the creature ("But don't kill it," demands Nathan), a journalist rushes to scoop the rest of the media world with an exclusive and lots of bystanders get manhandled, torn asunder and bitten in half, all within the bounds of Saturday night TV boundaries. Roger Corman, the man known as the King of the Bs, has successfully remade himself into the most popular producer of PG-rated creature features for the SyFy Channel.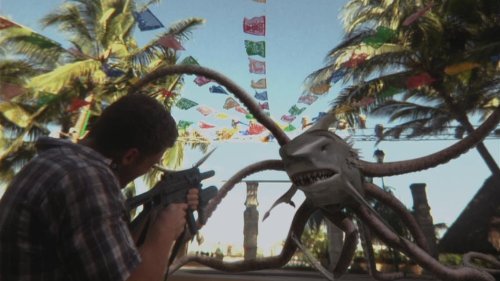 The creature is a cheap digital creation, never realistic but then it's a Sharktopus, not exactly a concept that demands painstaking execution. In fact, it feels like a knock-off of the creature from the Korean horror "The Host" reworked in a film that combines "Jaws" and "Piranha." The performances are passable at best (Eric Roberts is generally entertaining, if never really engaging) and stiff and tone-deaf at worst and director Declan O'Brien goes through the motions of storytelling and suspense as he sets up the next low-budget money shot. It's terrible, which is not to say unentertaining, in its own sloppy, silly way. Corman makes a cameo as a beach bum and, after years dignified appearances in the films of Jonathan Demme and Joe Dante and others, is left to simply mug his way through this scene. But some of the attacks are, if nothing else, designed with a little wit and the bungee jumper sequence is perfectly executed. The rest of the film simply assumes the audience is there to camp it up and obliges.
The DVD and Blu-ray debut offers a crisp presentation of a cheap digital feature and includes an easy-going commentary tack by Roger Corman and Julie Corman, hosted by Perry Martin. Roger and Julie simply kick back and talk about the way they make movies, pausing briefly to remark on various scenes. If it doesn't offer much in the way of production detail, it makes up for it with the sheer pleasure they have when it comes to making movies. No wonder he's still in the business: he loves doing this stuff.