TV on DVD Round-Up: British Murder Cops and American TV Pioneers
Plus a ReBoot of The Norman Conquests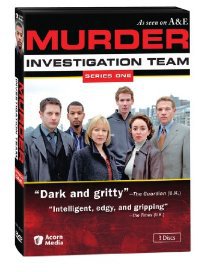 "Murder Investigation Team: Series One" (Acorn) - This British series, which lasted only two seasons and 12 episodes, plays like British TV's answer to "Law and Order" and the American police procedural: a crisply-paced, no-nonsense cop show built around the team on the job (no personal dramas getting in the way of them) gathering evidence, following leads, interviewing witnesses and debating theories of the case. Samantha Spiro leads this team as the brusque DI Vivian Friend, with Lindsey Coulson as her top DC and Richard Hope and Michael McKell as key members of her team. This set collects eight episodes on three discs in a box set of three thinpak cases. Creator Paul Marquess and series consultant DCI Jackie Malton offer commentary on the debut episode and there's a 23-minute interview with actor Michael McKell (DS Trevor Hands).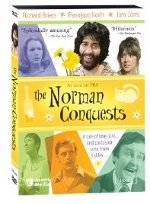 "The Norman Conquests" (Acorn) is the BBC's 1977 production of a trilogy of comic plays by Alan Ayckbourn set over the same weekend in a country home where the collision of family and friends erupts in comic conflicts. Each play covers the same period of time from a different perspective: "Table Manners" is set in the dining room, "Round and Round the Garden" finds the goings on in the back garden and "Living Together" in the living room.  
Tom Conti is the Norman of the title, a philandering husband who is seeing his sister-in-law Annie (Penelope Wilton), a frustrated single caring for an invalid mother, on the side, but when the secret comes out, it creates havoc in the household, which is already a tangle of barbed comments and creative insults, many of them from the mouth of Norman, who is happy to stir up the staid reunion. Each film (shot on videotape) on a separate disc in a standard case with a hinged tray. Also features a text bio of playwright Alan Ayckbourn and notes on the trilogy.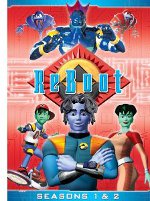 "ReBoot" (Shout! Factory) - The first completely computer animated TV show, created for ABC's 1994 Saturday Morning line-up by the team who made the landmark "Money For Nothing" music video for Dire Straights, beat "Toy Story" by a year. This new set collects all 23 episodes from the first two seasons in a four-disc box set of two thinpak cases. Also features commentary on select episodes. For a little historical perspective, check out this terrific 1997 piece on the show from Wired Magazine.
"Pioneers of Television: Season 2" (PBS) picks up with four more chapters on some of the most resilient genres of the TV landscape of the fifties to the seventies. Read the full review on Videodrone here.
"Leave It to Beaver: Season Six" (Shout! Factory) is the final season of gee-whiz sitcom of fifties suburban life and homespun family values that became an institution for a generation thanks to endless afterschool reruns. 39 episodes on six discs in a standard case with hinged trays, plus an audio interview with Tony Dow. Shout! Factory previously released these episodes in "Leave It to Beaver: The Complete Series."
Also new this week: