TV on Disc: Flying the friendly skies of 'Pan Am'
The ABC series takes on the romance of the early sixties world travelers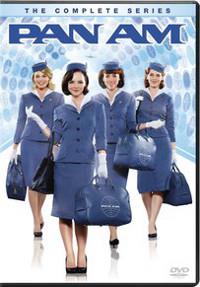 Where cable TV has been mining both creative and commercial success in period pieces -- from "Mad Men" to "Boardwalk Empire" -- the networks have not been able to make retro work for them.
"Pan Am: The Complete Series" (Sony), set in the early sixties and built around a quartet of young stewardesses who find a freedom that other career simply don't offer, is as good as any recent network attempt to create a relevant and entertaining show set in our cultural past, and better than most. But while it trumps cable when it comes to fashion and spectacle and visual recreations of the era, it never quite gauges the difference between historical reference and social commentary.
Christina Ricci is the ostensible lead, playing a smart, tart, rebellious young woman who likes to push the boundaries of proper feminine behavior in the unforgiving corporate culture where appearances are everything. The producers, however, don't find much for her to do in the series, at least until she becomes inadvertently tied in with a pilot running contraband on his flights, and end up giving the more interesting storylines to her co-stars.
Kelli Garner is a toughened veteran who speaks multiple languages and is recruited as a courier for the CIA. Margot Robbie is Garner's younger sister, an idealistic Marilyn-esque beauty who stumbles into inadvertent fame as a Life magazine covergirl and ends up in the New York art scene by the final episodes. Karine Vanasse is the French stewardess, lending the show a cosmopolitan air and providing the romantic melodrama as she falls for a heartbroken pilot.
There are also some pilots (Michael Mosley and Mike Vogel) and love interests (including "E.R."'s Goran Visnjic as a Soviet bloc activist), but I give the show some credit for foregrounding the women's stories, even when it tips into romantic wooziness, obvious bathos, and spy movie complications. The world-traveling storyline provides some gorgeous locations, the evocation of the era is terrific, and it's a terrific fashion show of period style. Unfortunately, the writing never quite rises above nighttime soap opera and the historical backdrop is never mined for much more than the obvious. There's not much subtext here, but it was a handsome show and sometimes it was a lot of fun.
14 episodes on three discs on DVD, plus five short "The Real Stewardesses of Pan Am" promotional featurettes.
For more releases, see Hot Tips and Top Picks: DVDs, Blu-rays and streaming video for the week of January 29