25 @ 25: Overkill, 'Taking Over'
New Jersey's wrecking crew starts to come into their own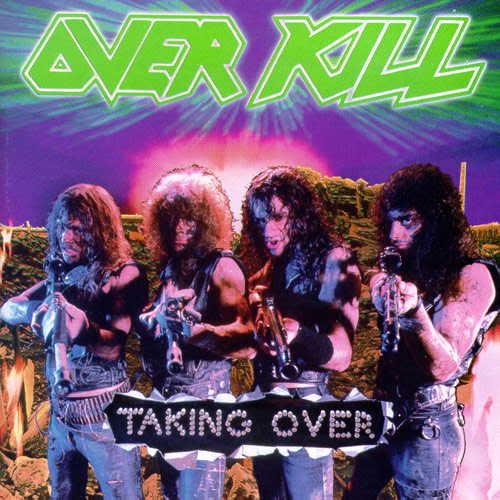 With thrash having exploded in popularity by in the summer of 1987, bands were being rolled out in the hopes of following the breakthrough success of Metallica, Slayer, Megadeth, and Anthrax. Atlantic Records, who fared better on the pop metal side and whose usurping of Megaforce had yet to yield a big seller (Manowar's Fighting the World was a flop earlier in the year), had a potentially good thing going with a pair of their own thrash signees. Testament's debut The Legacy had come out that spring, but it wouldn't be a year until the Bay Area band would make a serious impact sales-wise. The other big hope, though, was Overkill. Formed in 1980, the New Jersey band developed their own brand of thrash metal in a similar way to New York's Anthrax, drawing much inspiration from New York hardcore, from the robust, crunching rhythm riffs to the use of sing-along "gang vocal" choruses. Their 1985 full-length debut Feel the Fire wasn't the most spectacular album, but the band developed a good reputation among underground metal fans, and two years later they were a fairly well-known act.
It was clear Overkill needed that one big album to catapult them to upper-tier status, and Taking Over was their first significant attempt. Co-produced by Alex Perialas, who had previously worked on Testament's The Legacy, the album was polished but still featured a very robust guitar sound, albeit at the expense of the bass. Some of us who tend to romanticize 1980s heavy metal might look back at Taking Over through rose-tinted glasses, but in reality it's merely a good, solid, workmanlike thrash album, and little more. Which is still a very good thing, because Taking Over does have several terrific moments, especially its first two tracks, "Deny the Cross" and "Wrecking Crew", which kick off the record in explosive fashion, and are now regarded as Overkill classics. The inimitable sneer of singer Bobby "Blitz" Ellsworth leads the way of course – few in metal can alternate between strong singing and a feral snarl like Blitz could  - but guitarist Bobby Gustafson, bassist D.D. Verni, and drummer Rat Skates form a ferocious backing trio, and their taut sound propels these two blistering songs.
Most of the songs on Taking Over date back several years before its recording, and the way Overkill plow through such tracks as "Powersurge", "Electro-Violence", and "Fatal if Swallowed" show how strong a band they'd become, especially compared to the weaker-sounding Feel the Fire. In addition, songs like "Use Your Head" and "Overkill II (The Nightmare Continues)" hint at even bigger and better things to come, as the band continue to create their own unique niche.
The one big thing wrong with Taking Over, aside from the horrendous cover art, was the song that was chosen to be the band's first ever music video. Instead of the inspired, energetic "Wrecking Crew", which to anyone listening to the album should have been the no-brainer choice for a video track, the band and their label went with the corny, near-unbearable "In Union We Stand", a tepid, slow Manowar knock-off that had no business being on the record. Back then music videos were the best way for young metalheads to discover new music, and "In Union We Stand" made a very, very poor first impression on many, failing to showcase Overkill's true strengths.
It wouldn't be until 1988's Under the Influence and 1989's The Years of Decay that Overkill would start to establish themselves as a formidable second-tier thrash band, but even then that crossover success would never happen. Which, in the end, would be just fine. They were never suited to be mainstream in the first place. Ellsworth and Verni have flown the Overkill flag for more than 30 years now - Blitz still sounds great - with their two most recent albums, 2010's Ironbound and 2012's The Electric Age, ranking as some of their finest work. Coming from an era where many new metal bands were releasing legendary first and second albums, Overkill was a band that needed time to develop, and Taking Over, while not a true classic by any stretch, nevertheless exhibited some significant musical growth by a promising young band.
live local music on
Enter your ZIP code to see concerts happening in your area.
Data provided by Zvents
follow msn music