A final sendoff for The Iron Lady
Long-lost '70s parody album gets a reissue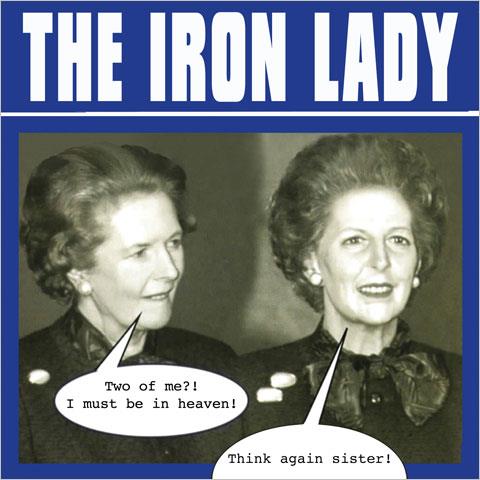 Long-forgotten songs were all the rage when
Margaret Thatcher
recently died. The controversial former British prime minister, whose funeral is today, inspired plenty of outrage during her '80s tenure, with artists such as
The English Beat, Elvis Costello
and more writing scathing anti-Thatcher songs during her reign. "Ding Dong the Witch is Dead" actually went to #2 on the British charts in reaction to her demise.
But
Martin Lewis
was ahead of the curve when it came to anti-Thatcher sentiment. In 1979 he helped put together a parody album, "The Iron Lady," which included the song "I'm There." In a Monty Python vein, the song featured a Thatcher sound-alike singing a very sensual song (in a
Donna Summer/Andrea True
vein) about finally making it to the top.
The album flopped and has long been a rarity - but Lewis brought it back this week. There's a
website
, the
Twitter feed
already has thousands of followers, the
Facebook page
is blowing up and the album is now available after decades of being gone.
Who had the bright idea to reissue it? Thatcher herself, back in 1991. Lewis explains:
"She was visiting California as part of her new lucrative speech-making career. She was honored with a reception at the home of the British Consul-General in Los Angeles. I was one of the invited guests. We were introduced and she was told that, among many things, I worked as a comedy producer. So we discussed Monty Python and other comedic performers. I then mentioned the name of Janet Brown and asked if she recalled her and the album she'd made spoofing her.  Mrs Thatcher said she did indeed recall the album.  I confessed that I'd produced it.  She immediately asked me how it had sold.   I told her truthfully that, because it had been released when she was in her "honeymoon" period, it had not sold very well.  Quick as a flash she responded by telling me: 'You should reissue it! I think it'll find a much bigger audience now...'   Though I was - and remain - ideologically opposed to her, I was impressed with her self-deprecating wit."
So for the first time in years, here's "I'm There."

Small minded Brits, w/o her your whole tiny I mean smaller than most states would be in total ruin.  Unions are like dinosaurs trying to mate.  Realize she change the course of the world and you should thank God for her insight. That prune of queen in my opinion, is the one who you should have created all the negative songs to honor her as a total waste of time, money and energy. 
Are you sure you want to delete this comment?
live local music on
Enter your ZIP code to see concerts happening in your area.
Data provided by Zvents
follow msn music