An interview with Ghost B.C.
Swedish ghouls set to make a big impression with 'Infestissumam'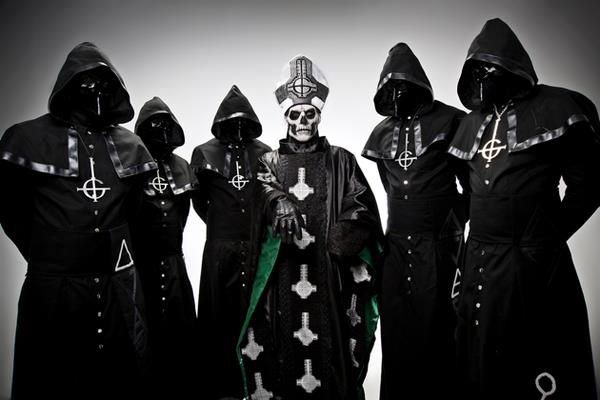 If you don't know already, Ghost B.C.'s second album Infestissumam is out now on Loma Vista, and turns out to be quite a bold follow-up to the breakthrough debut Opus Eponymous. Featuring pristine production juxtaposed with haunting atmospherics and some gleefully, garishly Satanic lyrics, Infestissumam sees the band not just recycling a gimmick but building on it, creating a musical personality that's just as indelible as their carefully honed, and admittedly ingenious visual gimmick.
Read my full review of Infestissumam here.
I caught up with one of the "unknown ghouls" that play behind skeletal singer Papa Emeritus – one of the guitarists, apparently, and a very friendly guy – to talk about the new record, working with a mainstream producer, and recording the album in, of all places, Nashville. Read on.
Why did you decide to to team up with a producer as well known as Nick Raskulinecz?
The most obvious reason was that we'd come to the point where we were able to work with a producer in terms of funding. Also, every record label feels better about lavishing a record if there's someone in charge. Obviously we wanted to take the chance to work with a producer, but we don't want to work with any producer, because there are a lot of producers out there that have a very stigmatizing effect on bands. They make any band that they work with sound like they just worked with that producer. Nick was someone we knew from before, not personally, but we knew about his work. We also knew he had the ability to make Rush sound like Rush and Alice in Chains sound like Alice in Chains. He's good at working with a band without transforming the band into something else, rather than make them just flower as the band they are. Upon talking to him about the record and showing him all the demoed material, we sort of took his temperature by seeing how much he wanted to change. It turned out he didn't want to change much at all, and that's why he got the job. He's very talented and is a nice guy; we got on very well.
Was the fact that you were on a higher profile record label a big reason why you were able to work with him?
Making a follow-up record on the label that we were on might have been an issue of getting the funds to record with Nick. The main difference wasn't the ability or choice to work with a producer, the big difference is always with the marketing and everything else surrounding it. Now, two and a half years after the first release there's already a big dramatic difference between what we did two and a half years ago one week before the release of the record. In order for a band like us to go for the goal that we have set for ourselves, I think that it was a very necessary move.
You mentioned in the past how you wanted this album to sound like a lavish, big-budget record from 1978. What albums in specific were you trying to emulate as far as production and tone goes?
I don't think it's as much albums as songs. We keep referential favorites that we always get back to. Obviously there are a few Pink Floyd nods in there. We're not a slow and majestic band in a sense that a lot of Pink Floyd songs are, but we do have Pink Floyd in there. We always tend to go back to the big classics. We're really into '70s stuff. One of our big songs is "Driver's Seat" by Sniff 'n' the Tears. It has this majestic, nocturnal sound. We don't have a song like "Driver's Seat", but that's the feeling we want to emulate, a nocturnal, '78 feeling.
From day one your music has enticed listeners with strong melodies only to pull the rug out from under them with lyrics they wouldn't expect at all.
It comes naturally now. I think we've found a formula that we don't have to think so much in order to work within. I think we were able to keep that when we did Infestissumam. We were very keen to not reproduce Opus Eponymous. We wanted to have the same aesthetic leeway or clearance as we had with the first record, because at the time of writing the first record there was nothing, there wasn't even a band, there was no pressure, there were no expectations. We knew that those songs were written. That was a freedom that I'm glad we know now, knock wood, how to find that place still. We have the feeling that Infestissumam has the same playfulness and unrestraint as Opus. There comes a point in time where bands face the threat of a change in lifestyle or the threat of losing altitude, to the point where they can't even see what they're doing. Usually that can be a detriment to the band, and especially to the fans that expect a good record.
"Secular Haze" was such an unusual choice as first single. What did your record label think of that idea at first?
They agreed. There are elements of thought in there that from a commercial standpoint [another song] might be a better choice because of their accessibility. But we had the idea of presenting a song that wasn't necessarily accessible at all. First of all, it would be a song that fit into the set as it was in December of last year, where nobody had ever heard anything from the new record, and it should fit in with the older material without sounding like a replication of whatever we had just done. And we wanted something that would be confrontational. So we chose the song that gave people a little bit to chew on, because we knew that eventually when we would present material that might be easier to swallow, but it's important that people get a little friction first.
What inspired that song, musically speaking?
I think that was even something we discussed when Writer came to the rest of the band saying, "This is a new song." There was this carnival remark, and obviously there is a cabaret element in that organ, but the idea was to actually have a maritime feel. It's supposed to feel like you're on a stormy sea, with waves. The idea was musically inspired by a saying, how someone that has been close to dying by drowning said that the feeling that you get is an enormous, cold, anxiety feeling which is replaced just before you die with a warm acceptance that is supposedly extremely rewarding and orgasmic. The whole song is supposed to feel like it's storming and storming, never ending with a few glimpses of tranquility in the choruses, but where in the end, in the "come mist eternal part", it' supposed to feel like you've gone over the edge of freezing to that warmth.
"Ghuleh/Zombie Queen" is one song on the album that's stuck with me the most, it combines a wide variety of styles. Were those song fragments you had lying around, or did the song develop into the epic piece that it is?
The piano part in the beginning is old. It's been lying around for years. But in a Ghost context it needed to become something else, there wasn't a full idea that would sort of materialize, it would have kept the same line throughout the whole song. This record needed an ending to the A-side, after the three first songs, which are all hectic and involve a lot of changes and hysteria, you needed a sort of meadow where you could lie for a little while. That's why we took on that song and transferred it into what turned into "Ghuleh/Zombie Queen". Even though it might not be the best song on the record, which I have a hard time deciding which is, it's definitely one of the most interesting parts of the record. It's a good move that we're getting away with. [laughs]
What was it like recording a Satanic album in Nashville?
Very painless. It was interesting being in Nashville. After a while, we knew "faggots" mean "hi". They are very friendly, and they yelled at us all the time. But seriously, it's an interesting city. We are record collectors, there's a few Waylon Jennings and Johnny Cash records in there, but we are not huge fans of huge, commercial, modern country music, no. So it felt like a car enthusiast ending up at a convention for farmers. It felt like, there's a lot of interest here, but there's nothing here that interests me. It's weird being in this melting pot where everything is so creative. Everybody's doing basically what we do, but they do something different, with a completely different agenda.
Did you have any differences of opinion with any guest musicians or studio people with regards to your Satanic subject matter?
Initially we meant to have the choir parts recorded in Nashville as well, which didn't work out. There wasn't one professional coir that would accept doing what we do. They didn't want to lend their voices to that. Then we tried another idea, that was to get a few choir-interested people into the studio, three at a time maybe. Sort of make a choir that way. Upon hearing what they were supposed to do on the phone, they were turning it down. Finally we had three guys come into the studio that were willing. Somehow the communication had been broken down because they were, "Okay, what are we doing?" "Oh, you don't know? Okay, it's a theatrical performance, sort of like The Omen." Then we told them what they were supposed to sing, and one of the guys almost cried, he took offense; it was really weird. But it comes from the fact that we're a rock band, and when you're a rock band there's no difference between what you say, what you do, and what you are. Whereas nobody would go into the studio in 1976 and ask Jerry Goldsmith if he believed in Satan or not. But that's how it is. So we ended up recording the choir in Hollywood, where people have no problem with worshipping the Devil. [laughs]
live local music on
Enter your ZIP code to see concerts happening in your area.
Data provided by Zvents
follow msn music