Anciients' 'Heart of Oak' now streaming online
Stunning debut album fuses genres masterfully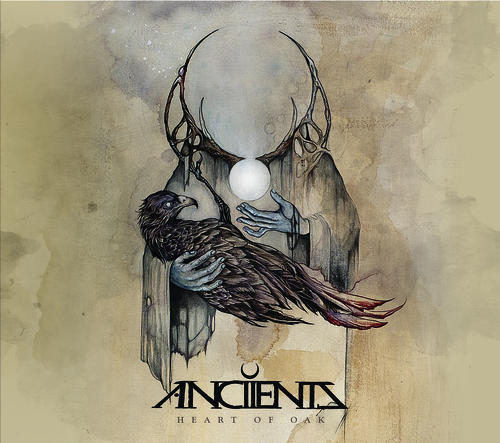 It's always great to get new advance music and think, oh man, I can't wait to tell my readers about this! In the case of Vancouver band Anciients, however, I had to wait a total of 15 months before I could post any music from their brilliant debut album. Recorded independently, the foursome quickly found themselves pursued by many prominent record labels, ultimately setting on powerhouse Season of Mist late last year, and now, at long last, Heart of Oak will be released on April 16, and better yet, it can be streamed in its entirety via Bandcamp below.
So what makes Heart of Oak so extraordinary? Typical of so many new bands these days, Anciients could care less about genre restrictions, dipping into doom, sludge, black metal, NWOBHM, and classic rock, but unlike the majority of their younger peers they know how to take so many eclectic sounds and fuse it into a cohesive whole. In other words, you have songs like "Raise the Throne", "Falling in Line", and "Flood and Fire", which keep listeners riveted as the band careens from movement to movement. These songs don't so much as stop on a dime and change direction as they simply flow, and the eclectic nature of the music is accentuated by the dual lead vocals of guitarists Kenny Cook and Chris Dyck, which range from strong clean singing, to death growls, to black metal snarls. In January 2012 I was ready to declare it one of the best debuts of the year; in April 2013 I think even more highly of it. Give it a listen, and be sure to buy the album next week.
 In addition,
Anciients
will be on tour in the US starting this week, having garnered a plum opening spot on the
Chuck Schuldiner
tribute
Death to All
tour. Here's the full list of dates, including a few headlining shows they're doing in May:
Death to All Tour Dates:
04/13/13 Hollywood, CA @ House of Blues w/ Masters of Steel (Members of Agent Steel)
04/15/13 Engelwood, CO @ Gothic Theatre
04/18/13 Detroit, MI@ St. Andrews Hall
04/19/13 Cleveland, OH @ House Of Blues Cleveland
04/20/13 Cincinnati, OH @ Bogart's
04/21/13 Chicago, IL @ House Of Blues
04/23/13 Montreal, QC @ Club Soda
04/24/13 New York, NY @ Irving Plaza
04/25/13 Philadelphia, PA @ Theater of the Living Arts w/ Believer
04/26/13 Silver Spring, MD@ The Fillmore (Silver Spring)
04/27/13 Worcester, MA @ The Palladium
04/28/13 Toronto, ON @ Phoenix Concert Theatre
Headlining shows:
5/15 Billings, MT @ Railyard
5/17 Des Moines, IA @ House Of Bricks
5/18 Indianapolis, IN @ Indy's Jukebox w/ Glorior Belli, Wolvhammer
5/20 Pittsburgh, PA @ Belvedere's w/ Glorior Belli, Wolvhammer
live local music on
Enter your ZIP code to see concerts happening in your area.
Data provided by Zvents
follow msn music