Big Boi live: Independent thriller
Shoes for Running tour tries to escape OutKast's long shadow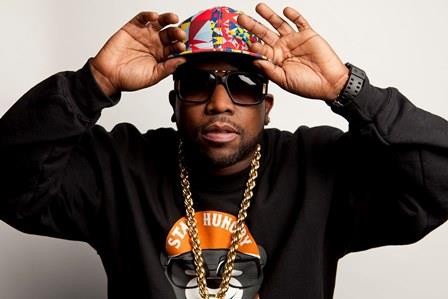 By Robert Spuhler
Special to MSN Music
This September, the OutKast double album "Speakerboxxx/The Love Below" turns 10 years old. The Grammy Award-winning record featured, essentially, two solo albums: Andre 3000's "The Love Below" was an eclectic mix of hip-hop, soul and funk, while Big Boi's "Speakerboxxx" was the Platonic ideal of Southern hip-hop.
In the decade since that album's release, Andre 3000 has spent more time in front of a camera than behind a microphone, while Big Boi has released two solo albums. But the greatness of their work as a duo has overshadowed everything either has done since; rarely does an interview or fan encounter for either go without a question about an OutKast reunion.
On his current Shoes for Running tour, Big Boi is again making a strong statement of independence, while still paying tribute to the groundbreaking work of OutKast with a set list that draws heavily from both worlds. Cramming 29 songs, in part or in whole, into his stop at the House of Blues on the Sunset Strip, Big Boi left both hard-core fans of his and OutKast pining for the return of the superstar duo.
Backed by a DJ, a drummer and a guitarist, Big Boi wasted no time in dipping into his bag of hits, starting with his parts from three different OutKast tracks: "ATLiens," "Skew It on the Bar-B" and "Rosa Parks." In all, Big Boi performed his verses from more than a dozen OutKast hits, including early favorites like "Player's Ball," anthems like "Ms. Jackson" and even "The Whole World," the duo's single from their greatest hits album.
MSN Music interview: Big Boi talks about the truth behind 'Vicious Lies and Dangerous Rumors'
The last of those tracks also featured the show's opening act, Killer Mike, who came onstage to perform a few of his guest verses from Big Boi tracks. In fact, the headliner got help throughout the night from Mike, hype man BlackOwned C-Bone (who got a chance to showcase his own single, as well) and singer Sleepy Brown.
With consistent help from special guests, it would be easy to see Big Boi's live show as an open audition for an Andre 3000 replacement. But to do so would be to ignore the strength of Big Boi as a solo performer. With the audience shouting back the lyrics to almost every song, the Atlanta emcee attacked the verses with an energy that flew in the face of his reputation as the "reserved" half of OutKast. He prowled the stage, drew the audience in and even threw in a dance move or two.
For its part, the audience – a portion of which looked young enough to have been in diapers when OutKast's debut album came out in 1994 – received each track like it was a chart-topper, whether it was a major hit (the reaction when the DJ dropped the beat for "B.O.B." could only be described as ecstatic) or a verse from a guest appearance, like the encore opener, UGK's "Int'l Players Anthem (I Choose You)."
MSN Music interview: Big Boi and B.oB. get their game on
The encore, in fact, showed the strength of Big Boi's solo material. While he could be forgiven for falling back on the biggest OutKast hits to build to a show-ending frenzy, the emcee ended with a trio of tracks from his 2012 solo effort, including "The Thickets," "Raspberries" and "In the A." No one album or tour will ever stop fans from pleading for an OutKast reunion, but that Big Boi is able to end a show with nothing but his solo material shows that life will go on for the emcee with or without his musical partner – and that his fans will follow.
Before helping Big Boi out on their collaborative efforts, Killer Mike ripped through a strong set of tracks from his latest, well-reviewed full-length, "R.A.P. Music." Songs like "Reagan" and "Southern Fried" jumped from record to live performance with an unexpected vigor, especially considering that Mike's stage show involved just him, standing in the middle of the stage, rapping while backed by a DJ.  It was a stripped-down hip-hop show, a throwback to the venerated era of "two turntables and a microphone" and one that the crowd, which had mostly arrived by the time Killer Mike took the stage, appreciated.
Set list
ATLiens
Skew It on the Bar-B
Rosa Parks
Apple of My Eye
CPU
Shutterbugg
General Patton
Daddy Fat Sax
GhettoMusick
B.O.B.
So Fresh, So Clean
Ms. Jackson
Gangsta [Expletive]
College Park (song by BlackOwned C-Bone)
Ready Set Go (featuring Killer Mike)
The Whole World (featuring Killer Mike)
Thom Pettie (featuring Killer Mike)
The Way You Move
Mama Told Me
Southernplayalistica​dillacmuzik
Player's Ball
Elevators (Me and You)
Shine Blockas
Fo Yo Sorrows
Kryptonite (I'm on It) (featuring Killer Mike)
Int'l Players Anthem (I Choose You)The Thickets
Raspberries
In the A
live local music on
Enter your ZIP code to see concerts happening in your area.
Data provided by Zvents
follow msn music