Bob Seger: Still 'like a rock'
The Detroit rock Everyman returns to his natural habitat – the stage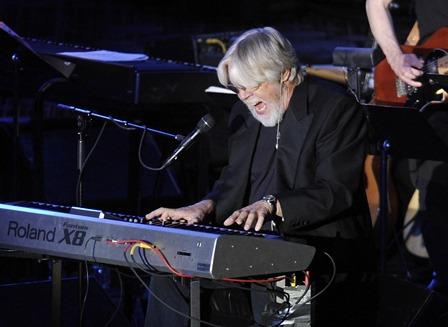 By Paul Pearson
Special to MSN Music
TACOMA, Wash. -- Bob Seger & the Silver Bullet Band set an impossibly high standard for performances in the '70s. The Detroit rockers' rise to national superstardom was preceded by "Live Bullet," one of rock's finest live albums and their ticket to classic rock radio. Released in 1976 as Seger was putting the finishing touches on his breakthrough studio album "Night Moves," "Live Bullet" was equal parts determination and desperation. Having slogged in relative obscurity for nearly a decade, Seger's fiery singing and the band's unyielding power made for a defiant last stand: If the next level was unattainable, Seger would go down punching.
Seger's March 29 appearance at a near-capacity Tacoma Dome, nearly four decades later, felt like a postwar celebration. At 67, Seger's vocal power is more subdued now, and his fierce intensity has retreated. But his obvious affection and gratitude came through in a two-hour, 20-song set before a largely middle-aged audience, likely mining the same memories.
Dressed in all black and sporting a grandfatherly pair of eyeglasses, Seger stood center stage at the show's outset for covers of John Hiatt's "Detroit Made" and Otis Clay's "Trying to Live My Life Without You." He beckoned the audience with raised hands, every square inch the picture of a veteran soul preacher. His vocals were mixed a bit low in the opening, louder numbers of the set, though that seemed corrected by show's end.
Seger alternated between standing for the R&B ravers and sitting down to play acoustic guitar for the more introspective songs that dotted his career post-"Live Bullet." The slower, softer pieces contained the most power and commanded the biggest acclaim of the night.
"Like a Rock," a tune that nearly suffered from overexposure through its decadelong usage in Chevrolet commercials, was one of the night's biggest surprises. Looking back upon the sturdiness and dreams of youth carried even more poignancy 20 years further down the road, and Seger's clear, solemn delivery unfolded new layers of emotion.
The night's biggest ovation occurred as Seger sat at the piano for the working-band anthem "Turn the Page," a tune irrevocably tied to saxophonist Alto Reed's piercing introduction. Reed was Seger's most obvious supporting player, keeping court at stage left surrounded by upwards of four saxophones, including a giant baritone sax that he swung around his neck like a referee's whistle.
Seger whittled his song selection down to the hits that have most powerfully endured through the last four decades: "Mainstreet," "Katmandu," "Against the Wind" and "We've Got Tonight" were all there, rendered fairly close to the original studio recordings rather than Seger's rebellious live ones. He introduced two songs from an album he said was coming in August, "All the Roads," and a cover of Wilco's "California Stars." Both songs sounded like natural fits in the Seger canon.
There were some compromises made for Seger's more autumnal vocal range: Both "Old Time Rock & Roll" and "Night Moves" were arranged in lower keys than their original versions. But especially in the latter's case, Seger still carried out the storytelling in moving, cheered fashion. It was impossible for him to disappoint his audience. Most of Seger's songs were always about discovering and defining a very common identity: a hardworking, goal-driven Everyman who lived just enough of the high life to keep his edge. Once those listeners found him, they wouldn't let go, and Seger's smiling graciousness paid them right back.
Opening act Joe Walsh, the Eagles' guitarist when they call for him, threw together a loose-limbed seven-song act, built on his still-strong solos and his drunk-uncle humor. The house was nearly filled for his set, which featured three James Gang songs, the Eagles' "In the City" and his solo calling cards "Rocky Mountain Way" and "Life's Been Good." His skilled irreverence was a good foil for the primary working-class hero of the night.
Photo credit: Evan Agostini/AP
Are you sure you want to delete this comment?
live local music on
Enter your ZIP code to see concerts happening in your area.
Data provided by Zvents
follow msn music