Brother duo Disclosure brings heart to dance music at the Bowery
A night of jazzy, funky and undeniable house music.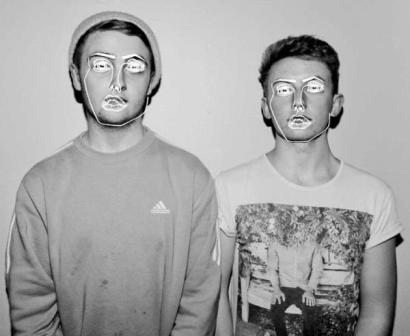 By Danielle Cheesman
Special to MSN Music
NEW YORK -- London DJ duo Disclosure could have easily continued to solidify their crossover appeal by simply performing at the biggest music festivals in th U.S.: Austin's SXSW, Miami's Ultra, California's Coachella, etc. And while they've certainly done that, Disclosure's brotherly dueo of Guy and Howard Lawrence thankfully didn't forget to include some smaller venues on their touring circuit. But when the two brothers took to the stage at New York's Bowery Ballroom Thursday night (March 21), it was anyone's guess how the siblings would fare considering much of their catalog is supported by sampled or guest vocals that the brothers then provide perfect background beats to.
However, much to the crowd's surprise, the duo -- dressed in matching chambray button-ups, though not twins -- opened their set with Howard, the younger of the two at 18 years old, taking the mic. Over rattling pings and stretched synths, Howard chanted the ever-catchy, "I've been infected/with restless/whispers and cheats/they've manifested/in words/and the lies that you speak…" while Guy, 21, swatted sticks at his electronic drum kit. "Infected" is a new tune off their upcoming album, scheduled to be released on PMR Records in June, but one that still largely gives nod to the sound that, with four EPs under their belts, the brothers have trademarked. Using percussive loops, deep bass lines, syncopated synths, and soulful vocals, Disclosure are the distinct creators of a seamless blend of jazzy and funky, yet undeniable house music.
On "When a Fire Starts to Burn," another newbie, Howard grabbed his guitar while Guy tapped and twisted the knobs of his keyboard. They didn't short the crowd either, letting the tune play well over a standard time-stamp. It was only after that that Guy introduced the duo to the crowd before guiding us (not that we needed it) in singing the lyrics to the already familiar "Boiling" on which swelling synths and finger snaps back fellow U.K. singer Sinead Harnett. During the song Howard's shoulders rose and fell as if he was kneading every sound into one another.
And just as Disclosure previously released "Tenderly/Flow" as a double single, the two songs were attached when played live, too. An opening sample stuttered "There's just something about you" over some sparingly-used steel drums before segueing into the second half that started slowly with fallen digitized drips but soon turned to punchy keyboard chords.
"Now we're gonna play some new stuff," Guy said after thanking the crowd for their more than enthusiastic reception, evidenced by the kind of careless free dancing you'd do when alone and entranced. He then employed the cymbals on "Don't Let Go," the reverberations of hollowed wood on "Grab Her," and a drum solo on "Voices" under a spinning strobe light. Howard grabbed the guitar again to play over the bleeps and blips of the
AlunaGeorge-assisted​
hit "White Noise" (which garnered, until the closer, the most energy from the audience) and the orgasmic squeals and groans of "What's in Your Head" were still in tact when performed live.
Saving one of their most popular remixes for last, the men asked the audience "Does anyone know about
Jessie Ware
? We'll tell her!" before launching into their version of the fellow PMR labelmate's lead single "Running." The crowd's adrenaline was still running high while we waited for them to return for an encore and so, as if at a sporting event, many members began chanting the now iconic opening guitar riff of the White Stripes's "Seven Nation Army" until the brothers returned to the stage to do the most romantic songs of the set, the brand new "Help Me Lose My Mind" and what will likely become the most untraditional wedding song of all time, the thrilling and thumping "Latch."
Somehow, Disclosure manages to make songs that are equal parts club banger and mellow house party, and though their sounds certainly incited fist-pumping and floor-stomping that night, it's because of their heart that it won't leave you with a hangover or headache.
* Photo credit: Edwige Hamben
live local music on
Enter your ZIP code to see concerts happening in your area.
Data provided by Zvents
follow msn music