Dancing the nights away in Sin City
EDM stars Kaskade, Steve Aoki, Calvin Harris and David Guetta fill Vegas' clubs during Memorial Day weekend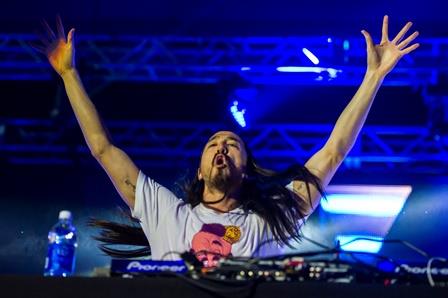 By Robert Spuhler
Special to MSN Music
LAS VEGAS – At dance music festivals such as HARD Summer and Electric Daisy Carnival, attendees can see scores of DJs over the course of two or three days, sampling electronic dance sounds from across the spectrum. But while the lines may be longer, the dress codes tighter and the drink prices (somehow!) even more expensive, Las Vegas' nightclubs can boast a lineup of talent that competes with even the biggest of gatherings. Here's a peek at what a fan of electronic dance music (aka EDM) would have taken in during Memorial Weekend in Sin City (with apologies to massive names like Tiesto, Armin van Buuren and Deadmau5, each of whom also performed):
Arty (May 24, Marquee, The Cosmopolitan of Las Vegas): Smoke, confetti, inflatable boomboxes and the flag of the Russian Federation heralded the start of Arty's set — and the start of Memorial Day weekend for the capacity crowd high above the strip at Marquee dayclub. The trance music in which the 23-year-old DJ specializes is a perfect backdrop for a pool party, with remixes of radio hits (Calvin Harris' "Sweet Nothing," Zedd's "Spectrum") adding melody to club-oriented transition tracks. Hearing Michael Stipe's vocals from "Losing My Religion" mashed into an EDM soup is still jarring, though.
MSN Music: Electronic dance boom: Daft Punk and other EDM stars who are fueling the dance music crossover
Axwell and Zedd (May 25, Daylight Beach Club, Mandalay Bay): With one of the biggest radio hits of 2013, "Clarity," Zedd played to expectations with a very pop-oriented set, starting with Daft Punk's "Get Lucky," adding a vocal sample from "Who Let the Dogs Out?" and almost immediately playing his big hit just 15 minutes into his time. With two more Daft Punk tracks and a remix of Kanye West's "Mercy," Zedd's performance was aimed squarely at a younger set of fans more familiar with EDM through big hit singles. When Axwell took the stage, meanwhile, the Swedish House Mafia DJ served up a set of house music designed for longtime listeners, with fewer vocal tracks and more massive beats.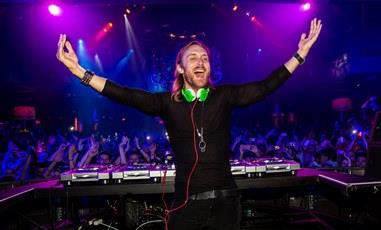 Kaskade (May 25, Marquee, The Cosmopolitan of Las Vegas): Voted "America's Best DJ" in 2011 by DJ Times, Kaskade has been a staple of the biggest Las Vegas clubs since the city started making DJs the stars of nightlife. It's easy to see why nightclubs love him; Marquee was so packed before he took to the DJ booth that there was nowhere to stand that had a view of the stage. Late arrivals mingling out by the pool were still able to hear a strong set of house hits and major chords, an uplifting set of songs worthy of the show's "Summer Lovin" title.
Calvin Harris (May 26, Wet Republic, MGM Grand): There's a confidence in the way that Harris puts together a set; it took 30 minutes for the Scottish DJ and producer to get to his hits from 2012's "18 Months," and "We Found Love," his international smash collaboration with Rihanna, finally hit the speakers at nearly the hour mark. The house-meets-Nintendo​ opening of "Bounce," his single featuring vocals from Kelis, drew almost the same sized reaction that "We Found Love" later would.
MSN Music: Dance, dance evolution: The genesis of EDM from disco to Daft Punk
Steve Aoki (May 26, Hakkasan, MGM Grand): There may be no better showman in EDM circles than Aoki. Though considered by some genre fans as a latecomer to the scene, Aoki has caught on fast. He is still best known for his stage antics; his performance at Hakkasan included throwing full cakes on audience members and crowd-surfing in an inflatable life raft. But throughout his set, and no matter what happened on stage, the crowd never stopped moving to his set, which was filled with harder-edged, more aggressive house beats.
David Guetta (May 27, Encore Beach Club, Encore): Performing later in the afternoon on Memorial Day, Guetta kept the tired bodies moving with a set of radio-friendly house music, including remixes of his hits "Play Hard" and "Turn Me On." Guetta's brand of radio-friendly dance music may draw scoffs from fans of EDM's underground thanks to his high-profile collaborations with everyone from The Black Eyed Peas to Jennifer Hudson, but there may be no one better suited to rock a crowd of novice house fans, thanks to how inescapable his catalog has been on commercial radio stations.
Photos: (top) Steve Aoki, (right) David Guetta Photo credit: Retna Ltd.
live local music on
Enter your ZIP code to see concerts happening in your area.
Data provided by Zvents
follow msn music