Flaming Lips, Fall Out Boy, Fleetwood Mac
If your band name starts with an "F" then it's time to leak some new music.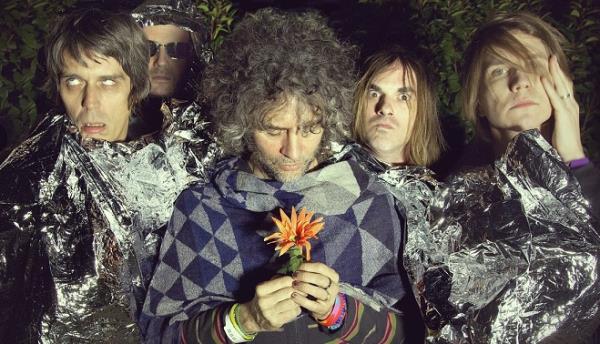 What the F? Suddenly we've got new music from a trio of acts.

The Flaming Lips new album, "The Terror," is streaming in its entirety at NPR. Fans are going to find it noisier and more experimental than some of their more accessible work. You can hear it here.
Fall Out Boy's reunion (which someone, somewhere must have wanted) is ready to get going with their new song  "Save Rock and Roll" (I'm not even gonna touch that one). It features Elton John for reasons unknown and is streaming on Soundcloud.
Finally, Fleetwood Mac let it be known last year that they had two new songs, "Sad Angel" and "Miss Fantasy" that they planned to release prior to their 2013 tour. Well, that didn't happen, even though "Sad Angel" has been a staple of the new tour. You can hear it in the clip below, with Lindsey Buckingham promising that a new EP of material is due at any minute.
Here's what Buckingham told MSN last year about the two new tunes.

 "I was writing a lot of stuff. I was thinking about Stevie when I was putting these together. Many of the songs I came up with were directed at Stevie. They were a dialog to her. Both those are very much that. 'Sad Angel' – I think of her in all her traumatic splendor as having quite a bit of sadness that she still deals with. At the moment that it was being written I really was thinking about the fact that she and I were not agreeing on the idea of an album. The chorus is 'Hello, sad angel, have you come to fight the war?' It goes on to talk about 'the crowd's calling out for more.' It's sort of a cyclical look at our lives, the competitiveness of it yet the underlying unity of it. Each of our journeys has never been not a little about the other. 'Miss Fantasy' is more of the same thing. It's a look back on….it's talking about having a dream, recalling certain events that occurred years and years ago. The chorus is talking about 'Miss Fantasy, it may be that you don't remember me, but I remember you.' That's addressing all that's happened over the course of time. You remember the person you were and the person I was back then? Is there any way to find any of that? Do we want to? Is it important to? Those are songs about Stevie and me."
Finally (and maybe because their name doesn't begin with an F),
Daft Punk
is taking the opposite tack and making its new album "Random Access Memories" as hard to hear as possible.The world premiere of the hotly anticipated music is going to take place
in a small Australian town hours from the nearest big city
. Given the way they punked everyone into believing an album and live show was coming at SXSW in March I wouldn't book a flight just yet.
live local music on
Enter your ZIP code to see concerts happening in your area.
Data provided by Zvents
follow msn music