From blown speakers
The Besnard Lakes hit sumptuous lows and thrilling highs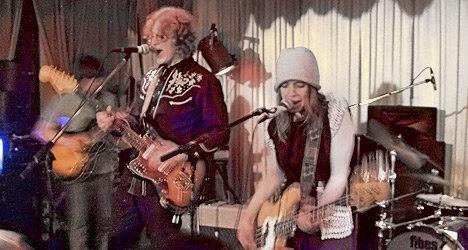 By Adrien Begrand
Special to MSN Music
SASKATOON, Saskatchewan – Four silhouetted figures stand against a smoky, purple-backlit backdrop, churning out a dense wall of distortion that's simultaneously powerful, warm and enveloping, the volume at a roaring level, the clarity impeccable. You can't think of a more appropriate way for a band like the Besnard Lakes to open a show. After all, over the past five years, the Montreal band have made a name for themselves with a sumptuous blend of psychedelic-tinged rock reminiscent of Mercury Rev, spacious, shoegaze-derived sounds not-so-subtly derived from Broken Social Scene, and a nice little dose of twee pop. Their last three albums, 2007's "The Besnard Lakes Are the Dark Horse," 2010's "The Besnard Lakes Are the Roaring Night" and this year's "Until in Excess, Imperceptible UFO," have gracefully combined those characteristics, but it's on the new record where the band's music has ventured into territory that's as sonically hazy as the visual presentation on a late June night at the cozy Amigos in Saskatoon, Saskatchewan.
The foursome of singer-guitarist Jace Lasek, bassist-singer Olga Goreas, guitarist Richard White and drummer Kevin Laing, along with deriving their name from a lake in the far north of Saskatchewan, have familial roots in the Western Canadian province, so that, in addition to their appealing, critically acclaimed music, has helped build a loyal following in this city. To no one's surprise, a healthy crowd showed up on a Wednesday night to catch this midnight performance.
A Besnard Lakes performance centers on the dynamic between the husband and wife who form the band's core. You have the tall Lasek, who with his shaggy head and tinted glasses resembles a long-lost member of ELO, crooning away, often in a delicate, soaring Brian Wilson-esque falsetto, and to his left the petite Goreas, who – sporting a new platinum blond bob – counters with her own cherubic singing. And the contrast between the two musicians worked as exceptionally as ever during their 70-minute set, which kicked off with a roaring version of "Dark Horse" standout "Devastation" and segued right into the much dreamier new song "Colour Yr Lights In," with some subtle but very effective colored lights flickering directly behind the band as they reached the chorus of the latter song.
The more upbeat "People of the Sticks" picked up the pace nicely, with Goreas hypnotically singing her lines, wonderfully obscured by the waves of guitar in classic Slowdive or My Bloody Valentine fashion, followed by "Roaring Night" fave "Albatross," arguably the band's most popular song, and the lullaby-like "46 Satires." The set ebbed and flowed beautifully, dipping through valleys of hushed vocals and pensive guitars and keys only to soon careen skyward time and again, the foursome achieving magnificent moments of shoegaze-y delirium, audience members swept away by such deafening yet languorous crescendos. After an encore of "Disaster," that skyward momentum reached its peak with the dark, roaring "Alamogordo," guitars careening, drums hammering harder and harder, creating a wall of noise that swirled and swirled lysergically until – pop! – the PA blew out. Instead of feeling awkward, it was as if the power glitch had arrived at the right moment. Without a beat, the band bid a gracious good night, as if they meant for that to happen.
live local music on
Enter your ZIP code to see concerts happening in your area.
Data provided by Zvents
follow msn music