Grace, God, grooves and glory
Jim James solo show in Seattle bubbles up with spiritual expression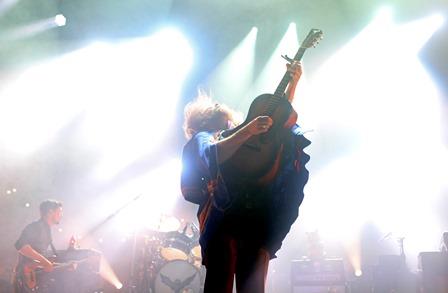 By Paul Pearson
Special to MSN Music
SEATTLE – There are your everyday guys who just knock on heaven's door and then see generations of bar bands cover it for years to come. Alternatively, there's Jim James, who shows up on heaven's porch, checks the door, and spends an hour pacing the front yard on a bullhorn trying to negotiate his way in. Grace is too easy. He wants to figure out how he got here in the first place. Then, if it's convenient for all involved parties, sure, he'll come in for a bit. What's for dinner?
That's precisely what I got from James' staggering performance at the Neptune Theatre on May 15. The driving force behind My Morning Jacket and one-fourth of the supergroup Monsters of Folk played a 16-song, two-hour set, including the whole of his solo debut album, "Regions of Light and Sound of God" in sequence.
Pacing and floating onstage in a suit and loosely knotted tie, James was half mystic and half evangelizer. He made a real effort to directly engage as many audience members as he could, making sure to distribute his visits to stages left and right frequently and equally. He even had his flying-V electric guitar mounted on a stand so he could take the occasional solo without having to stop and strap the instrument around his neck. Whether or not he had a clear spiritual message to impart, he was intent on expressing it.
James and his four-piece band transformed the intimate songs from "Regions of Light" into sprawling, extended showers of electronics, old-school R&B grooves and invocation. Most of the songs went on considerably longer than they did on record. The opening song "State of the Art (A.E.I.O.U.)" summed up James' approach succinctly: restrained, thoughtful beginning, gradual introduction of groove, then a wash of intense sound that arrives in such logical procession you couldn't remember how it got there.
The extended songs gave James' band a lot of opportunities to shine on their own. Drummer Dave Givan, in particular, turned in a dexterous solo at the tail end of "Dear One" as his bandmates admired it offstage. Dan Dorff performed an exceptional electric piano solo on two keyboards toward the middle of the set. The glory was so democratic that even bassist Alana Rocklin got her own chance in the first set's final song, "God's Love to Deliver."
James returned after the album playback for a six-song encore featuring just one My Morning Jacket selection, a solo acoustic version of "Wonderful (The Way I Feel)" from their most recent album, "Circuital." The band then rejoined him for four straight Monsters of Folk songs, highlighted by a drawn-out rendition of "Dear God" that used the blueprints of the lengthy jams from the first set.
It's interesting that the two longest numbers of the night, "God's Love to Deliver" and "Dear God," both invoked the G-man in their titles. If there's any sign that supplication is part of James' plan, that probably qualifies. But James isn't a preacher, just a very enthusiastic seeker, and his performance squeezed out every bit of joy from his musical questions. If the room had gotten any more transcendent, I'm sure there would have been a fire code violation. Nobody in the audience seemed the least disappointed by the scarcity of MMJ songs, proving that James has the charisma and appeal to go down any path he chooses, and will have faithful onlookers when he does.
Photo credit: Brian Hineline/Retna Ltd.
live local music on
Enter your ZIP code to see concerts happening in your area.
Data provided by Zvents
follow msn music