Iron and Wine: Try a little tenderness
The folk singer and songwriter plays a hypnotic mix of styles with an expanded band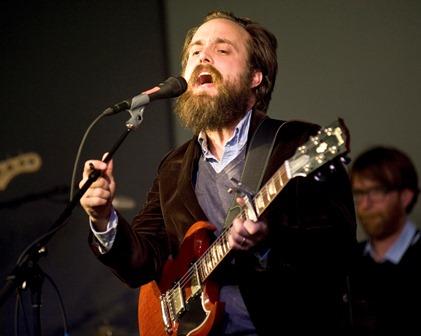 By Peter Gerstenzang
Special to MSN Music
PORT CHESTER, NY -- If you've  been recently concerned  that the younger generation is spending too much time tweeting about how Kanye West's $750,000 car got squeezed into the size of an Aluma Wallet, don't despair. On May 19, at the restored Capitol Theatre, 14-year-old hipsters (and 55-year-old ones) went absolutely apoplectic over every horn flourish, every zing of the strings, every clever lyrical turn and each gorgeous tenor note that emerged from the stage on which stood Iron and Wine. They knew the words. They swooned at the opening chords of fan favorites. They asked for (and got) a snatch of "Free Bird." All with the hushed, religious fervor usually reserved for that other great jazzy pantheist, Van Morrison.
Lamborghinis weren't mentioned once.
It would be criminal to not give a shout-out to the magnificent Secret Sisters, those country-ish, lavishly-gifted girls who opened the show. With one guitar between them, these rootsy rising stars sang everything from fine, folky originals to covers by musical ancestors such as the Everly Brothers and Crosby, Stills & Nash. And received well-earned whoops and wild applause after their twenty-minute set.
MSN Music interview: Secret Sisters move from country ingenues to headliners
But everyone -- from the kids in horn rims and all black ensembles, to folks old enough to have frequented Fillmore East -- was there to see that wonderfully strange bird, Iron and Wine. Watching this good-natured, bearded young man (born Samuel Beam) evolve over the years, from his hermetic debut on Sub Pop to his confident writing (or recasting) songs for a twelve piece band, has been one of the new century's secret pop delights. Whether he played solo songs like "Resurrection Fern" or jazzy gems like "Jezebel," Beam's range was remarkable. One minute he seemed as bereft as that sad, English bedsitter Nick Drake; the next, as animated as Van Morrison leading his own ambitious mid-'70s troupe, the Caledonia Soul Orchestra. But if these statements seem contradictory, they didn't feel that way live. No matter how solo songs were recast for a full band, Beam's most ardent fanboys (and girls) loved everything they heard.
The middle section of the show was particularly hypnotic. Losing the horns, the female singers and the organ, Beam actually amped up the electricity. All with his choirboy tenor and surprisingly nimble guitar playing. Whether playing "Resurrection Fern," "Woman King" or trotting out and dusting off the classic rock cobwebs from "Free Bird" (he played about a third of the Skynyrd classic), the South Carolina native and father of five (now living outside Austin, Texas) showed he was equally adept at delicate fingerpicking or funky strumming. If Beam doesn't quite possess the out-of-the-vapors genius of Morrison (who does?) he also doesn't exhibit any of Van's moodiness. Good-natured and funny ("I've never heard people yell for tender songs with such rage!"), one doesn't have to worry that this singer/songwriter will suddenly go into a snit and storm offstage. To paraphrase Bill Murray, "So, he's got that going for him. Which is nice."
MSN Music interview: Iron and Wine: Accidental acclaim
If this reviewer had any complaints, despite the excellent pacing of the show Beam could've done with a few less two chord vamps dressed up as songs. Toward the end of the show, one felt that, despite the fine band, there was a bit of repetitiveness to the Southwestern funk that was bruited about: a few too many trumpet solos, a little too much Mad Dogs and Englishman (one influence), and not enough of the economy of the Band (clearly another).
But this is merely carping. In an age where singer/songwriter means the vapid musical wallpaper of John Mayer and Sheryl Crow, Iron and Wine is something very singular. Conjuring a world of make-out sessions behind barns, populated by beautifully detailed descriptions of animals, and lines like, "You shined my mother's imitation pearls," showed Beam to be a real writer with even finer things to come. And his affection for the audience was nearly as moving as his musical narratives. At one point, he mock-scolded the crowd and said, "Don't lie to me. I'm your friend." It sounded, at that moment, remarkably real. And I think every single person at the Capitol Theatre watching and worshipping Iron and Wine felt exactly the same way.
Photo credit:  David Atlas/Retna Ltd
live local music on
Enter your ZIP code to see concerts happening in your area.
Data provided by Zvents
follow msn music