Janelle Monae and Erykah Badu Are Royalty on "Q.U.E.E.N."
New tune's a funky two-fer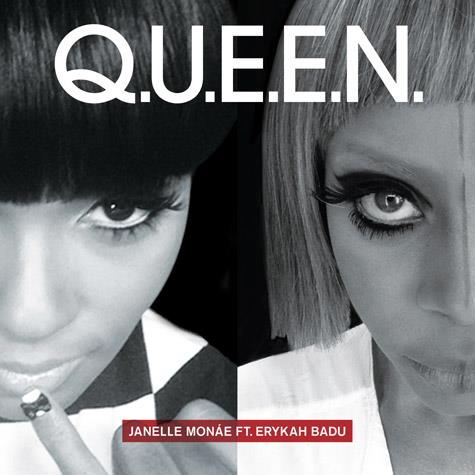 Both Janelle Monae and Erykah Badu have pretty much made careers out of not conforming, so when they offer up an empowerment guide on how to do the same, you better listen.
On "Q.U.E.E.N.," Monae's first material since her acclaimed 2010 album "The ArchAndroid" (not including her guest appearance on fun.'s omnipresent hit "We Are Young"), she delivers a few verses over an ultra-funky, wiggly guitar riff, some squeaky synths, and finger snaps, asking questions we can only assume are rhetorical since she's always seemed confident in her cool:
"Is it peculiar that she twerk in the mirror?
"And am I weird to dance alone late at night?"
"Say is it weird to like the way she wear her tights?"
"And is it rude to wear my shades?"
When Badu enters, she brings with her even more instruments—bongo drums, cinematic strings and jazzy horns—and declares (much like Shakira once did with a different body part): "The booty don't lie." Sure, it's an odd admission to make during somewhat of an inspirational anthem, but there are other affirmations, too!
Badu speaks slowly, "Even if it makes others uncomfortable / I wanna love who I am," before handing the mic back over to Monae who, backed by gospel harmonizing, closes the song with a solid socially-conscious rap: "Asked a question like this, 'Are we a lost generation of our people?' / Add us to equations, but they'll never make us equal... March to the streets 'cuz I'm willing and I'm able / Categorize me, I defy every label." Checkmate, haters.
Janelle Monae's album "Electric Lady" is due this September.
[Follow @daniellesaid]
live local music on
Enter your ZIP code to see concerts happening in your area.
Data provided by Zvents
follow msn music