Ke$ha's glitter and Pitbull's Big Mac put on a pop spectacle at the Hollywood Bowl
Guest appearances by Chris Brown, J.Lo, Marc Anthony, Enrique Iglesias nearly upstage the headliners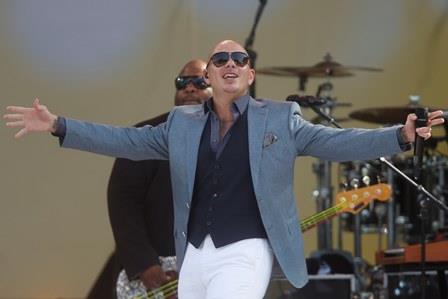 By Robert Spuhler
Special to MSN Music
HOLLYWOOD – It's rare that a show at the Hollywood Bowl, the august outdoor venue in Los Angeles accustomed to orchestral performances, film singalongs and the occasional concerts of alternative stalwarts, has its own hashtag. It's even more rare to see mirror balls or faux-strip club backdrops.
On Tuesday night, Pitbull and Ke$ha brought their co-headlining tour to the all-seated Bowl, turning it into a star-studded dance party for a much younger set. #PitBowl, as it was billed on the venue's monitors, got that job done despite the limitations of both performers.
Every single facet of Pitbull's show is measured and calculated, from his referring to Los Angeles as his "number-one market" to his ending every song with the same pose and, for most tracks, at the same point of the stage. Like McDonald's engineering the Big Mac to be the perfectly addictive mix of sugar and salt, Pitbull has found the right formula to create music (or, often, music-like product) that feeds masses. He uses hooks from popular songs to draw the audience in. Pitbull's live band played choruses or riffs from no fewer than eight other hits (including "Eye of the Tiger," "(You Gotta) Fight for Your Right (To Party)" and even "Barbra Streisand"),  each one segueing into his own work. Many of his biggest songs were hits for other artists previously: A-ha's "Take on Me" becomes "Feel This Moment" and Mickey and Sylvia's "Love Is Strange" becomes "Back in Time."
Summer Music Guide: See the season's hottest concert tours
In those ways, Pitbull seems to have missed his calling. At his best onstage, he's much more comfortable as a bandleader of sorts, a musical director leading his charges through a set of his and other people's material while keeping the crowd hyped and interacting with backup dancers. Any of his own tracks that required more than one verse exposed his limited rhyming abilities, both in lyrics and flow. His microphone was often overpowered by his backing musicians, like he lacked the wind to be heard.
However, as his ubiquitous Bud Light commercials and nearly every one of his songs points out, he's a man who can keep a party going – and the most important part of any party is the right mix of guests. For Pitbull's L.A. stop, he booked Chris Brown, Marc Anthony, Enrique Iglesias and, in a showstopping near-finale, Jennifer Lopez. It made for an odd dynamic at time, as guests constantly showed up the main act and crowd members constantly looked to the side of the stage whenever Pitbull would launch into a song that featured another performer (which, considering his catalog, meant most of the set list).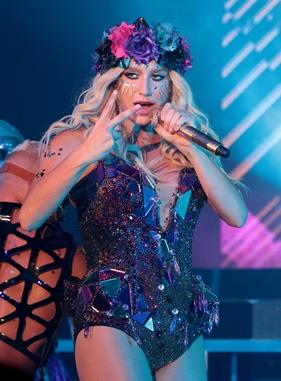 The final song of the night was "Give Me Everything," a collaboration with Ne-Yo, Nayer and Afrojack. None of the song's guests were present, so the audience had to settle for fireworks and the previously mentioned confetti and smoke canons. By the end of the song, it was nearly impossible to see the rapper onstage, obscured by stage smoke and floating bits of paper. Again, he had been shown up by another element of the concert, but he had definitely kept the party going all the way to the end.
In an hourlong co-headlining set, Ke$ha danced around inflatable legs and hippos, "made it rain" with fake money and featured dancers dressed like kaleidoscopic Jack Sparrows, swords and all. "We are the crazy people," she said before "Crazy Kids." But Ke$ha and her "people" seem to be the least crazy of all, the most mainstream, with faux-outrageousness and skin-deep attitude that feels like an act. She's shocking for a generation that doesn't remember Madonna's sex book, possibly, but nothing this polished and choreographed could really be dangerous.
MSN Music: Ke$ha slammed for urine-drinking stunt
If one can get past the glitter (a noteworthy feat), Ke$ha's songs seem to resonate with her fans. The crowd's reaction to tracks like "Tik Tok" and "We R Who We R" rivaled many of Pitbull's special guests for the evening's loudest reactions. And when the 26-year-old, multiplatinum-sellin​g artist talked about standing up to her "haters," the crowd roared with appreciation, never mind that any "hater" of Ke$ha long ago lost that battle. By the end of her set, which featured beach balls, streamers, the aforementioned inflatable legs and hippo, and other accoutrements seemingly lifted from a 99-cent store's party section, it was hard not to be moved to dance along, if for no reason other than the sheer energy expended onstage.
Pitbull set list (includes all songs where Pitbull has a verse)
Hey Baby
I Like How It Feels
International Love
Dance Again
I'm in Miami, Trick (remix)
Move, Shake, Drop
Shut It Down
Get It Started
Rain Over Me
Throw Your Hands Up
Bon Bon
Back in Time
Don't Stop the Party
Crazy People
Feel This Moment
On the Floor
DJ Got Us Fallin' in Love
Baby I Like It
Shake Senora
I Know You Want Me (Calle Ocho)
Hotel Room Service
Live It Up
Give Me Everything
Photos: (Top) Pitbull, photo by Jason DeCrow/AP (Right) Ke$ha, photo by Owen Sweeny/AP
Are you sure you want to delete this comment?
live local music on
Enter your ZIP code to see concerts happening in your area.
Data provided by Zvents
follow msn music