Little Big Town complete their transition from struggling band to accomplished headliner
Group's Ryman Auditorium set includes a tribute to George Jones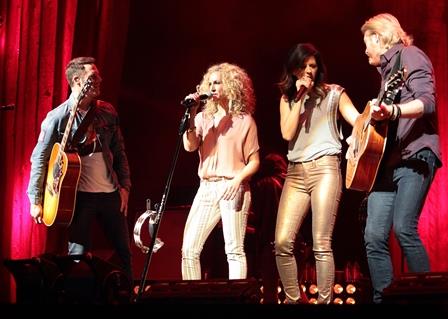 By Phyllis Stark
Special to MSN Music
After years of ducking comparisons, the members of Little Big Town finally embraced their inner Fleetwood Mac on April 30 at Nashville's Ryman Auditorium, performing a midset cover of "The Chain" that was so riveting it ended with the audience on its feet for the longest, loudest standing ovation of a night that included several.
A few songs later, the band's Karen Fairchild noted that Little Big Town will be performing right before Fleetwood Mac at this weekend's Jazz & Heritage Festival in New Orleans, although she said with a laugh that "The Chain" won't be part of their set list there.
"The Chain" wasn't the only cover in the band's 95-minute set. Also included was John Mayer's "Born and Raised" and, during an always popular regular segment the band calls "scattered, smothered and covered" (a Waffle House hash browns reference, for those in the know), there was a colorful medley of Bruno Mars' "Grenade," Maroon 5's "Moves Like Jagger," Lady Gaga's "Born This Way" and Justin Timberlake's "Suit & Tie."
The band also took a moment to honor the recently deceased country music legend George Jones, appropriately playing an a cappella portion of one of his signature hits, "Who's Gonna Fill Their Shoes," with Kimberly Schlapman taking the lead. The band's Phillip Sweet said at the end, "George Jones, we love you. Rest in peace."
MSN Music: 5 George Jones performances you must watch
Opener Kacey Musgraves also took a moment during her 10-song set to mention Jones in a roundabout and characteristically quirky way. Before launching into her song "It Is What It Is," she said, "My grandma is here from Texas, and she calls this one the slut song. I still think it's absolutely unbelievable that I'm standing here where George Jones once stood," she added. "He was the king of sad country songs, so slut song or not, this is a sad country song, and this one's for George."
Covers aside, it was Little Big Town's own hits and album cuts that truly showed off their harmonies and musicianship, as well as their considerable live performance skills. The band's four members have been performing together for so long they appear to communicate onstage via telepathy, and equitably take turns on lead vocals. As importantly, after 15 years on the road together they still appear to be having as much or more fun than the audience.
It helps that the band is coming off of what Fairchild called "the best year of our career" telling the audience it was "thanks to you, the good Lord, and a song about a boat," a reference to their first No. 1 hit, "Pontoon." Later, the band's Jimi Westbrook told the audience, "This is all we ever wanted to do."
Noting the band's many years of struggle, Fairchild said, "Every year I told my parents, 'Next year I'm going to make money singing, I swear.'" Onstage at the legendary Ryman, Fairchild said, "We represent all the songwriters and the dreamers and the artists out there trying to be heard. ... You just can't take 'no' for an answer."
MSN Music interview: Kacey Musgraves
After closing the show with an amped-up version of their first big hit, "Boondocks," the band remained on the stage. Fairchild explained that they'd always wanted to play the Ryman unplugged and without amplification, and asked for the crowd's indulgence. As the audience grew quiet, the four band members and their three backing musicians gathered at the front of the stage to sing a gorgeous rendition of "Night Owl" with just an acoustic guitar, mandolin, stand-up bass and a maraca, giving the satisfied crowd something to buzz about all the way to the parking lot.
While more of a stand-in-once-place-​and-sing performer than an artist who dynamically works the stage, the 24-year-old Musgraves nonetheless was in fine vocal form during her well-received, 45-minute set. Backed by a five-piece band, she mostly played acoustic guitar throughout, but various songs found her playing harmonica, tambourine and a bedazzled banjo.
Playing in front of a backdrop depicting a mobile home, on a set accessorized with a small gaggle of pink plastic flamingos, Musgraves performed a set list that included songs from her debut album, plus Miranda Lambert's current hit, "Mama's Broken Heart," which was co-written by Musgraves.
For her final song, "My House," Musgraves and her band clustered around one microphone and performed it Grand Ole Opry-style while the audience stood and cheered.
Little Big Town set list:
1.    Pavement Ends
2.    Little White Church
3.    On Fire Tonight
4.    Bring It on Home
5.    Sober
6.    Front Porch Thing
7.    Bones
8.    Your Side of the Bed
9.    Leavin' in Your Eyes
10.  The Chain
11.  Can't Go Back
12.  Who's Gonna Fill Their Shoes (snippet)
13.  Born and Raised
14.  Medley: Grenade, Moves Like Jagger, Born This Way, Suit & Tie
15.  Shut Up Train
16.  I'm With the Band
17.  Good as Gone
18.  Self Made
19.  Pontoon
Encore
20.  Tornado
21.  Boondocks
22.  Night Owl
live local music on
Enter your ZIP code to see concerts happening in your area.
Data provided by Zvents
follow msn music