Megadeth hit new low with "Super Collider"
14th album to be released June 4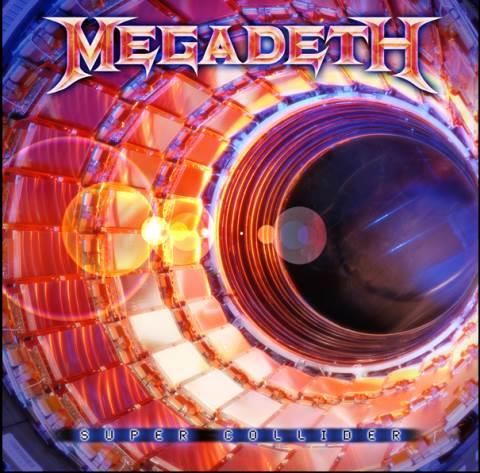 After attending the Roadburn Festival in the Netherlands a week ago – full recap coming soon – I took a quick little side trip to recover, completely removing myself from the music scene. Sightseeing and silence; that's all I wanted. Now that I'm back at work, listening to the new Megadeth track "Super Collider", all I can think of his how I should have made that "no music" holiday a bit longer.
Dave Mustaine had been reaching new levels of flakiness over the last couple years, from suggesting that President Obama had staged the mass shootings in Aurora and in Wisconsin, to supporting right-wing Presidential candidate Rick Santorum, to his "put a plug in it" advice to African women, to his public gripe with Men's Wearhouse, and all the while I was willing to cut the guy some slack because he's had Megadeth on a nice little roll as of late. The last four albums have ranged from decent (Th1rt3en) to excellent (Endgame), Dave Ellefson came back after a very acrimonious split, and the band lineup has been relatively stable.
But I'm sorry, Dave, "Super Collider" is unacceptable. More than a regression to the "groove over actual thrash" trend that so many bands, including Megadeth, got sucked into in the 1990s, the new song smacks of all those hair metal bands that started considering themselves cowboys, injecting the music with a phony sense of Americana, singing of "the high road" and being hard done by. You can practically envision Mustaine making a video that resembles Jon Bon Jovi's "Blaze of Glory", which makes you want to stab your eyes out along with your ears. Seriously, though, this song feels far too lazy to be a first-rate Megadeth song, and the arrangement places far too much emphasis on Mustaine's singing, which any longtime fan will tell you has never been great to begin with.
If you haven't heard it yet, and are a sucker for punishment, you can stream it below. The new album of the same name will be released June 4 on Tradecraft/Universal​. Heaven help us if it's as bad as the title track.
Are you sure you want to delete this comment?
live local music on
Enter your ZIP code to see concerts happening in your area.
Data provided by Zvents
follow msn music