Metallica's Orion proves to be a standout amid crowded festival slate
Thrash godfathers impress with onstage vigor, offstage curatorial choices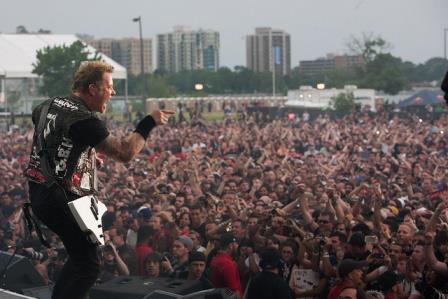 By Maura Johnston
Special to MSN Music
DETROIT, Mich. -- Over the past 10 years, the United States has experienced a sharp rise in splashy, multi-day music festivals that take over an outdoor space for the purpose of getting a lot of bands and a lot of fans together. The California desert fest Coachella (established in 1999) and the Tennessee-based Bonnaroo (established in 2002) were the forerunners for a trend that has included (deep breath) Lollapalooza, Outside Lands, Vegoose, Firefly, All Points West, the Pitchfork Music Festival, and a slew of others. Some are still thriving; some are on "hiatus"; others were canceled after a year or two.
Godfathers of thrash Metallica are no stranger to the festival circuit, having played a bunch of heavy-metal gatherings in other parts of the world. Last year, they decided to launch their own. Dubbed Orion Music & More (after the "Master of Puppets" track), the first running of the fest happened in Atlantic City last year. For its second go-round, it took place at Belle Isle Park outside of Detroit, the first installment of a three-year deal to have the fest in the Motor City. 
"It's like a big freakin' barbecue," Metallica bassist Robert Trujillo said during one of the four(!) sets he played over the course of the weekend. His assessment, biased as it may have been, was not far off. Where other long musical weekends can feel like the product of an endless series of boardroom meetings, each one attempting to micro-target a particular demographic more precisely than the last, Orion at its best moments really did feel like a party that just happened to be thrown by the members of Metallica. The park was just expansive enough, and the grounds laid out well enough, that it was possible to take a breather between bands. The booking was fairly catholic: Most of the acts had music that pummeled the ears and body in common, but the bill wasn't solely made up of the metal acts that would normally be grouped alongside the hosts. The non-musical attractions branched out of each member's interest. A good chunk of the food was from local restaurants. And James Hetfield, Kirk Hammett, Lars Ulrich and Trujillo were presences both onstage and on the grounds.
Having the festival in Detroit made immediate sense upon visiting Hetfield's pavilion, a custom car showcase exhibiting refurbished cars and motorcycles from the early Ford era on; there was also a "globe of death" for motorcyclists to spin around in. The Metallica frontman is something of an auto aficionado, owning 30 cars and exhibiting an interest in building them. 
MSN Music: More on Metallica | Bing: Find Metallica music, videos and more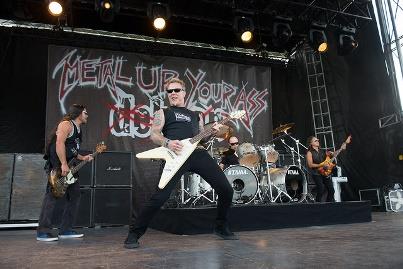 That wasn't the only hometown touch at Orion, though. Detroit punk pioneers Death ripped through a Sunday evening set that was capped by "Relief," their first single since 1976, and other local acts like raucous garage-rockers the Dirtbombs and thrash outfit Battlecross were in the mix. Local establishments were hand-selected to bring food to the festival by Phil Cooley of the famed Detroit barbecue joint Slow's; their Triple Threat on a Stick — a skewer with ham, confit bacon and smoked pork butt — was decadent and messy, an ideal fair food. And the cake pops from the local pop-up Guns & Butter, which were drizzled in an icing based on the Detroit-beloved beverage Faygo, provided just enough sweetness to counterbalance the festival's heavy musical and culinary offerings. 
Metallica invited a bunch of younger bands from both the indie and metal sides of the rock spectrum — the jittery British act Foals' festival experience was made plain as their dance-inflected punk rang out across the field, while Dillinger Escape Plan's mammoth Sunday afternoon set had comic relief provided by sidelined guitarist Ben Weinman, who sat onstage nursing his broken hand and offering backing vocals and one-liners. The feisty Los Angeles quartet Dead Sara made a huge splash; lead singer Emily Armstrong is one of the most exciting presences in rock right now, a lightning bolt of energy electrifying her band's jagged blues-metal. Guitarist Siouxsie Medley ripped. On "Lemon Scent," Armstrong's mimicking of Medley's high guitar whine revealed how well-matched the two were. (After their set ended with the curdled wail of "Weatherman," no fewer than four people asked me who they were.) 
The big event of the weekend was undoubtedly the Saturday afternoon set billed to "Dehaan." Hetfield had been posting hints about it being a potentially special thing to his Instagram account in the days leading up to Orion, and as soon as a banner bearing the old-school Metallica slogan "Metal Up Your Ass" was hoisted behind the Damage Inc. stage, that mystery outfit's identity became plain. Metallica came out and performed the entirety of their 1983 debut, "Kill 'Em All," and hearing it in that context was jolting: Hammett blazed through his guitar solos, and the sheer alacrity of the music showed why so many people took notice of them on first listen. Festivalgoers streamed over to the Damage Inc. stage from the other areas of the park as the chords of "Hit the Lights" rang out, and at one point it seemed like everyone in attendance was reveling in Metallica's run-through of their opening shot across rock's bow. (The only downside of Metallica's surprise set was an expectation that another shocker would follow on Sunday. Rumors of the Foo Fighters taking the same stage did not pan out, although those who stuck around got to see Trujillo and his former bandmates in Suicidal Tendencies run through the alienated-teen classic "Institutionalized" at the end of a set by his speed-skronk family band Trujillo Trio.) 
Headbang: Watch Metallica shred through 'Kill 'Em All' as Dehaan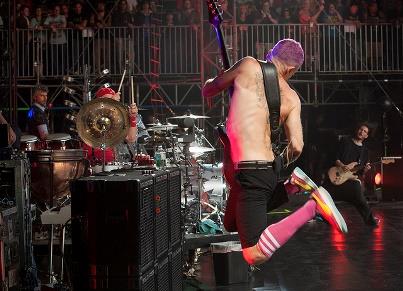 Trujillo also looked back to the '90s when he played a set with Infectious Grooves, the cartoon-assisted funk-metal project led by Suicidal Tendencies frontman Mike Muir. Jane's Addiction drummer Stephen Perkins was on hand this time out, as was former Faith No More guitarist Jim Martin. (Martin took the Fuel stage not very long after his former bandmate Mike Patton led his louche-thrash supergroup Tomahawk through an expertly played set that bridged the gap between Italian film scores and chugging metal.) Goofily petulant Grooves songs like "You Lie ... And Yo Breath Stank" and "Therapy" (a minor MTV staple thanks to Ozzy Osbourne's assist on the chorus) were made only more not just by Trujillo's blistering funk-influenced bass lines, but by the appearance of the band's mascot-slash-id, Aladdin Sarsippius Sulemenagic Jackson III, a half-lizard, half-funk brother sporting a purple suit. 
There was a lot to see at Orion, from Kirk Hammett's tent of horror-movie memorabilia (posters, costumes and select guitars that included one fashioned after a Ouija board) to Lars Ulrich's film tent to the Metallica Museum, which showed off memorabilia from the band's three-plus decades. In addition, Orion had five stages for live music, which meant that some bands unjustly drew smaller crowds — Rocket From the Crypt's stellar, horn-accented rave-ups (capped off by an extended soliloquy about dog testicles) should have been heard by more people. This is the curse of any multi-stage festival, to be sure, although the fact that there was so little dead space in between sets was a testament to just how much was on offer. 
Over in the southeast corner of the grounds, right on the Detroit River, was a tent that pumped out the squelchy, low-end-rattling dance music known as dubstep all through the weekend. A never-ending slew of DJs might have seemed like an odd fit on first glance. "A lot of the rock fans might be skeptical, but when they see it's about energy and unison, they'll relate to it," Ulrich told  Rolling Stone when Orion's lineup was initially announced. Early Sunday afternoon, the Detroit DJ Calico made the relationship between dubstep and metal even more plain when he closed his set with Iron Maiden's pummeling mini-epic "Run to the Hills." 
The tent closed up shop with a set by Destroid, a three-man outfit made up of Canadian producers Excision and Downlink and Australian drummer KJ Sawka. Unlike most of their peers, who are content to remain behind the DJ booth, the three members donned robot costumes and put on a set that blended rock-band aesthetics with militaristic dance music backing slogans like "If it's too loud, you're too old." (There was even a drum solo.) While at times their lowest-end notes sounded like attempts to hit the long-mythologized brown noise, their set was the sum proof of Ulrich's claim, with a steady stream of dancers cycling through the pit and the tent overflowing. Later that night at the Detroit club The Magic Stick, an unofficial afterparty starring Datsik and 12th Planet further brought home the similarities between Metallica's brand of hard music and the type that's flourished 30 years after "Kill 'Em All": The room was sweaty, the music was loud and the people were thrashing against one another. (OK, there were also a couple of people engaging in their own light shows in a sorta-hippieish touch, but the basic building blocks were there.)  
Saturday night, the Red Hot Chili Peppers headlined, and their set was heavy on the more mellow tracks that have helped them maintain a place on rock radio into the new millennium (the between-song jams also included a couple of nods to the headliners, with bits of "Enter Sandman" and "The Unforgiven" sprinkled into the mix). They closed with the jittery "Give It Away," though, and Flea's impassioned plea to the audience to "support music in any form" as they took their curtain call was particularly inspiring after the day's bill of newcomers and old-timers. The weekend closed with a two-hour set by the hosts-slash-headline​rs. The grinding "Welcome Home (Sanitarium)," from the 1986 album "... Master of Puppets," was a highlight, as was the group's still-jarring MTV breakthrough "One." After Metallica closed with the cataclysmic "Seek & Destroy," the band members professed their love for their festival's new home, indicating that a return next year was not just possible, but probable.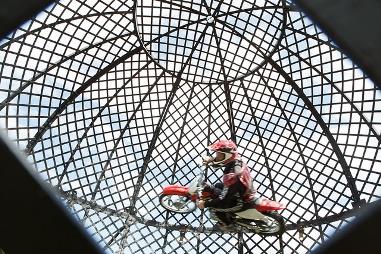 Should it stay in Detroit, Orion still has a few minor kinks to work out: The shuttles between downtown Detroit and Belle Isle were swamped by lines on Saturday, although the congestion was better on day two. ("We wanna learn from our mistakes," Hetfield said at one point during Sunday's set, and the improved shuttle service would seem to be an indication that lessons were quick in coming.) But it is the best new festival to come along in recent years, and a lot of that is because of its intensely personal touch, from the wider-than-metal booking to the obsession-borne ancillary attractions. The number of people wearing shirts bearing the band's name on both days made plain just how many people have a reverence for Metallica, whether it was sparked after one bought "Kill 'Em All" on cassette or "Load" on CD or even "Death Magnetic" through a digital service; Orion's careful planning and impressive execution were the band's way of holding up their side of that intensely strong bond. 
Metallica set (Sunday): 
Blackened
For Whom the Bell Tolls
Disposable Heroes
Harvester of Sorrow
The Day That Never Comes
Carpe Diem Baby
I Disappear
Sad but True
Welcome Home (Sanitarium)
Orion
One
Master of Puppets
Battery
Nothing Else Matters
Enter Sandman
--
Turn the Page
Creeping Death
Seek & Destroy
Photos: (top) Metallica/Cambria Harkey, (right) Metallica performing as Dehaan/Dave Mead, (left) Red Hot Chili Peppers/Cambria Harkey, (right) Globe of Death/Jack Edinger
live local music on
Enter your ZIP code to see concerts happening in your area.
Data provided by Zvents
follow msn music