New releases for April 2, 2013
Finnish teenagers steal the show with a memorable debut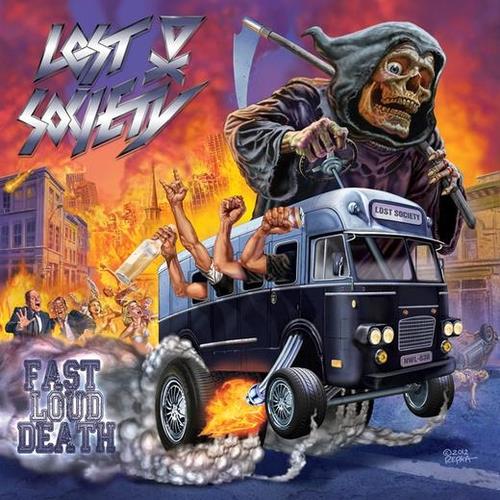 Lost Society, Fast Loud Death (Nuclear Blast)
As great as it's been to witness a new generation of metal musicians embrace the simple formula of thrash metal, it's even better to come across a band that not only knows the history and aesthetic of thrash inside out, but who writer and perform songs with great charisma. Lost Society are a group of four teenagers from Finland, and instead of playing overtly technical "djent" music or some nauseating combination of deathcore and post-hardcore, they specialize in simple, exuberant thrash metal and knock it clear out of the park on their debut album.
Thrash has always been the one metal subgenre that's the most natural offshoot of rock 'n' roll, and for all the speed and aggression, that spirit permeates Fast Loud Death, and is the big reason why it's far and away the best thrash album I've heard this year so far. It's flat-out fun, from the riffs that hearken back to Killing is My Business-era Megadeth, to the sophomoric humor, to the shout-along choruses that highlight nearly every track, a perfect storm of immaturity and dazzling musicality. It's the kind of energy on record you can only get from a bunch of musicians in their teens, and Lost Society capture it to tremendous effect on such standouts as "KILL (Those Who Oppose Me)", "Thrash All Over You", and "Braindead Metalhead". In a day and age where it's easy to become disenchanted amidst so many young bands signed long before they can even develop true songwriting chops, Lost Society arrive fully realized and in full stride, laying their Millenial peers to waste with a raucous, instantly memorable debut.
Also out this week:
Abyssal, Novit Enim Dominus Qui Sunt Eius (Profound Lore): Trust Profound Lore to find some new death metal with real personality. Cut from the same cloth as Portal and Mitochondrion, this UK band takes a slightly different approach, the riffs nowhere near as technically challenging and taking more of a doom approach, the riffs often creeping along, creating a suitably menacing atmosphere. The atonality of a track like the very unsettling "A Sheath of Deceit" works incredibly well.
Adema, Topple The Giants (Pavement): Get past the horrifically bad photoshopped cover, and you're left with nothing more than a pile of unimaginative, forgettable nu-metal tracks. It's incredible to think of just how much major-label money and hype was behind this stuff 12 years ago.
Azure Emote, The Gravity Of Impermanence (Selfmadegod): Death metal purists will cringe at all the synth, violin, saxophone, and operatic singing, but the second album by Mike Hrubovcak's project is another amalgamation of death and progressive metal that ably tries to stretch the limits as to what's allowable in this more brutal branch of heavy metal. It doesn't always succeed – it's far longer than it has to be – but it has its moments, like the crazed "Conduit of Atrophy", which is almost Sigh-like in its manic pace.
Beyond The Shore, Ghostwatcher (Metal Blade): More metalcore children making terrible metalcore music. The fact that the brilliant Bison B.C. were dropped by Metal Blade while the label keeps rank amateurs like these guys is depressing.
Bleed From Within, Uprising (Century Media): I put this album on right after the Beyond the Shore album above, and it's as if the first album didn't even end. Why do these bands even bother, and why do these record labels encourage such hackery?
Bring Me The Horizon, Sempiternal (Epitaph): The British band's previous three albums always felt more amateur hour than legitimate metal, but they've changed things up considerably on their latest album, and while it won't set the metal world on fire, it's still a significant improvement. By bolstering their watered-down metalcore sound with elements of active rock and dubstep gimmickry – "Can You Feel My Heart", "Empire (Let Them Sing)", and "Shadow Moses" all work well from a pop perspective – this feels like a truer reflection of their intentions and very much in keeping the interests of their young audience. They've embraced the triteness of their music and have gone all-out in an attempt to do something creative with it. That in itself is admirable.
Finntroll, Blodsvept (Century Media): Another helping of folk metal from the Finnish band, this album is typically not as joyous and charismatic as Korpiklaani, not as catchy as Eluveitie, and is strangely at its best when the folk influences are downplayed in favor of good swinging metal grooves. But seeing that the folk/fantasy element is Finntroll's raison d'etre – "Rösets Kung" is the one folk track that succeeds – it all seems kind of pointless.


For Today, Prevailer (Razor & Tie): The Christian metalcore band inexplicably cracked the top 15 a year ago with their album Immortal, and they try to keep the momentum going with this stopgap EP/DVD package. There's absolutely nothing creative about what these kids are doing, preaching atop mind-numbing, cookie-cutter arrangements that lazily copy the equally boring As I Lay Dying, knowing nothing about neither dynamics nor subtlety. Even more disturbingly, the acoustic version of "Fearless" shows these guys are at heart a Bible-beating Nickelback.
Hypocrisy, End Of Disclosure (Nuclear Blast): 12 albums in, and not a single thing has changed in Hypocrisy's approach. The same sleek hybrid of thrash and death metal, the same refined guitar melodies amidst Peter Tägtgren's ferocious growl, the same song structures. If this is your first Hypocrisy record it might leave a good initial impression, but for those of us who have heard all this time and again, it gets old quickly. Although Hypocrisy do it capably enough, there's little on this album that distinguishes it from any of their past work; save for the Accept-like "44 Double Zero", it's all in one ear, out the other.
Killswitch Engage, Disarm The Descent (Roadrunner): There's a lot of excitement surrounding Killswitch Engage's sixth album and first with singer Jesse Leach since 2002's Alive or Just Breathing, which is strange because it sounds exactly like any other album they've done in the past, following the same metalcore formula they've always done. Overdone as that sound is, Killswitch remain one of only a few bands who work the singy-screamy gimmick extremely well, and not surprisingly this record boasts some of the band's strongest hooks in a long time. When juxtaposed with some effective aggressive parts those saccharine choruses can be rewarding, best exemplified by "The Call", "All That We Have", and "In Due Time". The band remains content to complacently recycle that idea time and again, but despite their chronic dearth of new ideas, it's as affable as ever, and those who consider Alive or Just Breathing a "classic" record – not I, sorry – will love this one.
Moss, Horrible Night (Metal Blade): The third album by the British trio is as lumbering and mournful as you'd expect. It's a long album that requires a great deal of patience, but thankfully it's made less monotonous by Olly Pearson's Ozzy-like singing.
Niacin, Krush (Prosthetic): The trio of keyboardist John Novello, bassist Billy Sheehan, and drummer Dennis Chambers merrily noodle away on this pleasant blend of progressive rock and jazz fusion, all built around the Hammond B3 (Niacin, AKA Vitamin B3…get it?). Typical of any album with Sheehan on it, it can get a little too busy for its own good, but when Novello is reeling off those organ solos, you can't help but give in to the fun.
Thy Art Is Murder, Hate (Nuclear Blast): You have to give this Australian band credit, they display plenty of musical dexterity within the constraints of deathcore on this slickly recorded new album, but you can't help but wonder just how good they'd be if the "core" was abandoned in favor of straight-ahead death metal. As it is now, this is as tolerable a deathcore album as you'll ever hear.
Toxic Holocaust, From The Ashes Of Nuclear Destruction (Relapse): If you're a thrash fan but not an obsessive collector of Joel Grind's many underground releases, then this hour-long compilation of early Toxic Holocaust material is an absolute must-hear. Tremendous old-school thrash in the tradition of Razor.
Warbeast, Destroy (Housecore): By far the best thing about the recent War of the Gargantuas split CD with Phil Anselmo, Warbeast are back with a proper album that once again specializes in the filthier, punk-infused side of thrash metal. Capably produced by Anselmo and highlighted by "Egotistical Bastard" and "Nightmares in the Sky", this is straightforward stuff, but the energy is palpable.
Wardruna, Yggdrasil (Indie): For those who would rather approach Viking tradition with great seriousness rather than the simple fun of Amon Amarth, Norway's Wardruna is about as stone-faced as you'll get, overtly reverent folk music that goes out of its way to sound as organic as possible. For metal fans not as devout in their Viking interest, this is an interesting curiosity, but nothing more than that.
live local music on
Enter your ZIP code to see concerts happening in your area.
Data provided by Zvents
follow msn music