New Releases For May 15, 2012
Goth/doom innovation, metalcore mainstays highlight this week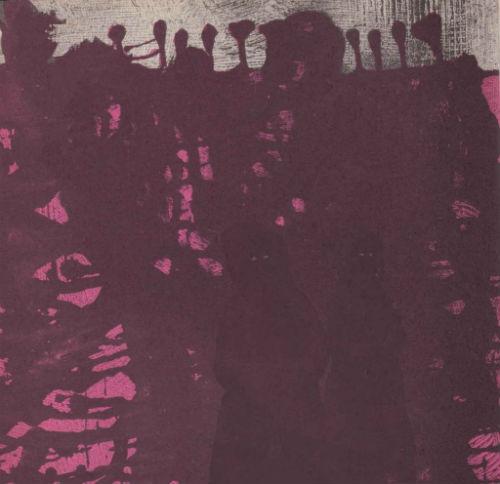 Album of the Week:
Pinkish Black, Pinkish Black (Handmade Birds)
Fort Worth, Texas isn't the first place you'd expect a haunting hybrid of Swans, Killing Joke, French coldwave's flamboyantly gothic tones, and good, old-fashioned doom but the duo of Daron Beck and Jon Teague has come out with a shocker of a debut, one that reverently pays homage to their influences yet at the same time feels so thoroughly modern. And if the overall vibe wasn't unsettling enough, the band, previously known as The Great Tyrant, derives its name from a comment about how a bathroom wall was rendered "pinkish black" after the suicide of their bassist, which only adds to the raw, cathartic nature of their music. Whether it's a purely harrowing moment like "Tastes Like Blood", the graceful Suicide-meets-Birthday Party feel of "Passerby", the pulsating krautrock of "Against the Door", or the deceptively catchy "Bodies in Tow", the pair shows incredible versatility, with Beck displaying vocal range that's downright disturbing, tender one minute, feral the next. This seven track, 33 minute album is unlike anything you will hear all year, and thank goodness for that. It's a must-hear.
Watch the video for "Bodies in Tow" here. 
Order the LP from Handmade Birds.
Also out this week:
Alaric & Atriarch, Split (20 Buck Spin): Like Pinkish Black, Bay Area band Alaric are hugely indebted to the deathrock of Los Angeles in the late-'70s and the early gothic rock/post punk of the 1980s, but their three songs on this split CD, for all their atmosphere, are less experimental and more accessible, but never at the expense of the atmosphere the band so skillfully creates. Portland's Atriarch, meanwhile – who were one of my favorite new bands of 2011, returns with a pair of spellbinding tracks that continue to sound like an unholy amalgam of doom, black metal, and vintage goth, highlighted by the majestic "Offerings". 
Aldebaran, Embracing the Lightless Depths (Profound Lore): The Portland, Oregon doom band has partnered with Profound Lore for their second full-length, which revolves around two ambitious compositions that clock in at 25 and 29 minutes. In the tradition of disembowelment, this is atmospheric funeral doom that ever-so-slowly unfolds and envelops, its carefully mapped-out melodies the result of extraordinary discipline from the foursome. Gloomy, yes, and it requires patience, but is it ever gorgeous.
Furze, Psych Minus Space Control (Fysisk Format): Norwegian oddball Woe J. Reaper returns with a fifth album that strips Furze of all of its black metal trappings in favor of an effectively grim homage to Black Sabbath. And typical of this eccentric but perpetually compelling project, it turns out to be quite a fascinating, weirdly unpredictable record.
Godsmack, Live & Inspired (Universal): Live, yes. Inspired? Well, Sully Erna and company run through a competent set of 13 of their most popular tunes in front of a supposedly receptive Detroit audience that works decently enough. But the foursome's reach exceeds its grasp on the four accompanying covers, the worst of which are the unnecessarily devout renditions of The Beatles' "Come Together" and Pink Floyd's "Time", which strip the classic tunes of their personality. Fans will like the live portion, but I can't see anyone gravitating towards the covers.
Lahmia, Into The Abyss (Bakerteam): The Italian band churns out some very catchy melodic death metal on their debut, accentuated very nicely by black metal and gothic touches. Yeah, this music has been done to death, but Lahmia's approach feels fresh, the music a lot more vibrant than you'd expect. This is a new band that's well worth investigating.
Nachtvorst, Silence (Code666): Black metal, doom, drone, and post-metal are combined by the Dutch band on their second album, which veers from stately to savage.
Never to Arise, Hacked to Perfection (BadGod): Ugly, primitive, and barely produced, the Florida band's fetid brand of death metal will please anyone who thinks not enough death metal truly evokes death.
Pantera, Vulgar Display Of Power: 20th Anniversary Deluxe Edition (Rhino): As I mentioned last week, this reissue of Pantera's greatest and most popular album might be a bit light on bonus content, but the remaster is superb, and the album itself has aged very well over the past 20 years. Essential.
Philm, Harmonic (Ipecac): Slayer drummer Dave Lombardo has always been adventurous when it comes to side projects, and this time around he's teamed up with Gerry Nestler of Civil Defiance and Pancho Tomaselli of War to create a strange record that straddles metal, punk, progressive rock, and jazz. It doesn't all stick, and at 65 minutes it's far too long than it deserves to be, but typical of Lombardo's work, it's never dull.
Shadows Fall, Fire From The Sky (Razor and Tie): It seems like an eternity ago that Shadows Fall was being lumped in with Mastodon, Lamb of God, and Killswitch Engage by dummies like yours truly as the leaders of a new generation of mainstream American metal. Sadly, after the excellent 2004 album The War Within, that anticipated mainstream breakthrough never happened despite the perpetual likeability of the Boston band. Over the years they've been content to stick to their fairly straightforward metalcore formula, but their seventh album is a very strong one, led by the vocal skill of Brian Fair, who does the "good cop, bad cop" thing as well as any metal vocalist, shifting from an authoritative roar to an effective clean singing voice with ease. It's predictable, but Shadows Fall pull it off with the skill of seasoned veterans.
Syn Ze Sase Tri, Sub Semnul Lupului (Code666): The Transylvanian black metal band might hail from the same region of Romania as the mighty Negură Bunget, but that's where the similarity ends, as this is just a sloppy version of symphonic black metal, with songs that are more tedious than involving.
Words Of Farewell, Immersion (AFM): The German band slavishly follows the lead of Soilwork and Scar Symmetry on their first album, but instead of coming across as a boring carbon copy, Words of Farewell have enough ideas of their own to show they have plenty of potential to eventually stand apart from those bands they're clearly influenced by.
live local music on
Enter your ZIP code to see concerts happening in your area.
Data provided by Zvents
follow msn music