Replacements to reunite - with replacements
Paul Westerberg and Tommy Stinson announce three dates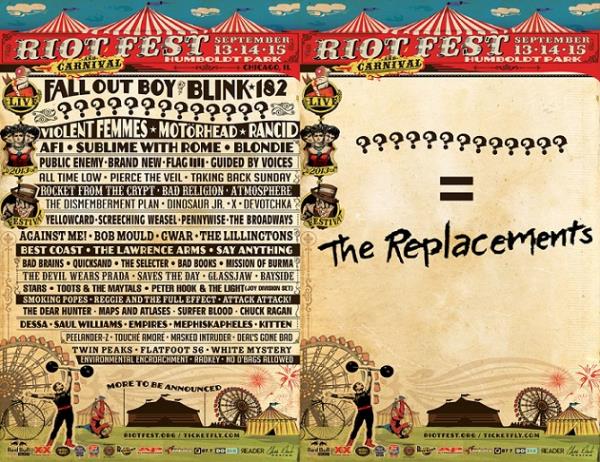 They've allegedly turned down millions from the likes of Coachella, but
Paul Westerberg
and
Tommy Stinson
will play at least three
Replacements
reunion dates this summer and fall - news which caught even the most hardcore fans by surprise.
Instead of those high-profile offer, they're playing three dates on the lesser known
Riot Act Festival
in Toronto on Aug. 25, Chicago Sept. 13-15 and Denver Sept. 21 and 22.
Besides 
The Smiths
, a Replacements reunion has been one that fans have been clamoring for. Though they never broke through big in their heyday - they reportedly left their record label $1 million in debt - their influence has been huge and the legend has only grown. They got some radio airplay with "Can't Hardly Wait," "Alex Chilton," "Skyway" and "I'll Be You," but never completely broke through.
Stinson has spent much of his time in
Axl Rose's
version of
Guns N' Roses
. Westerberg has had an erratic solo career, touring only occasionally and releasing some music on CD, some only on the Internet. He had some radio success with "Love Untold" but has been out of the spotlight for years, literally and figuratively.
Many reports said this would be the first live reunion since their final show in 1991, but that's incorrect. The pair reunited in September 2006 for a couple of songs played live off of the "Open Season" soundtrack. As for a studio reunion they did "Songs for Slim," benefit recordings for former Replacements guitarist
Slim Dunlap
, who has major health issues.
The notion of the reunion, however, has some fans up in arms. Dunlap is incapacitated and founding member
Bob Stinson
died long ago. Drummer
Chris Mars
has a thriving art career and has no interest in being in the band anymore. Drummer
Josh Freese
sat in on the 2006 live songs, but no details have been released as to who will fill out the band on the upcoming dates.
The band's new official website
predictably has very little information on it. The Westerberg-approved
PaulWesterberg.com
unofficial website is your best source of information.
Still, it's a reunion that has some fans thrilled beyond belief. Below is their biggest hit, which peaked at #51 on the Billboard charts.
live local music on
Enter your ZIP code to see concerts happening in your area.
Data provided by Zvents
follow msn music