Rita Ora Makes Your "Facemelt"
Get it? Because that's how hot she is.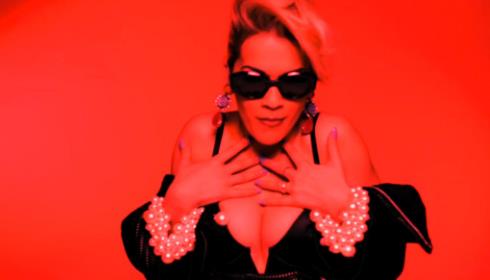 Back in September when Rita Ora's debut album "Ora" dropped, I may (or may not have) had some choice words for
"Facemelt,"
the LPs two-minute introductory tune. Maybe I said it sounded like studio scraps from an M.I.A. session, or that it was as if Rita was playing a part she didn't quite fit, or that it was all electric drills and car engines.
Maybe
.
So when I found out that she'd be releasing a video for the song, I automatically assumed it'd have the same effect on me that Beyonce's
"Run the World (Girls)"
clip did, which is to say that it'd turn me from a hater who clutched her poor ears every time she heard it to an unblinking believer in awe every time she saw the visual. Because if I know anything by now, it's that Rita gives
good
face, and fashion.
And that's all the "Facemelt" video really is -- which isn't as much of a surprise since it was directed by famed fashion photographer Rankin for the "Dirty Video" series of his biannual magazine Hunger.
Basking in a red light, Rita twirls, growls, and licks her lips while donning an updo and the best of designers offerings: big jewelry, bold shades, furs, and cleavage-baring tops. And that's all that's really needed to keep you captivated so, if nothing else, this video proves that if the singing thing doesn't work out for Ora, she's got a promising career as a model. Or the girl of your dreams. Or both.
[Follow @daniellesaid]
live local music on
Enter your ZIP code to see concerts happening in your area.
Data provided by Zvents
follow msn music