Robin Thicke Wants to "Give It to You"
And so do 2 Chainz & Kendrick Lamar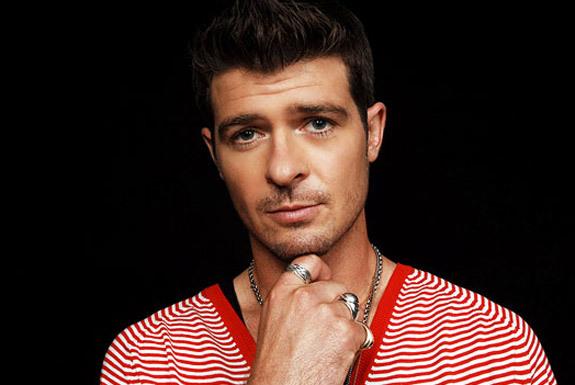 Who knew Robin Thicke was so generous?! If he was a magician, he'd have a bag of tricks, and if he was Santa, he'd have a bag of toys but because this is Robin Thicke we're talking about here, master of seduction, when he says he's gonna "give it to you," as he does on his new single, it's anyone guess what that means.
But Robin breaks it down for us in the first verse and doesn't mince his words. He's got a kiss for us, a hit, a call, a whip, and—oh, what's that?—a big d—k. Alrighty. So if subtlety's your thing, maybe you and Robin aren't meant to be.
Produced by will.i.am, "Give it to You" kicks off with some fast-paced fuzzy feedback, and featured guest 2 Chainz shouting in the background demanding that he be shown "body language." (Later in the song, Chainz delivers a pretty senseless verse that could have definitely been left on his notepad. Or at the studio. Or, whatever, in his own imagination -- just anywhere but here.) When the beat finally drops and becomes a bit more funky, Robin employs that falsetto we all know and love.
Now, this song is
no
"Blurred Lines"
—Robin's recently-released hit featuring T.I. and Pharrell that's currently sitting pretty at the top of iTunes' Soul Songs chart and sounds like Marvin Gaye's "Got to Give It Up" 2.0—but when second guest Kendrick Lamar appears, he not-so-surprisingly manages to take it up a much-needed notch (especially after 2 Chainz's underwhelming verse).
Still, the two singles are solid and if that's what we can expect from Robin's upcoming album, also titled "Blurred Lines," he's likely got another banner year ahead.
[Follow @daniellesaid]
Are you sure you want to delete this comment?
live local music on
Enter your ZIP code to see concerts happening in your area.
Data provided by Zvents
follow msn music