Rod Stewart delivers new and old songs in Hollywood
Legendary British singer put the spotlight on songs from his upcoming album "Time"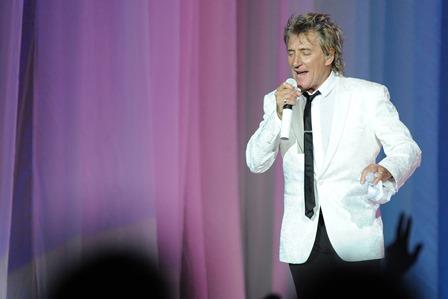 By Robert Spuhler
Special to MSN Music
There are teenagers today who had not been born the last time Rod Stewart released a song which he had written.
The legendary British singer has spent the last 15 years singing other people's words, whether they be songs written for him (2001's Human) or classics (the lamentable Great American Songbook series). Eight studio albums between 2001 and 2011 saw him taking on Frank Sinatra, Sam Cooke and even Rodgers and Hart. It would be hard to hold it against a 14-year-old for thinking that Stewart was the guy was a cover artist, a previous generation's version of an "American Idol" contestant.
The 68-year old has packed the nostalgia away for the moment, however, and gone back to the pen and paper for "Time," his self-proclaimed first "original rock studio album" in nearly 20 years. Stewart previewed songs from his new album with a private show at the Troubadour in West Hollywood on April 25, and the new material fits in nicely with his back catalog.
At several moments, Stewart and company were a bit too much for the room. The Troubadour can hold around 400 people at the most, and the star of the show did not downsize his band for the venue. At times there were 13 musicians on stage, and space was at a premium; at one point, Stewart turned and kicked a leg up in the air, knocking over the microphone stand. Meanwhile, the performance was being taped for later Internet usage, meaning that the already-small audience floor got even tighter thanks to the film equipment.
Those that made it in, though – including, according to reports, One Direction's Harry Styles, to the delight of the paparazzi waiting outside – got a taste of Stewart's new musical direction. Taking to the stage for a 10 song, 50-minute set, Stewart rolled out six tracks from Time, interspersing hits like "Rhythm of My Heart" and his take on Van Morrison's "Have I Told You Lately" with the newer material.
Kicking off with "Can't Stop Me Now," Stewart was in energetic form, encouraging the audience to clap along and dancing across the Troubadour's small stage. Songs like "She Makes Me Happy" and "Finest Woman," the former a breezy light rock love song and the latter a stomp-along roadhouse track with brass support, fit in nicely with the Stewart catalog circa Vagabond Heart. Those looking for a return to the rock stylings of Stewart's youth may have to hope for him to join a Faces reunion tour (though "You Wear It Well" may have been the biggest hit of his performance with the audience), but ballads like "It's Over" and mid-tempo numbers like the ode to carnality "Sexual Religion" are fine replacements.
The strongest of the new tracks debuted on this night, though, might be "Brighton Beach," a ballad that finds Stewart reminiscing about a teenage love, one met with disapproval from the young woman's father. While a line or two late in the song ring slightly hollow (Stewart wonders if she still thinks about him – and considering his worldwide fame, it seems like she'd have no choice but to think about him), it's the type of personal reflection that has traditionally marked the output of a mature artist. It certainly is the type of song that only Stewart could write for himself to sing, which alone makes it more vital than much of his recent output.
Setlist
*Can't Stop Me Now
Forever Young
*It's Over
Rhythm of My Heart
*Finest Woman
You Wear It Well
*She Makes Me Happy
Have I Told You Lately
*Brighton Beach
*Sexual Religion
*Songs from Stewart's upcoming album "Time"
Photo credit: Larry Marano/Retna Ltd.
live local music on
Enter your ZIP code to see concerts happening in your area.
Data provided by Zvents
follow msn music