Sara Bareilles brings 'Brave'ry & sass to final solo show
She delivers a solid, striking set in New York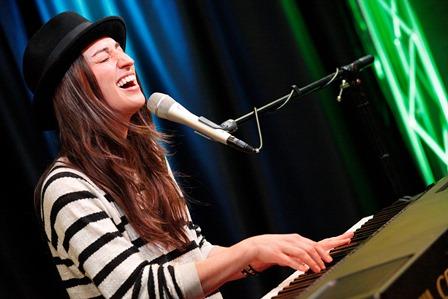 By Danielle Cheesman
Special to MSN Music
NEW YORK — Sara Bareilles has the voice of an angel. An edgy angel. A jazzy, piano-pop-rock playing, soulful singing angel. So when she stepped onto the stage at the Highline Ballroom (May 23) wearing all-black — a fedora, pants and sheer button-up — she looked every bit the part of a musician who takes herself too seriously, but we learned (very quickly) that that wasn't at all the case. Why? Because she also curses like a sailor (a really sarcastic sailor) and has the comedic timing of a professional clown.

Before sitting at her piano, she gave the crowd an over-the-top, stiff pageant wave and smile, identified a concertgoer on crutches with a shocked "Oh, s---!," and — after praising New York's wonderful weather (a dig; many of us waited in line holding umbrellas) and its bustling streets (another crack; there was traffic everywhere) — announced: "Don't be afraid to get rowdy" — pause — "but don't be p---ed if I shut you the f--- up when I need to" — another pause — "My mom's here!" Cue: laughter.

With her label head L.A. Reid watching from an elevated and reserved area, she launched into "Love on the Rocks" with some pretty conspicuous Elton John-inspired piano chords, but for good reason; the tune segued into a cover of his hit "Bennie and the Jets" which Bareilles still managed to make all her own with a customized coda: "Bennie on the rocks / Bennie smokes rocks / Probably / Because it was the seventieees." Cue: more laughter.
Bing: More on Sara Bareilles

After admitting to drinking "copious amounts" of whiskey the night before, she played the bouncy "Uncharted" and, under her playful orders ("Stronger! More p---ed off!"), the crowd gladly took over singing the bridge. She continued, "Start grooving, look at your neighbor, make a connection," before playing her debut single "Love Song," which isn't really a love song at all but more of a slap-in-the-face response to a record label's request. (And if you're wondering if there are still any hard feelings between the two parties, when many of us mumbled through the bridge, Bareilles shouted, "This is the part they didn't play on the radio. F---ers.")

We were on whistling duty for her cover of Otis Redding's "(Sittin' on) the Dock of the Bay," but kept quiet during an admittedly more personal ballad, "Manhattan," which Bareilles disclosed was the first song she'd written when she finally considered moving to New York. After a fan handed her a gift (to which she then quipped, "Ok, pass all jewelry to the front!") and Bareilles teased about feeling naked ("because you can see my bra, that's the joke"), she played another medley, absolutely annihilating the lyrics to Taylor Swift's "You Belong with Me" before perfectly playing her similar-sounding "Let the Rain."
MSN Music: Jessie Ware's career two-step

Next was "I Just Want You," a song Bareilles said she never recorded because it only felt right when sung live, then a fan's request for Bareilles to be their surrogate (they decided the kid's name would be Chad), and then the highlights of the night: a darker, more bluesy version of "Come Round Soon" (during which Bareilles held notes we could only cringe at for fear she'd hurt herself being so badass) and a hypnotic, almost entirely a cappella rendition of "Once Upon Another Time." Bareilles pulled a harmonium out from the shadows to play, but not without this bit of "The Office" humor first: "It does kind of look like a magic box, doesn't it?" — pause — "That's what she said!," followed by new single "Brave" from her upcoming album, "The Blessed Unrest."

On closer "King of Anything," she split the crowd into teams for the "oh-oh!" refrain (and dramatically, but really hilariously, slammed her piano keys in a way that recalled "Mommie Dearest" when we couldn't get it right). She returned for her encore with fan-favorite "Gravity," and if you didn't cry, I decided you were not human, and finally another Elton John cover with "Goodbye Yellow Brick Road." It was the final show on Bareilles'  solo tour, meaning no bandmates and no opening acts, and now that I've been spoiled, it's the only way I'll ever want her served. She's solid and striking as-is.
Photo credit: Scott Weiner/Retna Ltd
Are you sure you want to delete this comment?
live local music on
Enter your ZIP code to see concerts happening in your area.
Data provided by Zvents
follow msn music