Swift brings Rolling Stones fans to "Tears"
Duet is a mixed bag as the stars team up in Chicago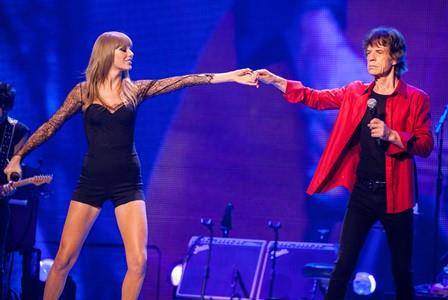 All photos by Barry Brecheisen/AP
Fans would have likely preferred more
Mick Taylor
, but they got
Taylor Swift
. As expected, she took the stage in Chicago on Monday night as the latest in a long line of special guests with
The Rolling Stones
.
She sang a duet with
Mick Jagger
on "As Tears Go By," a somewhat fitting choice as Jagger's young, blonde girlfriend
Marianne Faithfull
was the first to make the song a hit way back in the day at the tender age of 17.
One wondered what the reception would be, and while it's hard to tell from this video it appears to be mixed. Jagger doesn't introduce Swift beforehand; she merely walks out in time for the second verse, and it sounds like a mixture of reaction - some cheers, some jeers. And
Keith Richards
takes a seat and just kinda ignores the whole thing.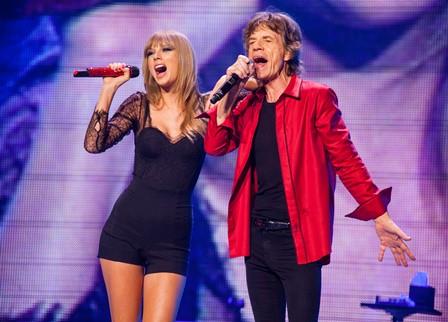 Her voice is a bit thin, shrill and reedy -- again, it could just be the audio on the footage -- and doesn't infuse the song with emotion the way Faithfull did. But to her credit, she learned the song, barely glancing at the Teleprompter scrolling the lyrics. And by the end the mixed reaction was definitely more on the cheering side.
Update
: The official version is out and unfortunately it doesn't sound much better. Odd to hear Jagger tell the crowd "you didn't expect that!" when Swift and the Stones had been spreading the news all day.
live local music on
Enter your ZIP code to see concerts happening in your area.
Data provided by Zvents
follow msn music