Thompson Square describe trip to Honduran village as "life changing"
Duo made the visit on behalf of the charity ChildFund International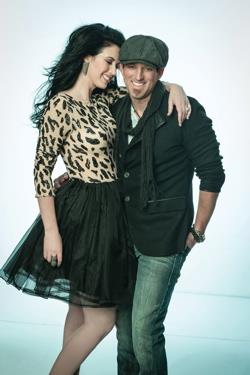 Despite a busy touring schedule, including their current run of dates with Luke Bryan, Thompson Square still makes time to give back by serving as celebrity ambassadors for the charity ChildFund International, and sponsoring a child through the program. In January, the duo's Keifer and Shawna Thompson get the opportunity to travel to Honduras on behalf of ChildFund, and they recently spoke with One Country about the experience, which included getting to meet Emerson, the four-year-old boy they sponsor.
"It was definitely life changing," Shawna says about the trip. "We went into it a little apprehensive, and little scared because we didn't know what to expect. But we got there and those people are so, so sweet and they just welcomed us with open arms. Emerson was a little bit shy in the beginning and didn't want to have a whole lot to do with us, but Keifer mentioned soccer and he immediately wanted to play."
The visit also included a tour of some ChildFund facilities in the Honduran village of Lepaterique. Says Shawna, "We were able to go to a school there that ChildFund has built, and just to see all those kids' faces and see them able to have nutritious food and actual bathrooms [was great]. That's another thing ChildFund is working on right now is making sure they all have latrines, because a lot of the houses don't. They don't have showers or anything like that.
"There was another little boy we were able to talk to a little bit, his name was Benedict," Shawna continues. "He came up to me with a little note and asked if we would please help them get a computer for their studies. It was the sweetest thing. So we're working on that right now."
Summing up the trip, Shawna says, "It definitely made us realize what's important. Over there it's all about family and love, and we can't wait to go back."
Thompson Square released their sophomore album, "Just Feels Good," this week. Check out the rest of our interview with them here.
live local music on
Enter your ZIP code to see concerts happening in your area.
Data provided by Zvents
follow msn music