Tom Petty & the Heartbreakers mine back-catalog gold
Residency at New York's hallowed Beacon Theatre brings band's canon into deeper focus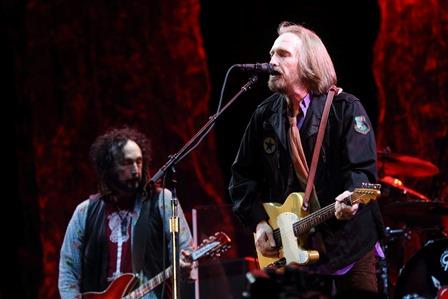 By Alan Light
Special to MSN Music
NEW YORK --
Tom Petty
is a first-ballot Rock and Roll Hall of Famer, an arena and festival headliner for several decades, a friend and cohort of folks like
Bob Dylan
and
George Harrison
. So how is it possible that the guy is still underrated? He is unquestionably one of rock 'n' roll's greatest songwriters, yet — perhaps because in 35 years, he has never released a bad album, but never released a perfect one, either — he's still often given pats on the head like the New York Times' recent description of him as "Classic Rock's ultimate Everyman."
This week, Petty is offering a rare opportunity to examine the full scope of his work with a five-show residency at New York's Beacon Theatre. The run is being followed next week by six shows at the Fonda Theater in Los Angeles. He had promised that these nights, unencumbered by the responsibilities of a new album to promote, would offer a thorough overview of his songbook, full of deep cuts and obscure tracks. "Sometimes songs get put on albums, and you love them, but they never get played on the radio," he said during Monday night's opening show, "some song wasting away at track 5 or 6" — and then went into one of the brightest gems unearthed during this 21-song set, the chugging, defiant "Billy the Kid" from the largely forgotten 1999 album "Echo."
The show didn't totally skimp on hits: Petty & the Heartbreakers still delivered roof-raising versions of "I Won't Back Down," "Refugee" and the incomparable "American Girl" (is there a better line in any rock song than "She was an American girl/Raised on promises?"), but the heart of the show was in the less-familiar selections. The night covered material from the slinky menace of "Fooled Again," from his 1976 debut, to the roaring hoodoo blues of "I Should Have Known It," from his most recent release, 2010's "Mojo."
Some songs were given new readings (a wistful, acoustic version of "Rebels" presented an emotional inversion of the fist-pumping studio anthem), while others went in directions that seemed to surprise even the band, like a dreamy piano/guitar duet excursion in the middle of "You Wreck Me." And in case you forgot that these guys started out as a bar band, there were covers of the Byrds' "So You Want to Be a Rock 'n' Roll Star," the Monkees' "(I'm Not Your) Steppin' Stone," Little Feat's "Willin,'" and (judging from the train wreck of an intro) a clearly unrehearsed take on Chuck Berry's "Carol."
No matter how much Petty made clear that these shows were for hard-core fans, this approach certainly runs the risk of self-indulgence. A downcast middle section of the set saw the audience's attention wavering a bit: It's a fun idea to hear Petty sing "Tweeter and the Monkey Man" from the first
Traveling Wilburys
record, but the shaggy-dog lyrics get a bit wearying.
Then, of course, there are the Heartbreakers, who are quite simply one of the world's finest rock bands. It's still kind of unbelievable that, in addition to a rock-solid rhythm section, Petty has two genuine virtuosi — guitarist Mike Campbell and keyboard player Benmont Tench — who have been with him since his earliest days in Florida. There really isn't another musician like Campbell around now, a featured sideman who's able to reshape the direction of almost every composition with fills and contained solos. (As stunning as his playing can be when he's allowed to stretch out, the live show almost gives Campbell too much space — he's at his best compressing his boundless ideas into a chorus or two.)
For a little over two hours, there were no histrionics, no rock-star posing, not much talking, just song after astonishing song, delivered with Petty's signature mix of passion and craft. If his performances don't reach the theatrical peaks of a Bruce Springsteen concert, at this point it's hard to argue that his catalogue doesn't stack up next to his New Jersey contemporary — or to any artist who emerged in the 1970s. And to concertgoers who were disappointed that he didn't get around to "Learning to Fly" or "Free Fallin'" or "Breakdown," I have a feeling that over the course of five nights, they're all going to turn up. The real question is, what else will?
SET LIST
So You Want to Be a Rock 'n' Roll Star
Love Is a Long Road
I Won't Back Down
Fooled Again
Cabin Down Below
Good Enough
(I'm Not Your) Steppin' stone
A Woman in Love (It's Not Me)
Billy the Kid
Tweeter and the Monkey Man
Rebels
Hard to Find a Friend
Angel Dream
Willin'
Melinda
I Should Have Known It
Refugee
Runnin' Down a Dream
ENCORE
You Wreck Me
Carol
American Girl
Alan Light is the author of "The Holy or the Broken: Leonard Cohen, Jeff Buckley and the Unlikely Ascent of 'Hallelujah.'" A regular contributor to MSN Music, he is the former editor-in-chief of Vibe and SPIN magazines. He is the director of programming for the public television concert series "Live From the Artists Den," and contributes frequently to The New York Times and Rolling Stone. Alan is a two-time winner of ASCAP's Deems Taylor Award for excellence in music writing.
Photo credit: John Davisson/AP
live local music on
Enter your ZIP code to see concerts happening in your area.
Data provided by Zvents
follow msn music