Update: Billy Currington arrested and booked into jail
Singer may have videotaped his own alleged rampage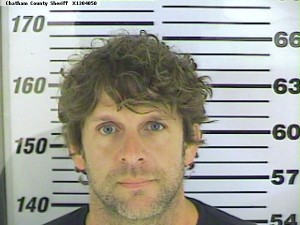 In an update to yesterday's story, Billy Currington was booked into Chatham County, Ga., jail on Thursday on a $27,700 bond following an April 15 incident in which he allegedly threatened a boat captain. On a lighter note, TMZ reports that Currington took what it describes as "the handsomest mug shot ever."
The Associated Press reports that Currington, 39, was charged with making terroristic threats and abuse of an elderly person by a grand jury Wednesday. Each charge is a felony punishable by one to five years in prison.
Additional details of the incident have also come to light. AP reports Currington "may have videotaped himself chasing a 70-year-old tour boat captain along a coastal Georgia creek and threatening to 'finish him off' in a tirade filled with profanities, according to court documents filed Thursday.
"The boat captain, Charles Harvey Ferrelle, and his two passengers told police Currington was holding a camera when he became outraged and made the threats April 15 after they passed him on the dock of a $3.5 million waterfront home near Tybee Island," AP reports. "His behavior was 'out of control' as described by all three persons, Savannah-Chatham County Police Detective Alycia Rice wrote in an affidavit filed in Chatham County Superior Court.
"Police got a warrant to search Currington's home Tuesday and seized four digital video files, 27 digital photos and a memory card," according to the AP.
In a court filing April 19, Currington's attorney said the singer denied "each and every allegation" from Ferrelle.
A second charter boat captain, Elizabeth Johnson, told police Currington made similar threats to her and a passenger last October when they were fishing not far from the singer's home, according to the AP.
"A separate police report filed soon after the incident indicates that those living at Currington's home had problems with boats passing by too closely or too fast," AP reports. "A woman who said she was the caretaker of an elderly man at the same address called police to complain a passing boat nearly knocked the man off the home's dock and into the water. The police report said the woman was talking about the events that led to Currington chasing after the tour boat."
Are you sure you want to delete this comment?
live local music on
Enter your ZIP code to see concerts happening in your area.
Data provided by Zvents
follow msn music