Volbeat's success in the heartland starting to pay off
Hard-touring road warriors are picking up steam which could lead to mainstream success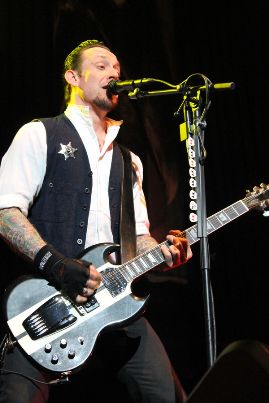 By Adrien Begrand
Special to MSN Music
SASKATCHEWAN --  If you want to make a lasting impression as a rock band in this day and age, you still have to tour hard. While the bulk of indie buzz bands and U.K. imports get away with focusing primarily on performing in a handful of major centers in North America, those who play the heavier side of rock music still benefit greatly by doing it the old-fashioned way, taking their show from town to town, building their fan base from the ground up. When Volbeat, already a big success in Europe, broke on this side of the Atlantic thanks to the popularity of their singles "Hallelujah Goat" and "Still Counting," they decided to capitalize on it by touring this continent extensively, and have succeeded in a way few European bands have been able to pull off.
Sure, they play the big cities, but the Danish road dogs have paid extra-special attention to hitting the B markets. It's in the heartland where the real fan loyalty lies – popular rock bands who make return visits to small cities are adored – and the foursome have done a tremendous job cultivating an audience in the smaller centers to the point now that the April 9 release of their sixth album, "Outlaw Gentlemen & Shady Ladies," is set to make a significant dent on the album charts over here.
A prime example of all of Volbeat's grunt work paying off was on April 1 in Saskatoon, Saskatchewan. Their fourth show in the Canadian province in 12 months, Volbeat drew a boisterous, good-sized crowd of close to 4,000 people won over by the band's decidedly American-friendly blend of heavy metal, rockabilly, country and punk rock. Never mind that it was a Monday night; it was a very lively gathering of fans fueled by local Pilsner, from the most pit in front of the stage to the folks standing and fist-pumping on the back rows of the arena seats.
Free download: Volbeat and King Diamond's "Room 24"
After a derivative but harmless 25-minute set by polite Christian rockers Spoken, the real rock 'n' roll festivities kicked off with Canadian trio Danko Jones. Led by their guitarist namesake, they specialize in a similar hybrid of rock music as Volbeat, albeit leaning more toward garage rock. "We're the only Canadian band that sings about f---ing," the hilariously profane Jones boasted, working the arrogant stage banter shtick to perfection, getting people to smile, and best of all, get up and into the music, churning out such nuggets as "Full of Regret," "Lovercall" and "Bounce."
Danko Jones' set was the perfect way to set the stage for Volbeat, who upon launching into "Hallelujah Goat" were greeted by a well-lubricated mob. Led by singer-guitarist-son​gwriter Michael Poulsen and featuring former Anthrax member Rob Caggiano as their new lead guitarist, they gave their fans very good bang for their buck with a lengthy set that was one of the best-mixed arena shows yours truly has heard in a long time. Bolstered by roaring yet crisp sound that was perfectly suited for Poulsen's baritone bellow, the band tore through selections that leaned heavily on their two most recent breakthrough albums, 2008's "Guitars Gangsters & Cadillac Blood" and 2010's "Beyond Hell/Above Heaven," highlighted by such metal fare as "A Warrior's Call" and "The Mirror and the Ripper," as well as more pop-oriented selections as the fan favorites "Heaven Nor Hell" and "Fallen."
Crank it up to 11: More metal news at Headbang
Carefully honed to fully capitalize on their potential in North America, "Outlaw Gentlemen & Shady Ladies" is a very strong new record, and the three songs unveiled on this night went over very well and reflected Volbeat's broad appeal. New single "The Hangman's Body Count" is a streamlined metal tune in the vein of mid-'90s Metallica, but with a much stronger pop sensibility. The cover of Young the Giant's ubiquitous 2010 hit "My Body" might seem an odd choice, but Poulsen and Volbeat lend the flaccid original version a welcome dose of testosterone, transforming it from a fey alt-rock song to a full-on stadium rocker. "Lola Montez," meanwhile, is a hit in the making, clearly an intentional follow-up to "Fallen," and is sure to be a live staple.
If there's one small fault with Volbeat, it's that they often try to hard to impress audiences with their versatility, and on this night they played snippets of classics by Johnny Cash, Judas Priest, Slayer, and covered the Misfits with Danko Jones guesting on vocals. Still, in a way it's charming just how much these guys want you to like them, and the more you see them play, the more affable a band they come across as. They're on the cusp of something big on this continent, and by showing smaller cities they care about them just as much as New York or Los Angeles, their loyal following is just going to keep growing.
* Photo by Darcy Begrand
live local music on
Enter your ZIP code to see concerts happening in your area.
Data provided by Zvents
follow msn music