What "Super Tuesday" Means For Hip-Hop
Kanye West, Mac Miller, and J. Cole all are vying for that No. 1 spot, but who will get it?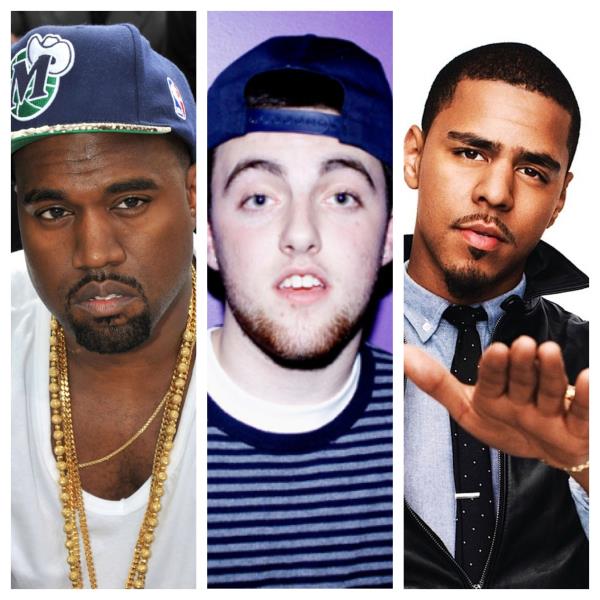 June 18th marked a monumental day in hip-hop. Three rap artists from all walks of the culture dropped their latest albums on the same day.
Kanye West
,
Mac Miller
, and
J. Cole
. The three arguably have nothing in common musically, yet share this moment in time that we now know as Super Tuesday. What will Super Tuesday bring for album sales? We'll just have to wait and see.
In Politics, Super Tuesday represents that Tuesday (in either February or March) during an election year when a majority of States hold primary elections that determine who will ultimately be a respective party's presidential candidate. In the music industry it loosely represents a release day (which is typically a Tuesday, though some artists bend the rules) where all major releases are pegged against each other. Typically, days like these involve major pop acts. On November 17, 1998, one of the biggest Super Tuesdays in the industry happened - almost 15 major albums dropped included Whitney Houston's classic "My Love Is Your Love," Mariah Carey's "Number 1s," Jewel's "Spirit," and NSync's "The Winter Album." Notice something missing? Oh that's right. Hip-hop.
Fifteen years later, the game has changed. Sure, projects like 3OH!3's "Omens," Sigur Ros' "Kveikur," and even Hanson's "Anthem" were all a part of the June 18th 2013 release pool, but the only ones that mattered were Kanye West's "Yeezus," J. Cole's "Born Sinner," and Mac Miller's "Watching Movies With the Sound Off." This news hits many historical levels for rap music. Since its inception, hip-hop was the record selling underdog. With mixtapes and pirating running rampant, rap music was consistently undersold until the late '90s when the mainstream rap album boom happened, only to rise and fall like a rollercoaster over the next two decades. Now, with sales turning digital, coupled with the rest of the cataclysmic changes happening in the industry, hip-hop is becoming the victor.
This is a clear indicator that hip-hop has fully crossed over. What is usually used as a phrase for pop music ("Super Tuesday") is now being applied specifically to hip-hop. We've known for quite some time that hip-hop has gone pop, but this speaks volumes. In addition, the average rap consumer is embracing all different forms of hip-hop: from the abstract electronic musings of a mid-thirties rapper (Kanye West), to the college rap pot-smoking ramblings of a 21-year-old indie white rapper (Mac Miller), all the way to the traditional hip-hop formula of a middle of the road complex rapper (J. Cole). We are no longer consuming our rap through one specific vessel on a mainstream level - all versions of the art form are welcome.
The sales projections are already in from "Super Tuesday," but the official results won't be tallied for a few more days (on Sunday, June 23rd). Per
Billboard
, Kanye West's "Yeezus" is in the lead and could sell anywhere from 360,000-380,000 copies (though some argue that Ye will hit the 500k mark). Compare that to his last release, "My Beautiful Dark Twisted Fantasy" (2010) which sold a staggering 496,000 in its first week. J. Cole's "Born Sinner" is the projected runner-up, with an estimated 270,000-290,000 (though it's looking like 300k is doable). That's a step up from Cole's 2011 debut "Cole World: The Sideline Story," which took in 217,000 in its first week. Mac Miller's "Watching Movies With the Sound Off," is the assumed #3, estimating around 100,000 copies. It's still nothing to sneeze at, as his 2011 "Blue Slide Park" ended its first week with 144,000 sold. All three of the artists' last projects debuted at No. 1 on the Billboard charts their week of release. By next week, only one of them will have the top slot. The numbers are saying it's "Yeezus," but who really knows until Sunday?
Another historical moment will happen by the end of this week. If all three hip-hop artists sell over 100,000 (which we assume to be true already), then it will be the first time since 2006 that three rap albums sold over 100k in the first week. The last time it happened was Thanksgiving week of November 2006, when Jay-Z's "Kingdom Come," Snoop Dogg's "Tha Blue Carpet Treatment," and the late 2Pac's posthumous "Pac's Life" all sold well over 100,000 copies. Jay-Z won that race, breaking the bank with 680,000 copies sold the first week. Perhaps he will see those same numbers with July 4th's release of "Magna Carta Holy Grail."
Of course hip-hop has witnessed bigger numbers than any of the aforementioned. Remember back in 2008, when Lil Wayne dropped "Tha Carter III" in June and it sold 1,005,545 copies in its first week? Or even Eminem's 2010 comeback project "Recovery" which sold an excess of 741,000 copies its week of release. In an industry that is consistently trying to reinvent the wheel when it comes to the music buying model, Kanye West, J. Cole and Mac Miller are still making waves in the purchasing pond. Sure, the numbers have gotten smaller, but they're still there - proving that people still buy music when they want to. More importantly, people are still buying
rap
music, a genre erroneously characterized by illegal downloading and bootlegging.
So by this time next week, one rapper will be celebrating, while the other two will be sharpening their formulas to get the top spot next time. Ultimately two artists will have broken their #1 album streak, with another continuing their first-week reign. It's a competition after all, one that hip-hop music probably never dreamed of entering three decades ago but now is currently leading. Let the games begin.

Kayne is the only one who looks like a rapper-go figure- but he needs to take that whack-azz hat off.  Mack Millz looks like I might look when I turn 61 years old.  Jay Kole looks like he should have gotten a better hair cut because most blue collar workers I see with blue work shirts have a pimped out player-azz bald fade, so I think he should switch it up a little for heaven's sake. Jay Kole is clean though and looks like he has worked hard. But the blues brother's image just has to go.  Sorry.  Can't wait for Sunday though.  Searching out the albums now to see if I can have a free listen.  I do pay $50.00 a month for internet service, I mean I do deserve it.
Are you sure you want to delete this comment?
live local music on
Enter your ZIP code to see concerts happening in your area.
Data provided by Zvents
follow msn music