Bouncing Cats
Hip-Hop Heroes
By 
Xgau
 Dec 17, 2010 1:17PM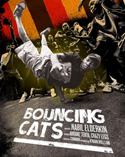 Bouncing Cats‑-which I saw last night at NYU's Eisner & Lubin Auditorium, where the Clive Davis Department of Recorded Music topped off the film's brief festival run by organizing a promotional screening designed to improve its access to distribution‑-isn't really a music doc. It's a hip-hop doc‑-or rather, a documentary about hip-hop culture, a sometimes sanctimonious concept that makes nothing but sense in this context. As directed by Australian-born hip-hop video director Nabil Elderkin, who intersperses b&w and color for neo-realist effect and exploits pace and structure to suck the viewer in, Bouncing Cats gives the lie to any cynic, myself occasionally included, who doubts hip-hop's ability to make a difference in the lives of the downpressed. The downpressed in question live in Uganda, one of the poorest countries in the world, where Abramz Takla, orphaned by AIDS at seven, has created the remarkable B.P.U.: Breakdance Project Uganda. The title comes from the music the breakdancers supply themselves when they can't afford recorded beats, which is often: a chant of "Bouncing cats/Buh-bouncing cats." Narration is by Common, but the narrative line is provided by Rock Steady Crew breakdancer Crazy Legs, who travels to Uganda to give B.P.U. classes through the good offices of Red Bull, which sponsors both Elderkin and Crazy Legs.
     Early on Crazy Legs explains why visiting Uganda is such a natural for a veteran of hip-hop's early days: "The South Bronx at that time could have been a Third World country." I groaned at this condescending analogy, but it's a setup. Soon Crazy Legs is entering a building so crammed with B.P.U. members that he suggests sending half of them outside and is told that half the kids who showed up are already outside. But relatively speaking, the skill-sharing stuff is pro forma‑-almost a setup itself. The payoff is the lives the B.P.U. is changing and the environment in which this change must take effect. This is where pace comes in. The first case study is a typical albeit compelling male youth, the second a cop's daughter who attends school irregularly because her family can't always afford the fees. Then Crazy Legs begins to explore the Ugandan capital of Kampala, where B.P.U. is based. As he watches kids pick their way barefoot through muck that often includes raw sewage, those condescending analogies disintegrate for him. But Elderkin is just getting started. Next he moves the action to Kampala's worst slum, Kisenyi, where many sit listlessly in the fetid heat and kids survive by collecting scraps all day‑-of what isn't specified, but it's hard to believe much of it is marginally edible.
     Had enough? That's what you think. Kampala is in the well-off part of Uganda. Up north is where for decades Joseph Kony's nominally Christian Lord's Resistance Army abducted child soldiers and terrorized anyone not allied with his Acholi tribe. Abramz finds that Kampalans are so appalled by the news from the north that they try to pretend it doesn't exist even though Kony has been forced over the border. So naturally he establishes a B.P.U. branch in the terror town of Gulu, and brings Crazy Legs up there. Then more case studies: a sweet, shy, teenaged artist comes out of himself as he learns some moves, a 16-year-old in the care of his AIDS-afflicted uncle dreams of becoming a doctor. Crazy Legs becomes visibly troubled as he continues to look around; once Elderkind catches him wiping away tears. Finally there's John, a non-Acholi father of two who's had his lower nose and upper lip cut off by the L.R.A. I've read about these things; maybe you have too. It's painful. Seeing is much worse‑-when the camera leaves John, you sigh in relief. Except that John becomes the last B.P.U. recruit we meet. We watch Abramz teach him. The last quarter of the film returns often to his face. It takes on a beauty.
     Abramz is the hero here, but not the only one. Crazy Legs wants to nominate him for a Nobel Peace Prize, but a woman in the film already has been: Jolly Okot, an L.R.A. abductee who is now a mainstay of a Gulu relief organization called H.E.A.L.S. And the breakdancers are all heroic by simple dint of taking pride in a skill‑-a skill that both honors the past of their dance-positive culture and has a measure of glamor, modernity, and affluence about it. As Somalian-Canadian rapper K'naan puts it: "It's a personal solution, not a practical solution. But it can lead to a practical solution." K'naan is the most articulate and knowledgeable of a commentariat that includes Mos Def and will.i.am, and his music is prominent on the soundtrack as well. You can see how the pop optimism of his style, which is derided by some hip-hop hards, connects to the positive attitude most of the Ugandans on camera refuse to give up.
     There was discussion after the screening, and someone asked Crazy Legs about  the aftermath of his visit. One of his answers was "I had to get used to eating again." But his first sentence was the  most revealing: "I did not want to hear about anyone's problems when I got home."
Bouncing Cats will probably not be distributed in theaters, but Red Bull is exploring other avenues: TV, DVD, pure digital. The film has a website, bouncingcats.com, if you have any leads. All profits will go to Breakdance Project Uganda.
Walter:  Pick up your prize at the window.  I played homegirl Corin Tucker three times today in honor of the A grade.  The only reason I ever doubted it was that the rhythm section sometimes sounds like yer average Wednesday evening community drumming circle.  But maybe that was the idea, given the album's domestic content and Ms. Tucker's current domestic standing.  In any case, the S-K fanatic in me misses the force of nature that is Janet Weiss.
Thanks for the chats.  They're fun.  Having to put one's thoughts in writing for others to see helps a fella clarify what he truly thinks.
Rock on.
GM
As old as the Ethical Art argument must certainly be ("Did you hear about Shakespeare's new play?  Teenage lovers!  And suicide!!  I'm appalled!"), there are two points that require occasional consideration; first the macro, then the micro.
The notion that individual works of art (not just hip-hop, of course) accumulate one at a time until they create a culture is an essentially neutral construction, neither positive nor negative.  It just is.  What makes it either positive or negative is the input at the front end.  Your argument, "entertainers do nothing more than entertain" ignores this accumulation.  When Charles Barkley said, years ago, "I'm not a role model", he may have wanted that to be true, but just saying it don't make it so.  Just saying that mass entertainers' messages stand separately and never accumulate in a consumer's conscience or a culture's common belief system ignores human psychology on one hand and the interwoven nature of society on the other.
Fortunately or not, most works of art straddle the emotional divide, neither all devil nor all angel.  Which then takes us to the conscience of the individual artist.  Does he or she recognize, attend to and intentionally take advantage of the cultural accumulation construct for the betterment of others?  I have no idea, but asking a true domestic violence victim to coat my musical depiction of a tormented victimizer with the cooling salve of "It's okay baby.  Hurt me some more." is, well, appalling.  I don't know who I'm madder at – Eminem for the manipulation or Rihanna for agreeing to take part.
What I do wish is that within the hip-hop community, given its increasing world sweep and a lack of doubt as to "hip-hop's ability to make a difference in the lives of the downpressed", there was at least some recognition of the accumulation construct and an intentional movement to take advantage of it positively.
What do I mean by positively?  Well, what does "make a difference" mean?  It's not until one gets to cases and faces can one hope to answer those questions.  But over the span of two decades LL Cool J and Red Bull both thought there was some reason to try.  That they were each mildly successful in their individual attempts is good enough for me.
It's a golden opportunity, easily within reach.  All it would take is three well known hip-hop artists to publicly pound an ethical stake in the ground, and live up to it with their words and deeds for two years.  I wager that at the end of that short time, we all would at least have an option to consider.  Because truly, to someone, we are all role models whether we want to be or not.
Walter:  I'm working on a reponse but somehow I keep getting blocked from posting because I smell like spam.  I'll keep at it, but for starters, Couldn't agree more with the example you bring (with the exception of the "Mermaid Avenue" records and those are only partly Billy Bragg concoctions).  How about the nearly unplayable "The Ghost of Tom Joad" as well?
You know, I've thought long and hard about this and am pretty sure that what comes next is defensible, regardless of whether or not it causes someone to label me naïve, 20 years behind the times, a curmudgeon, or worse, a "clueless moralist" to use the words of the good Dean in an Eminem review from 2000, but I hope I never again have to hear any (very)popular musician rap about how he personally will kill his domestic partner because of her desire to leave him in order to protect herself from his dishonesty and violence in my entire life.  Period, but double especially if he uses the cool sounds of a true domestic violence victim to hook his song, as Eminem does with Rihanna in his recent song "Love The Way You Lie."
In 1989, James Todd Smith said "Stop the killing/Change your ways/ . . . Or we'll never see brighter days."  In 2010, the Dean advised us, in this review of an apparently pro-social and motivational documentary film, not to doubt "hip-hop's ability to make a difference in the lives of the downpressed" as a result of seeing the positive effect it has on very poor young Africans.  So I ask, as hip-hop becomes the pop music sound of the entire world, why do the originators of it still think it's a good idea to export anti-social messages, including but in no way limited to intentional partner-on-partner violence?
As an example of the influence I am alluding to, three days a week I work with a dozen and a half incarcerated dads, struggling with their own desperate attempts at sobriety, eventually to be released from prison back into economic and emotional circumstances most of us only fear, to outgrow the brutal or non-existent parenting they received and thereby become "the generation that saves their families" (their words, not mine) and "break the intergenerational cycle of criminality" (my words, not theirs).  That's a dozen and a half out of a couple of million similarly placed American men.  As they take steps towards establishing the non-vicitimizing life-style most of us take for granted, not a single one of them ever again needs to hear "I apologize/Even though I know it's lies/I'm tired of the games/I just want her back/I know I'm a liar/If she ever tries to ****ing leave again/Imma tie her to the bed/And set the house on fire" in their entire lives either.  What the similarly placed moms don't need to hear is the socially irresponsible, personally victimized "Just gonna stand there/And watch me burn/But that's alright/Because I like/The way it hurts."

When one of the inmate dads says to me, "I'm just being real" as a best-they-can-do justification for current thinking errors or rationalization for past victimizing behaviors ("I guess I don't know my own strength."), I try to remember to say, "That was then.  Your job now is to make 'real' better for yourself and for the next generation." 
And that's my throwdown on what appears to me to be one enduring criticism of this part of the hip-hop world view – You declaim the world as you see it, but you don't work hard enough to make it better.  And you have the resources, access, cultural influence and overall power (thank you, Kanye) to do so.  A huge opportunity lost is all I see.
If you think you can counter my argument, then bring it.  But don't bring me individual songs or lyrics or rhyme schemes (or movies).  There aren't enough of them.  If there were, this still wouldn't be an issue after so many years.  Bring me a culture based on "Change Your Ways" and "Bouncing Cats."  Or an artistic movement.  Or a recognizable sub-genre.  Anything, as long as it helps make "real" better.
p.s.:  A moralist works to regulate the morals of others.  I work to help increase the life skills of folks who have been dealt a bad hand and then played it poorly.  There's a practical difference in the lives of real people, even if trying to remove barriers to effective living looks the same from a distance as the moralist o****ecting on principle.
Are you sure you want to delete this comment?
about the blogger
Starting in 1967, Robert Christgau has covered popular music for The Village Voice, Esquire, Blender, Playboy, Rolling Stone, and many other publications. He teaches in New York University's Clive Davis Department of Recorded Music, maintains a comprehensive website at robertchristgau.com, and has published five books based on his journalism. He has written for MSN Music since 2006.
live local music on
Enter your ZIP code to see concerts happening in your area.
Data provided by Zvents
follow msn music