Future Goes All the Way to "Pluto" Just to Live in the Past
...and creates a horrible album while he's there.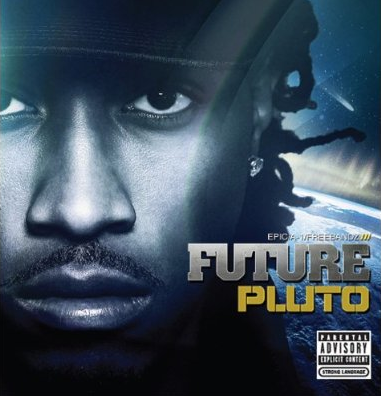 When you go back and watch the original "Star Trek," it's often funny how the impossible tools of space exploration still seem antiquated in their design. While building an Enterprise-esque ship is still a ways off, we know that it won't have boards with giant knobs or big glowing red buttons, nor will the bridge likely be a mod-inspired set that looks like a swinger's living room. Listening to Pluto by Future feels remarkably similar—a version of what we all thought the future of music might sound like a decade ago, but something that we're all actually far beyond here in the present.
Putting aside the larger debate over Auto-Tune's ubiquity in modern music, it's fair to say that the trend has "been done." Despite calling himself "Future," he spends the entirety of Pluto leaning on the device, even if the pop-iest of pop stars would consider it old news by now. The effect feels particularly antiquated when paired with a cameo from R. Kelly on "Parachute," a typical stab at replicating the Chris Brown-style metallic rap-singing that Brown arguably stole from Kelly himself. You could also fairly accuse Future of stealing quite a bit from T-Pain, not just due to the use of auto-tune but also in the general structure and tone of the songs. "Straight Up" or "Astronaut Chick" highlight the difference between the two, however—T-Pain is actually a decent singer before the vocal effects are applied, Future in not.
"Tony Montana" is built on a cute idea (in theory) with Future attempting to incorporate a Scarface impression into his vocals, but the lazy hook, uninteresting beat and Drake-by-Numbers guest appearance don't do the concept any favors. He far less grating when he turns off the filters for "Same Damn Time," but still fails to stand out from good "bad rap" artists like Waka Flocka or 2 Chainz due to his general lack personality. Any goodwill he may build up by that point will surely be dashed to bits by "Turn on the Lights" or "You Deserve It," laughable "love songs" built for strippers to dance to.
There's no nice way to say it—Future is a bad singer and only slightly better rapper. Anything you'll hear on Pluto has been done over and over again by much better artists and even more times by other terrible ones. If you buy Pluto, you're making a strong commitment to promoting laziness and discouraging originality, so save yourself the trouble and turn on any middle-of-the-road Urban radio station in the country. If they're not playing a Future song, they'll probably still be playing something that sounds just like it.
live local music on
Enter your ZIP code to see concerts happening in your area.
Data provided by Zvents
follow msn music