Get To Know: Odd Future
...don't be scurrred.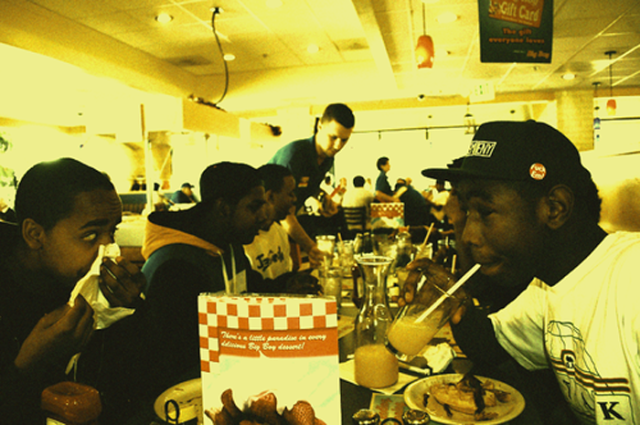 Great news, everyone! Every week, MSN's Groove (well,
me
, on behalf of Groove) will be putting you onto a new artist or group and why you should care about them. Some you will probably have heard of in passing, while others you might be like, "Who?" You'll learn something new every week. Free of charge. So to kick off this brand spankin' new "Get To Know" series, I present to you Odd Future.

Who:
Odd Future Wolfgang Kill Them All (OFWGKTA)
From:
Los Angeles
Why You Should Know Them:
Because Kanye West Says So
Chances are you already know who Tyler, the Creator is. He's the cleverly adept MC who puked up a cockroach in his video for "Yonkers" (see below), the video Kanye West tweeted about and had Tyler in tears. You probably also know about Frank Ocean. He's the singer/songwriter whose debut
Nostalgia, Ultra
was shelved by Def Jam despite the fact that Ocean is a brilliant singer who has written songs for John Legend, Brandy, and even Justin Bieber. However, there are a bunch of individuals in Odd Future, and you should get to know them all.
Here's the cast and crew: Tyler, the Creator, Hodgy Beats, Earl Sweatshirt, Domo Genesis, Mike G, Frank Ocean, Left Brain, Syd, Super 3, Jasper, and Taco. We won't go into detail about each one individually (that's what Bing! is for), but chances are you have shied away from these guys out of fear of lack of knowledge. Tyler and Hodgy were the two members who were backed by the Roots when they performed "Sandwitches" on
Late Night On Jimmy Fallon
and Tyler jumped on Fallon's back. But there is so much more to this group beyond rowdy behavior and death threats to Bruno Mars and B.o.B. Odd Future crafts the kind of Hip-Hop that emcees only identify in their subconscious, a mix of abstract thoughts coupled with insanely psychotropic beats and sharp wordplay. They are very reminiscent of the early days of Wu when people were both shocked and scared, like "Who the hell are they??" However, don't throw too many comparisons their way (especially ones pertaining to rap's brief Horrorcore movement), they really hate that.
You've probably also heard the various members shouting "Free Earl" or donning "Free Earl" sweatshirts. Well, Earl Sweatshirt, the teenage lyrical dynamo whose
EARL
mixtape left Hip-Hop heads salivating, is currently not recording with OFWGKTA. The reason? Earl is in boarding school. That's right. The 17-year old was sent to boarding school by his folks and has to wait until next February when he's 18 to emancipate himself back into the fold. Hence, "Free Earl".
Odd Future is incredibly in demand right now. Steve Rifkind has been courting the team like crazy, even taking odd requests on meeting riders (is that a thing?). Over Twitter a while back, Tyler asked Steve for the following at their meeting: A dozen donuts from Randy's in LA (8 glaze, 1 buttermilk, 2 chocolate, 1 twist), along with iced tea, a chair that spins, and a megaphone. Guess who had it all in front of him when he got to the meeting? Tyler. And it's no coincidence that Rifkind helped break Wu Tang Clan. Are we seeing a pattern?
But enough cute anecdotes, check out their music and their viral videos. Get up to speed now, because they'll be your favorite crew later.
live local music on
Enter your ZIP code to see concerts happening in your area.
Data provided by Zvents
follow msn music