Trey Songz Claims That "Sex Ain't Better Than Love"
This would be true for most people, but…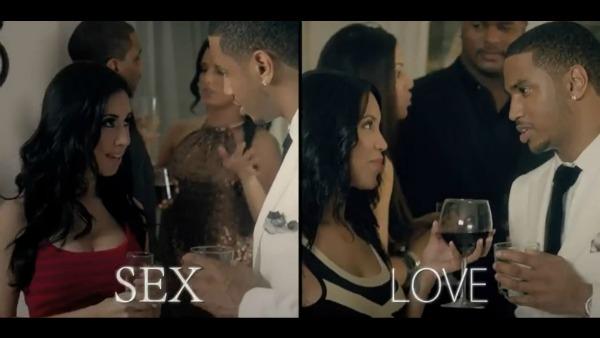 Remember when Trey Songz
kissed
that (alleged) 15-year-old girl on stage? Or when he made another fan
faint
? Or when he took a break from singing to
grab his balls
? Or when he
simulated "pleasuring"
a woman in front of a packed audience? Well, those were all just ways that Trey shows love, guys.
You'd be hard-pressed to find a photo of the singer with a shirt on at any of his concerts but apparently Songz' disrobing is for the romantics, not the ravenous. Duh. And that's what his new song and accompanying video for "Sex Ain't Better Than Love" tries to convince us of. After spending a few years moonlighting as an adult film star (we kid, but it's possible!), Songz shows us his reformed side.
The split-screen clip shows the aftermath of Songz making two very different decisions after approaching two very different ladies at a party.
Going only as far as having a conversation with one - the good girl - she and Songz fall in "love" through giving massages, playfully kissing and writing love letters. Sure, she nags but he puts up with it, and for good reason: they're expecting a baby. And though the lack of realism is abundant - the size of her belly would lead you to believe that she's about to pop and at that stage, it is impossible to look as cute as she does - Songz tries his hand at giving the most convincing belly rub and we have to applaud him. A for effort.
But leaving hand-in-hand with the other lady - the slutty one - leads him on a downward spiral (though we hardly believe he'd call it that) of sleeping with and being seduced by several women in his studio, arguing with two others - including a Kim Kardashian lookalike whose acting is about as good as the real thing - and chucking the deuce to a few more. Sure, he looks sad once they leave, but not
so
unfulfilled that he'll be able to convert any players by watching this.
live local music on
Enter your ZIP code to see concerts happening in your area.
Data provided by Zvents
follow msn music