J. Cole's "Cole World"
Protecting the future of rap one track at a time.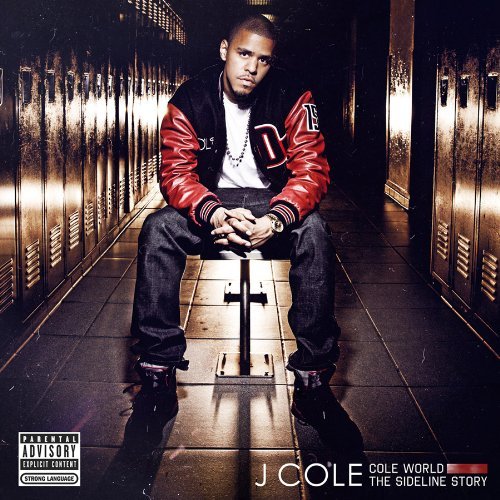 Hot new rappers come and go on a regular basis and even those who manage to get some attention often fall by the wayside when next week's new sensation comes along. Some, however, manage not just to create buzz but tap into larger attitudes about the genre itself. For the past two years or so, J. Cole has been on of those rappers, and since being chosen as Jay-Z first Roc Nation artist, many have looked to him as a beacon of hope for the latest generation of emcees. After the usual promotional cycle of mixtapes and guest appearances, Cole World has finally appeared and while it may not be a musical revolution, it still plays its part in the narrative. 
J. Cole clearly understands that many fans have hung their hopes on him and put legitimate effort into living up to their expectations. With only a few guest vocalists and fewer co-producers, Cole smartly focuses on using his debut album to introduce himself to listeners rather than trying to prove how many high-profile collaborations he could arrange. Granted, when you have Jay-Z on a track—appropriately,​ on "Mr. Nice Watch"—there's little left to prove, but throwing out the usual checklist of super-producers shows admirable restraint.
Even with J. Cole producing it all, "Cole World" still manages to provide a satisfying amount of variety in its tracks. Live instruments add texture to the thoughtful "Sideline Story," and the Cuban flair underlying "Can't Get Enough" (below) elevates a standard club track into something more memorable.  Cole's influences are obvious, but "Nobody's Perfect" (with Missy Elliott and co-production by Danja) sounds more like Timbaland than Timbaland himself has in years so it's hard to complain.
Lyrically, "Cole World" is less dynamic but still solid, especially while telling stories ("Lost Ones") or dealing with extended metaphors. Cole's no-frills delivery isn't always enough to resuscitate an unexciting beat—would-be single "Work Out" (below)comes to mind—but when he has an appropriate canvas to work with, the results are great ("Rise and Shine"). Ultimately, Cole mostly enjoys talking about women, but tracks like "Breakdown," an honest inspection of his relationships with his parents, reveal welcome emotional depth in spots.
Hip-hop is on its nth cycle of being destroyed by one young emcee before being saved by another, and while neither event is really going to happen anytime soon, J. Cole is reasonably capable of playing his part of momentary savior. After that moment passes, however, Cole seems to have a better chance than many former rap super-heroes of sticking around long enough to have long-term relevance. Cole is young and it shows, but in another six months when there's some new new guy and Cole is weary veteran, he should still have plenty to offer.
Are you sure you want to delete this comment?
live local music on
Enter your ZIP code to see concerts happening in your area.
Data provided by Zvents
follow msn music