A Comparative Analysis of Drake's Latest Music Videos
"HYFR" vs. "Take Care"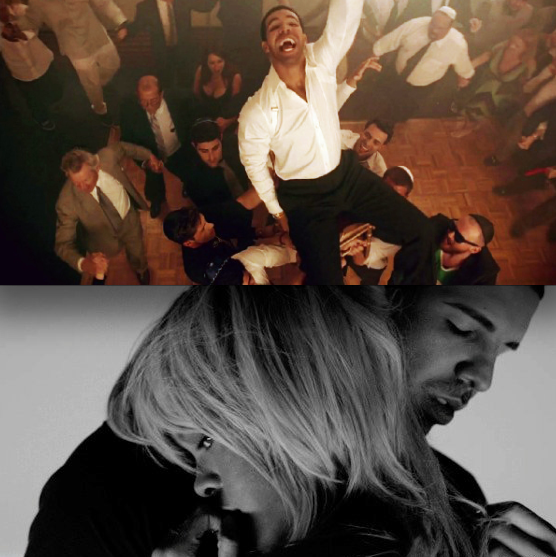 Drake missed the mark with
"Practice,"
I care what no one says, so on Friday (April 6), he attempted to redeem himself not only with his fans by dropping two videos back-to-back, but with the Lord (apparently) by making one of them the Bar Mitzvah-themed (and
Passover-appropriate​,
as it's release coincided with the first night of the eight-day festival) "HYFR." (Drake's Jewish, ya'll.) The other was the accompanying clip for the Rihanna-assisted title track from his latest album,
Take Care
.
FIRST IMPRESSIONSHYFR:
Drake wins all the 'cute kid' points up for grabs. All of them! A home video opens the clip in which you get to see a young, ugly vest-wearing Aubrey mumble through a "Mazel Tov" and do a two-step that can only be described as "Crutchwalking" (or maybe he was preparing for his future
Degrassi character
).
Take Care:
Black and white, slow mo' sh*t. A man flailing about in feathers. A bird flapping it's wings. Snow-covered mountains peeking through clouds. A raging bull. A fish. A brush fire. And a very, very sad model. No image seems remotely related to the last. It's like a poor man's
"On to the Next One"
and there's not enough alluding to a secret society to keep me interested.
CO-STAR QUOTAHYFR:
Hundreds. And one of them is a yarmulke- and Ray Ban-wearing, Solo cup-carrying, under-dressed douche that your parents always worried would be a bad influence (but that you'd kind of like to be friends with anyway). Another is a Patron-chugging Trey Songz. Then there's DJ Khaled and Birdman doing their best to look pious while seated in a pew (
riiight
). And of course, an incoherent Lil' Wayne in a panda mask that he stole from
Frank Ocean
.
Take Care:
Two. So, the model turned out to be Rihanna, guys! She does absolutely nothing but make bedroom eyes with (or at) the camera for the entirety of the video and shows a bit of bare shoulder, but all the attempted allure is overshadowed by the Capoeira-esque dancer that makes his debut during the drum-heavy Gil Scott Heron-featured breakdown.
OFFENSIVE NATUREHYFR:
Lots. Drake smashes his Torah-shaped cake. That's gotta be disrespectful. And silver-haired suits indulge in some underage beauties while (surely) away from their wives. (Adultery's a sin, folks, let's not forget.)
Take Care:
Does Rihanna's bralessness count? No? Then, none.
FUN HADHYFR:
Again, lots. Weezy smashes a skateboard that he can easily replace, so no worries there. Drake gets hoisted above the crowd in a chair-lifting Horah ceremony (and plants a kiss on his unsuspecting lead). Plus, most of the extras hired look 1) too old to be Drake fans and 2) as if they were only informed to jump up and down and scream on cue, making for all-around good TV.
Take Care:
It's actually pretty somber for a song that includes the line, "It's my birthday." But it's clear that Drake's been practicing, so when he performs, it no longer looks like he's just
waving at you
; he gets as wrapped up in the song as we did when we first heard it and the intensity with which he delivers each line is pretty damn captivating. And passion's kinda sexy. And sex is fun. So, "some" would be the final answer on this.
live local music on
Enter your ZIP code to see concerts happening in your area.
Data provided by Zvents
follow msn music